He's one of the most recognizable personalities in the game of golf, and he hasn't played professionally in almost 25 years. From his decades of commentating on live broadcasts, to his 150-episode run on Golf Channel as host of Feherty, which came to an end earlier this year, David Feherty has mastered the art of likeability. Combining humor with a relatable life story, the Northern Irishman is still as popular as ever.
We caught up with Feherty on a rare day off as he prepares to cover the 2021–22 PGA Tour season for NBC/Golf Channel. He opened up about the challenges he faced in 2021, his opinion of polarizing player Bryson DeChambeau, the test players face at Whistling Straits, and his favorite memory from his lone Ryder Cup appearance in 1991 at Kiawah Island.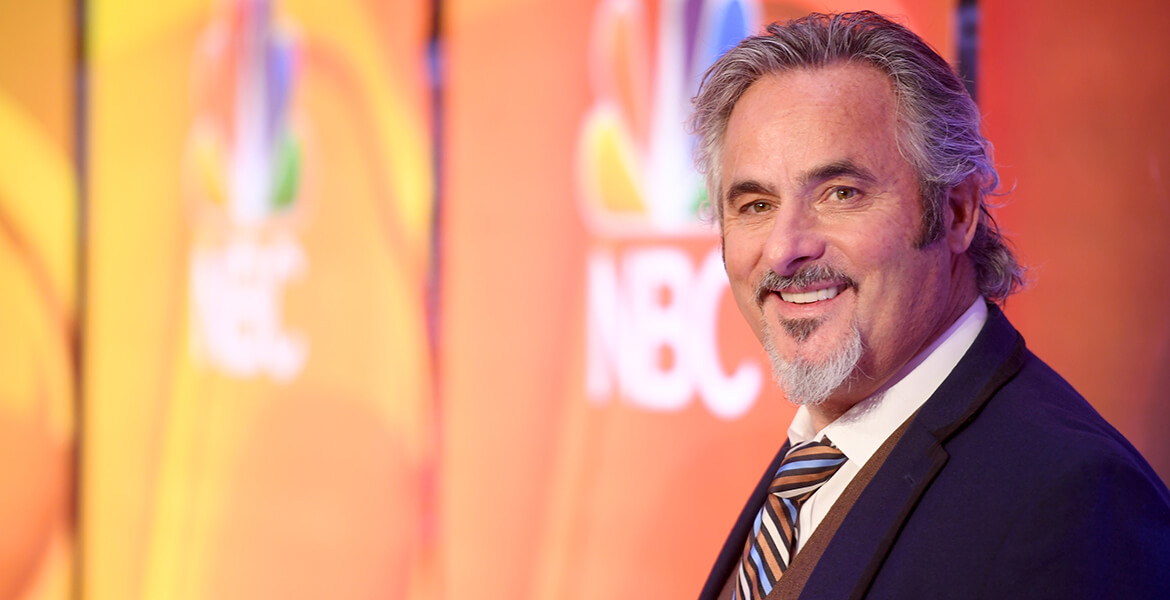 What has this past year been like for you?
Feherty: It's been difficult for me. I have this OCD kind of personality and I need to work. Spare time is the addict's worst enemy. I've struggled over the last 12–18 months to find enough to keep myself out of trouble.
I have found ways to stay busy. I make rifles as a hobby, which I give to wounded military. As part of my Troops First Foundation, we built a ranch called Patriot Village located about 20 minutes from Walter Reed Hospital in Maryland. We have seven houses there where we help soldiers that are coming out of the hospital, and assist them in getting back on their feet, both figuratively and literally. It's transitional housing and we make sure they've got somewhere to live, a job, and maybe even a dog as they go back out into the world.
What is the biggest story in the game heading into the 2021–22 golf season?
Feherty: There's always the Tiger story, the undercurrents that will be there until we see him again. The big story after the Tour Championship will be, "Is Tiger going to play again?" Speaking of the Tour Championship… $15 million to the winner? Seriously? That will make your week for sure!
Can you imagine having the chance to play for that kind of money back in your day?
Feherty: No, I can't, and I'm not one of these announcers who begrudges them. I think they are worth every penny. You look at other sports and they are paying athletes $300 million for seven-year contracts; golfers are comfortably worth that. They are so much better than we used to be. It's just the evolution of sport. The Boston Celtics from 50 years ago would be run over by the Boston Celtics of today, because they are so much bigger and more physical. It's the same with players in golf today.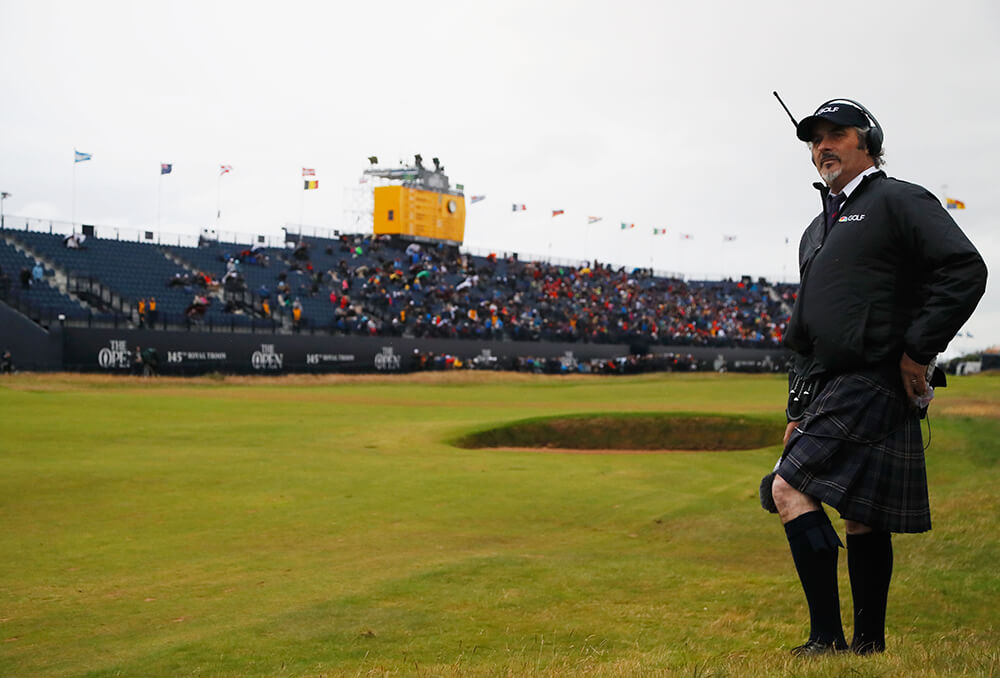 While we are comparing professional sports—heckling from fans is fairly common. In golf, Bryson DeChambeau hears it all the time. Do fans have a right to say whatever they want on the golf course?
Feherty: I suppose they do, but we have the right to have their ass thrown out. Your freedom of speech is one thing, but to me there are consequences that come from it. There is not a lot of background noise in golf except at the very biggest events. It's not like Ken Griffey Jr. stepping to the plate with the noise and buzz from fans. In golf, if you do get people saying something at a certain moment, it is going to have an effect on the player.
How would you describe Bryson? Is he misunderstood?
Feherty: I think it's impossible not to misunderstand him. I mean, how do you understand him? He's complicated. What he gains in book smarts, he might lose in social skills. I'm not sure he understands how to communicate as well as he could. He just kind of blurts things out and when he blurts, people listen, because it's complicated blurting. Half the time I ask myself, "What the hell did he just say?"
How do you see that dynamic playing out between Bryson and Brooks Koepka at the Ryder Cup?
Feherty: Part of me wants to put them together and tell them to just get over it. I mean, it really is ridiculous. It's like two fleas arguing about who owns the dog. It shouldn't be happening at this stage. It was kind of mildly amusing to start, but now they need to get over it.
What is the difference between the American and European team dynamics?
Feherty: The Europeans are a young group. I think they have been more successful in recent years in the Ryder Cup because it matters more to them. I know exactly what my Ryder Cup record was—I was 1–1–1. Overly average I might say. But it was important for me to have that knowledge. That matters in Europe where people say, "Well, how many tournaments has he won?" But in the same breath they ask, "How good is his Ryder Cup record?" People are conscious of it a great deal more than they are here in the States. I think something like that is just enough to tilt the scales in their favor.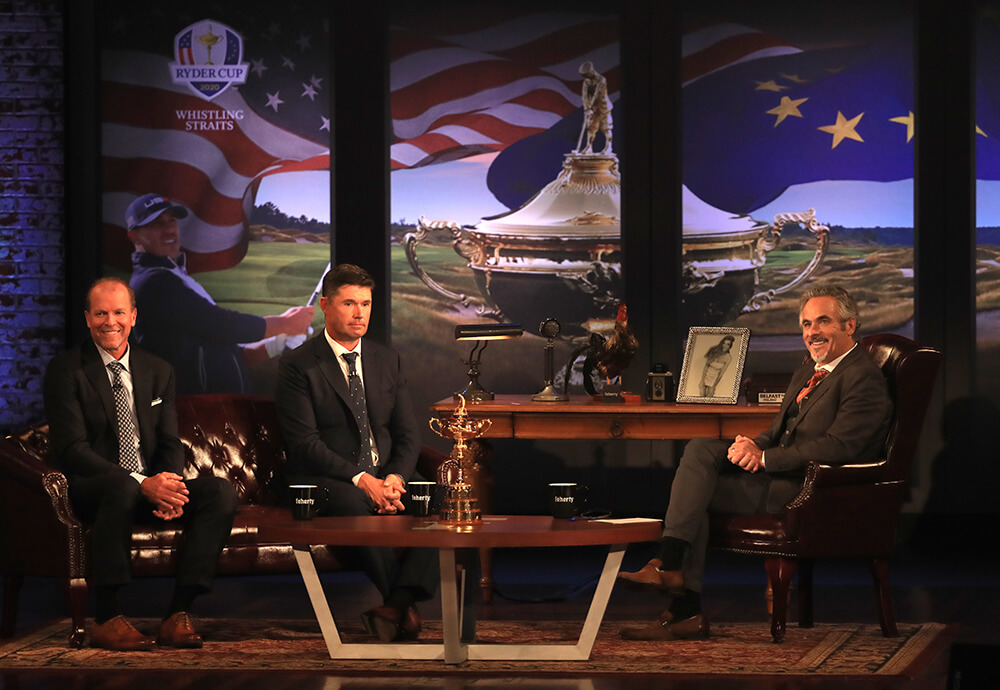 Did you experience the highest of highs and the lowest of lows in your lone Ryder Cup experience in 1991?
Feherty: Definitely. The highpoint of my career was a losing Ryder Cup. That's an indication of how special the event is to the players who have the privilege of playing. You're a member of a club that is etched in history.
Feherty: I played with Payne Stewart on Sunday and won my match 2&1, but I was 4-up with four holes to play against the U.S. Open champion. At the time nobody knew who I was. I lost two holes in a row, and I'm in full Code White, DEFCON 1. I was trying to make my way from the 16th green to the 17th hole and the crowd control at that point had completely broken down.
There were people all over the place chanting, "USA!" and "Olé, Olé, Olé!" That song drives me berserk. I'm trying to make my way onto the 17th tee and this course marshal pokes me in the chest with her "Quiet Please" sign and says, "Just where do you think you're going?" like I'm a heavily disguised spectator or something.
I'm about to lose my mind when this arm comes around my neck and Payne sticks his face next to mine; I can still smell the Red Man tobacco he was chewing. Payne is grinning like a little schoolboy and says to the marshal, "Ma'am, I'd love for you to keep this asshole here, but he's playing against me," and he swept me up onto the 17th tee in his arm. That's just who he was. He was one of my best friends and helped me steady myself to win the match.
How will Whistling Straits fare as a Ryder Cup venue?
Feherty: Whistling Straits is great with a terrific finish and an amphitheater that will show up well on television. I think it's a fantastic golf course, though I'm not sure I would have picked it if I were in charge of the American side. I would go to TPC Scottsdale where you can put 250,000 people on the golf course. If you wanted a pro-American atmosphere, that's where I would put it.
They'll say it's like a links course, but it's really not. It will be a test for the players and the spectators; you're always walking on a 45-degree angle. I remember commentating there for the PGA Championship and my feet went out from underneath me, and I took a sheet of cheese heads out from behind. To their credit, nobody spilled a beer!