Whether you call them water hazards or penalty areas, golf's lakes, rivers, streams, and oceans often become final resting places for our errant shots. You can recover from deep rough or a bunker. But there's no coming back from a water hazard unless it's a very shallow one and you're feeling especially courageous.
Here's a list of a dozen water hazards that I number among the game's most scary. Launch your ball into any one of them, and your scorecard is going to pay the price.
Rae's Creek—Augusta National Golf Club (Augusta, Ga.)
Let's get the most famous one out of the way first. Patrons of the Masters know well the role that a nettlesome tributary of Rae's Creek plays in guarding the front of the green at Augusta National's famous par-three 12th hole and the fairway and green of the equally famous par-five 13th. Come up short on your shot to either green and your ball is almost always destined to roll back into the water. Fewer fans may know that the creek also winds behind the 11th green. You won't see as many water balls there, but it has happened to an unfortunate few.
Home to decades of drama. A tributary of Rae's Creek. #themasters pic.twitter.com/yj5sueXi6r

— The Masters (@TheMasters) April 8, 2021
Mangrove Lake—Mid Ocean Club (Tucker's Town, Bermuda)
Bermuda's Mid Ocean Club credits C.B. Macdonald and Seth Raynor as its original designers. At Mid Ocean's par-four 5th, they created a classic Cape hole that starts at an elevated tee and bends gently left around the edge of Mangrove Lake. How much of the lake can you carry with your tee shot? The lake will let you know.
The 435-yard par-4 5th at Mid Ocean is the world's finest Cape hole. From a tee nearly 100 feet above the lake, the golfer must choose how much risk to take on; playing away from the hazard leaves a longer shot from a poor angle into the wildly contoured green. An amazing hole. pic.twitter.com/2SX5UiThLc

— LinksGems Golf Photos (@LinksGems) November 8, 2018
Machrihanish Bay—Machrihanish Golf Club (Machrihanish, Scotland)
It's not a lake you need to worry about when you hit your opening tee shot at Machrihanish Golf Club—it's the Atlantic Ocean. Here again, the par four sweeps gently to the left, hugging the shoreline. There's plenty of room to bail out to the right, but that just makes this 424-yard hole even longer. Should you hit your tee shot left, you might get lucky, though. If the tide is out, you can play your second shot from the beach.
Stillwater Bay—Pebble Beach Golf Links (Pebble Beach, Calif.)
Imagine coming to the 18th tee at Pebble Beach needing a birdie or par to win the U.S. Open and seeing the vast expanse of Stillwater Bay lurking to the left. Once again here, you're faced with some important questions: Do you dare hit the draw the hole's shape calls for—or play more safely to the right, where the hole's two mid-fairway pines may interfere with your second shot? In the words of Clint Eastwood, one of Pebble's owners: "Are you feelin' lucky, punk?"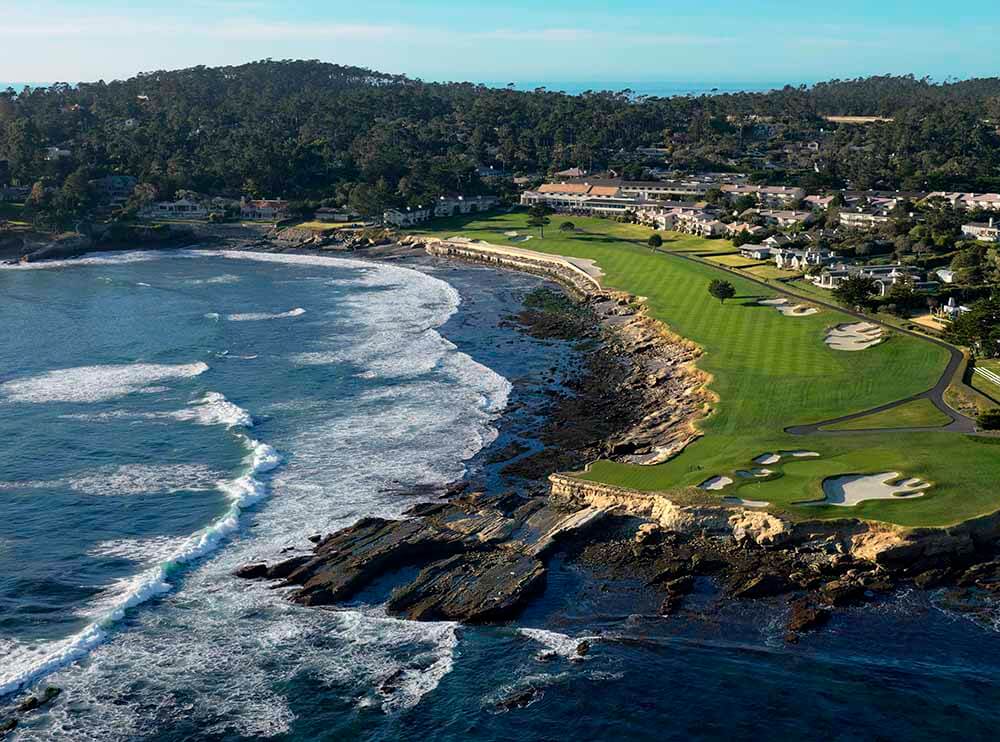 Victoria Cove—Cape Wickham Golf Links (King Island, Tasmania)
Here's another 18th hole where a water hazard features prominently. In the case of Cape Wickham's 434-yard finisher, though, the fairway bends to the right along the edge of Victoria Cove and its secluded beach. From the tee, you can't see all of the fairway, which adds to the shot's difficulty. And you're not out of danger after your tee shot, either, as the beach runs right up the edge of the green. Slicers, beware!
Pacific Ocean—Cypress Point Golf Club (Pebble Beach, Calif.)
Just up the coast from Pebble Beach lies one of golf's most demanding holes: the 230-yard, par-three 16th at Cypress Point, which is all-carry from tee to peninsula green—usually into the prevailing wind off the sea. Course designer Alister MacKenzie did provide some bail-out room short and left of the green, but only a committed coward would lay up rather than try to earn the laurels that come from hitting this green in regulation.
View this post on Instagram
Pacific Ocean—Mauna Kea Golf Course (Kohala Coast, Hawaii)
The 3rd hole at Mauna Kea is another all-carry par three—this one with black volcanic rock thrown in for good measure. Robert Trent Jones serves up this 210-yard tester early in the round, and the unique volcanic rock formations and cliffs will make multiple other appearances as you move through your round.
17th Hole Pond—Ocean Course at Kiawah Island (Kiawah Island, S.C.)
At 223 yards, the par-three 17th hole at Kiawah Island's Ocean Course didn't need water to make it a tough test. But designer Pete Dye put it there anyway. Anything short or right of this green is going swimming. Miss the green to the left and the water may still be a factor, as any pitch shot or bunker shot that's mishit may very well scoot over the green into the water.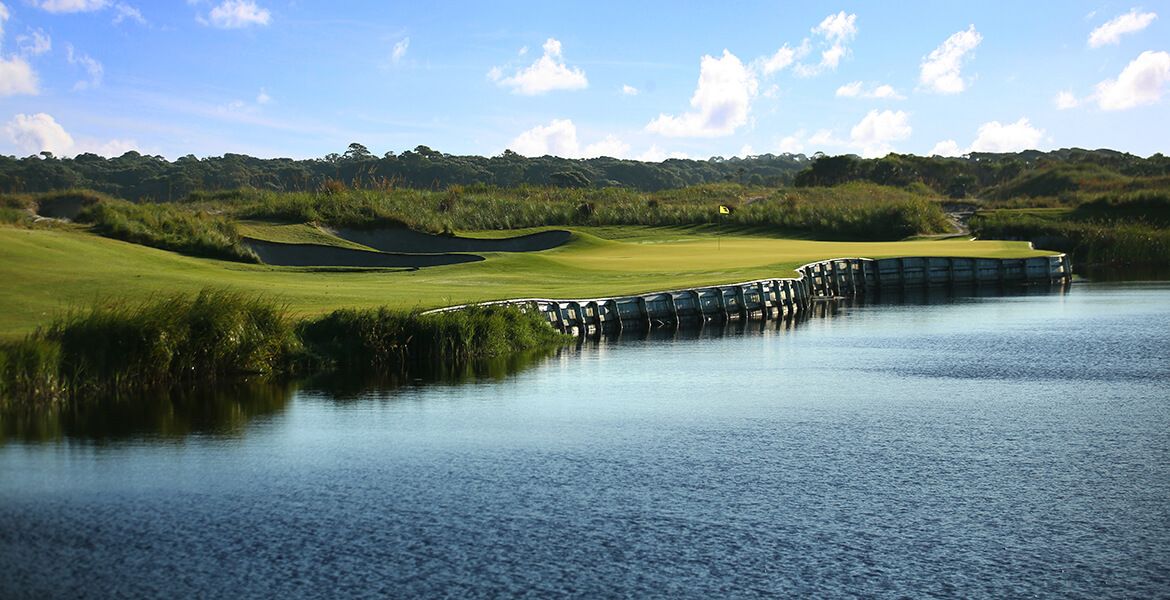 West Whale Bay—Port Royal Golf Course (Southampton, Bermuda)
The 16th at Port Royal in Bermuda is another all-carry par three. (Notice a trend here?) In this case, it's West Whale Bay that your tee shot will have to avoid as it travels the 227 yards from tee to green. The Bay hugs the coastline all along the left side of the hole, but you have a chance of finding dry land if you come up a little short or flare your tee shot to the right.
For our last stop on our quick visit to Bermuda, we travel to the southwestern end of the island for Port Royal Golf Course, a 1970 Robert Trent Jones design. The standout 235-yard par-3 16th, featuring some of the prettiest ocean water on earth, is certainly a highlight. pic.twitter.com/FLqodfSvJq

— LinksGems Golf Photos (@LinksGems) March 29, 2018
Pacific Ocean—Punta Mita Golf Club, Pacifico Course (Nayarit, Mexico)
Jack Nicklaus must have been drooling when he saw the coastline he'd have at his disposal when he was asked to design the Pacifico course at Mexico's Punta Mita Golf Club. Jack's Pacifico course actually features 19 holes; after the par-three 3rd hole (labeled Hole 3A), you get to play a bonus hole that the club calls its 19th hole (or Hole 3B). Its name is "Tail of the Whale," and it's 180 yards over rocky shoreline and water to a green perched on its own selfie-spot peninsula.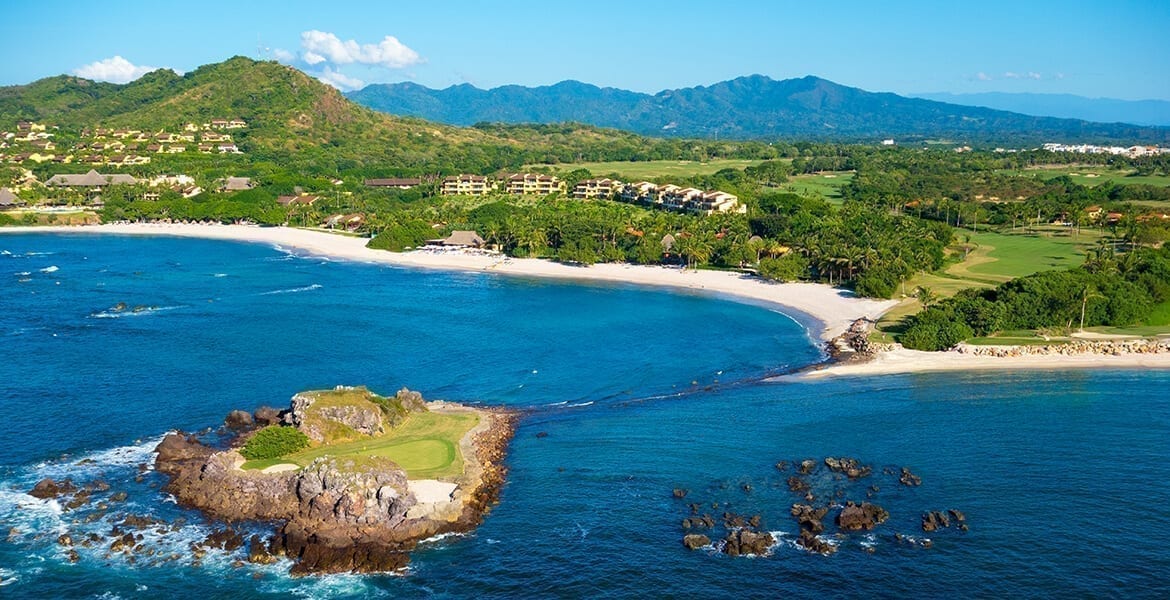 Hawke's Bay—Cape Kidnappers (Hawke's Bay, New Zealand)
Don't play Tom Doak's Cape Kidnappers on New Zealand's North Island if you're afraid of heights. Several of its spectacular fairways and green sites have steep drop-offs from cliffs perched 400 feet or more above the tumultuous waters below. At the dramatic, 650-yard, par-five 15th Hole, the green is perched at what looks like the edge of the world. Anything long or left is likely to tumble a long, long way down to the bright blue water below.
View this post on Instagram
17th Hole Lake—TPC Sawgrass, Players Stadium Course (Ponte Vedra Beach, Fla.)
The famous island-green, par-three 17th hole at TPC Sawgrass is golf's ultimate do-or-die hole. All it demands is a high, straight shot of around 137 yards. Easy, right? The only problem is that the green is just 78 feet deep and 81 feet from side to side. More than 100,000 balls are pulled out of the water there every year. How many of them do you think would be yours if you had the chance to take it on? Tee shots don't come much scarier.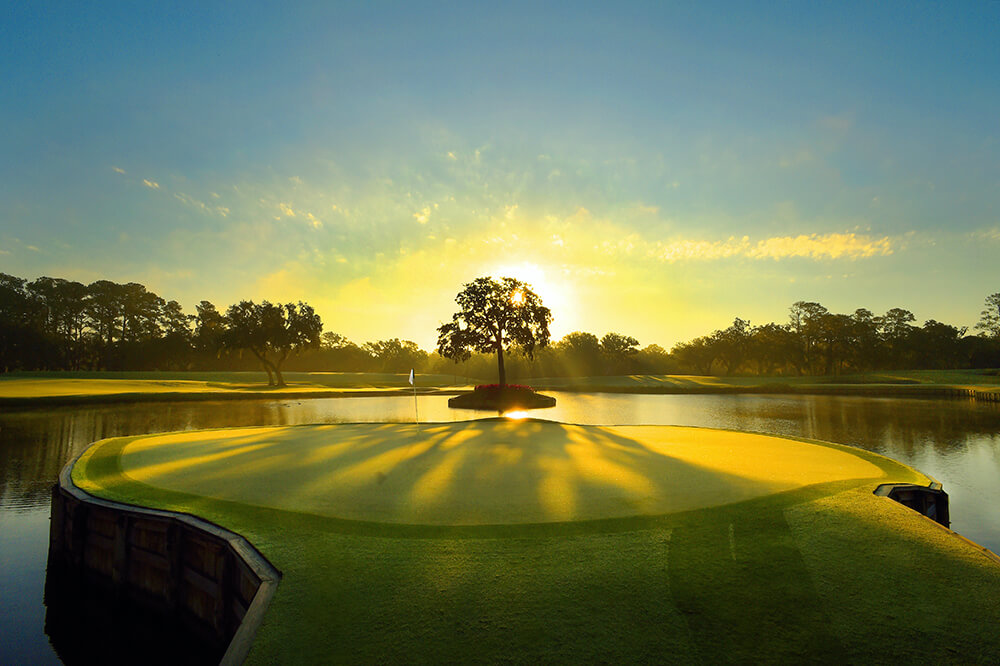 What do you think are the scariest water hazards in golf?