Many of us have dreams that someday—some glorious, tantalizing, reach-out-and-touch-it day—we'll be able to take our clubs to some far-off place where the language, money, scenery, food, and beer might be different, but where golf is still the greatest game of all.
Here are five countries for intrepid travelers to visit that, contrary to all expectations, have some seriously good golf.
Egypt
Contact the club in advance: Gezira Sporting Club opened in 1882 and while it's not fancy or heavily manicured like most of Egypt's modern residential/resort courses, it is situated on an island in the Nile which makes it a way cooler story for the intrepid golfer. Also try the Tim Lobb-designed NEWGIZA Golf Club, about five miles from the Pyramids.
Go online or just show up: Greg Norman built a highly thought of course at The Allegria Golf Club, about 20 miles due west of Cairo, but it's part of a huge residential development and there are just too many houses about for our liking. Try Katameya Dunes instead. Opened in 2010, it was designed by Nick Faldo together with Lee Schmidt and Brian Curley who took a leaf out of Shadow Creek's book by transforming a largely flat, rocky desert into a lush golf course.
Iceland
Contact the club in advance: Edwin Roald, Iceland's top golf architect, tells us there aren't really any private clubs as such. "There are 61 golf sites, or facilities, within the Golf Union of Iceland (GUI), and all of them are what I would call 'semi-municipal,'" he says. "The clubs that have members are sports clubs within the National Sports and Olympic Association." However, in the Icelandic capital of Reykjavik, it's typical for clubs to give members three-day advance tee-times, so it's always worth a phone call to make sure the time you want isn't already taken.
Go online or just show up: "You can walk onto any course," says Roald. Keilir Golf Club, renovated by Martin Ebert and Tom Mackenzie in 2017, is a linksy course with two distinct halves—one set in a black lava field, the other on a peninsula overlooking Hafnarfjordur Harbor. But our first stop would be at Roald's own 12-hole Brautarholt Golf Course, half an hour north of Reykjavik, which puts you in mind, if only for a moment, of Cruit Island and Cape Wickham.
Nepal
Contact the club in advance: In Tom Doak's Confidential Guide to Golf Courses, Volume 5—Asia, Australia and New Zealand, the Michigan architect lists just 18 courses in the "Gourmet's Choice" section that he "would take a good friend to play" and includes a course a retired army general who didn't play golf designed, which took 200 people three years to build by hand and is maintained mostly be sheep. Major Ram Gurung's Himalayan Golf Course outside the city of Pokhara, 120 miles northwest of the capital Kathmandu, descends steeply from city level down into a river canyon like something you might see in Arizona. The Bijaypur River flows across or beside a number of implausible holes before you climb back up to civilization. "In hindsight," Doak wrote, "it's the very definition of a 9: you have to see this course sometime in your life."
You should definitely see Gokarna Forest, too. David McLay-Kidd wasn't allowed to cut down any trees in the former royal park, so routing the course was far from easy. But the Scot did a magnificent job, and the result is an absolutely thrilling journey with 25,000-foot peaks in the distance and deer, monkeys, pangolins, and exotic birds appearing from time to time.
Go online or just show up: Not five minutes' walk from Kathmandu's Tribhuvan International Airport, Royal Nepal Golf Club is the country's oldest course opening in 1917, earning royal status in 1965. While no Himalayan or Gokarna Forest certainly, it is a quick and very enjoyable round with an above-average level of quirk and charm. So long as you don't expect Augusta-like conditioning, you'll probably love it.
Argentina/Uruguay
Contact the club in advance: Buenos Aires's huge and prestigious Jockey Club was founded in 1882. Forty-nine years later, its two Alister MacKenzie-designed courses (Colorada and Azul) opened in the affluent suburb of San Isidro about 15 miles north of the city. The club is notoriously exclusive, so don't assume that being a member of a private club will guarantee you entry (however, there are actually a few tour operators online who guarantee tee-times). These courses are by no means MacKenzie's best work as the site is mostly flat, but the golf is well worth whatever difficulties you have getting a tee time. Clever bunkering, mounding, and green contouring make the Colorada, especially, a treat.
A two-hour ferry ride across the Rio de la Plata is Uruguay's capital city, Montevideo, and another superb, if little known, MacKenzie design—Club de Golf del Uruguay (the good doctor visited South America in 1930 as a guest of Argentina's Jockey Club and found some extra work in Uruguay). Covering roughly 80 acres on a site that slopes gently down towards the Rio, the routing is brilliant and never does the course feel cramped. It's not quite certain exactly how much MacKenzie is left in the greens and bunkering, but it's extremely enjoyable, nonetheless.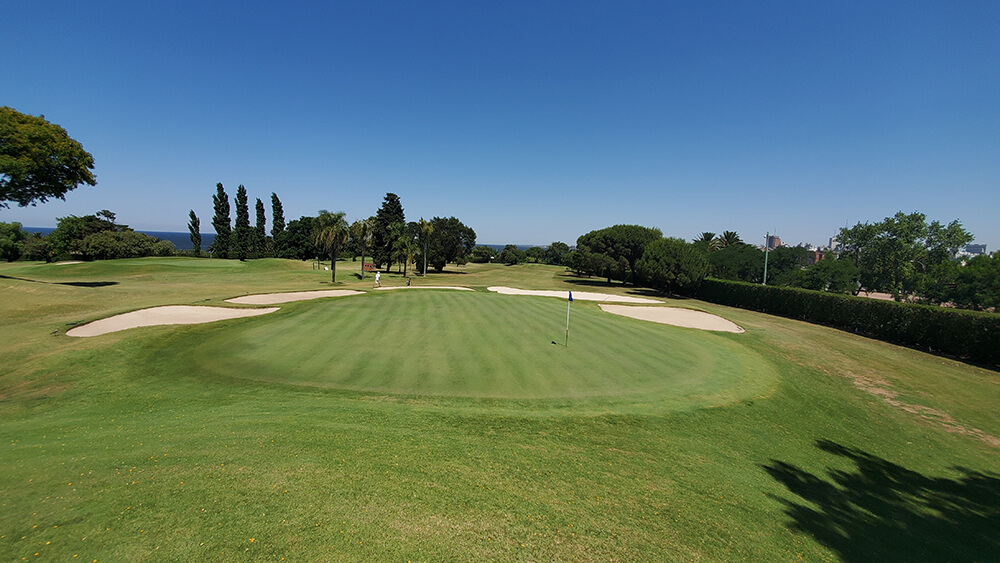 Go online or just show up: It's a 90-minute flight from Buenos Aires to the handsome city of Cordoba and then an hour's drive to La Cumbre ("The Summit") Golf Club which opened in 1924. Quite a trek but well worth it, if only to play the 66-yard uphill 11th hole where Roberto de Vicenzo, winner of 229 professional tournaments, once made a 12.
Cantegril opened in 1946 in the coastal town of Punta del Este and was designed by Luther Koontz, an engineer in Wendell Miller's firm from Ohio who accompanied MacKenzie on his South American trip. Koontz remained in South America for 30 years, designing courses elsewhere in Uruguay as well as Argentina, Chile, and Brazil.
Slovakia
Contact the club in advance: Seven years after it gained its independence from the Czech Republic in January 1993, Slovakia built its first nine golf holes at the Black Stork Resort outside Lomnica. It wouldn't get a genuinely world-class design, however, until 2012 when Jack Nicklaus's Legend Course at the Penati Golf Resort opened in Senica about an hour north of the capital Bratislava. Then, a year later, Penati opened a second course, Heritage, which, despite being designed by a virtually unknown architect, attracted even greater acclaim, perhaps. Englishman Jonathan Davison had done a lot of other work in Central Europe alongside other architects and design firms, but the Heritage Course at Penati was his big solo debut—and he absolutely nailed it. The course travels through a tall pine forest with a lot of exposed sand giving it just a hint of London Heathland and Melbourne Sandbelt courses.
Go online or just show up: The beautiful Gray Bear Course at Tále Ski, Golf & Hotel Resort, located in a mountain valley in the Low Tatras National Park about two and a half hours northeast of Bratislava, was built by U.S. designers Bob Walton and Skip Malek and opened in 2002. Creek beds, boulders, and large spruce trees give it interest.
What far-flung, intrepid destinations have you visited to play golf?