Located next to Hawaii Volcanoes National Park, a 10-minute drive to the Kilauea Crater, Volcano Golf Course on the Big Island has been reborn.
Closed for several years, the 100-year-old property is lush, green, and at 4,000 feet above sea level, sits at a higher elevation than many other Hawaii golf courses. It's also an important part of the community, on land owned by the local Kamehameha Schools, and was the location of one of the most indelible images of the obsession that defines golf—with golfers playing on as a massive ash plume from the Kilauea volcano rose behind them back in 2018.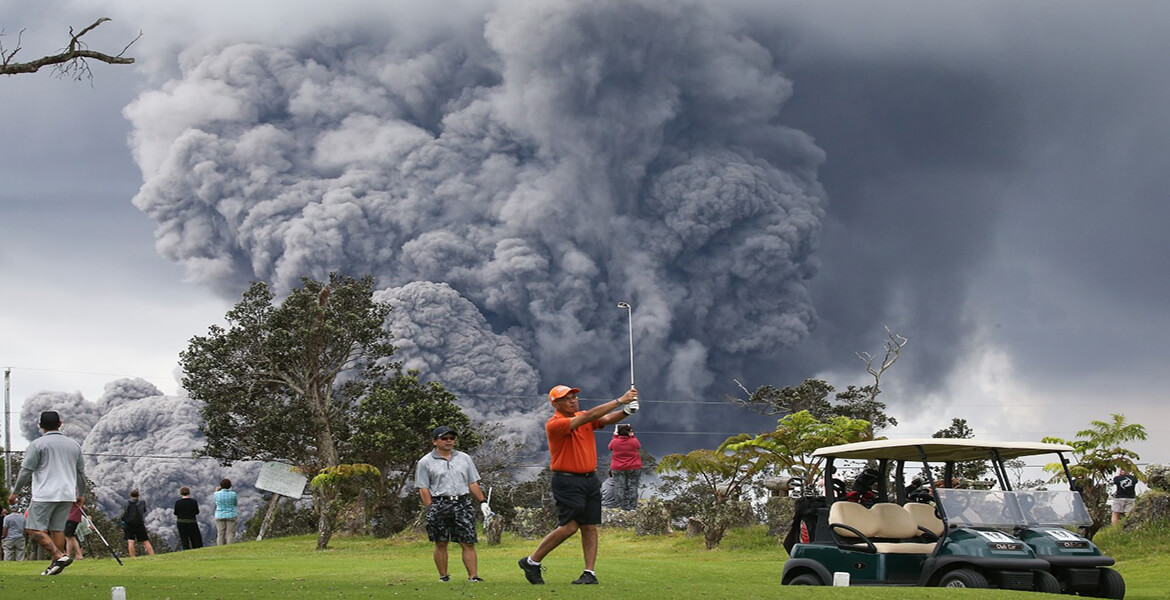 In early 2020, just before onset of the pandemic, the facility closed due to a dispute between the school district and the previous operator. But the course, which treats golfers to views of both Mauna Loa and Mauna Kea and is home to nēnē, the Hawaiian state bird that nests throughout the property, welcomed back golfers this April with a new management team (Troon/Indigo Sports) and renewed optimism.
At a time when golf's play and popularity are surging, Volcano is among a number of shuttered courses that have gotten a new lease on life.
In Johnsonville, S.C., about an hour inland from Myrtle Beach, Wellman Golf Club is back after an even longer closure: 12 years.
In 2010, at the tail end of the Great Recession, the course was shut down after its owners filed for bankruptcy protection. After being mothballed for a decade, the golf course was purchased by the county in 2021 and will soon reopen as a municipal facility leased by the city of Johnsonville. Golf architect Rees Jones is teaming with co-designer Bryce Swanson to restore and enhance the new Wellman Club into an 18-hole championship course intended to be a source of local pride and attract golf tourists from the Myrtle Beach area.
"The city has itself a golf course that people are going to hear about and people are going to come from afar. You'll find that this does a lot for the economy," says Jones, who called the gently flowing, sand-based site perfect for the game of golf. "It's so much fun watching the residents walk around as we resurrect the golf course. There's so much excitement."
Several hours south in Hardeeville, S.C., about 30 minutes inland from Hilton Head Island, a golf course within a gated community has also been reborn.
Hampton Pointe had originally been planned as a project with more than 1,000 homes and a golf course from Nicklaus Design. Ground was broken back in 2006, but when the housing market crashed, development stalled. While the golf course opened for a short time, it wasn't really sustainable with only a fraction of the expected housing component and the owner, Toll Brothers, put it on ice for over a decade.
Now, thanks to a resurgence in play—not to mention a renewed interest in community living driven by the pandemic—the 18-hole course and its fairway-living real estate have made a comeback. Rebranded as Riverton Pointe, the long-abandoned golf course recently reopened after a major overhaul by Nicklaus Design and Heritage Links.
Even in a crowded market like Phoenix, Ahwatukee Lakes has now reopened to the public nine years after being closed and offers a $20 rate for the nine holes that have been restored. Or in more remote spots such as the Tamarack Resort in Idaho—an all-season destination 90 miles north of Boise—which in 2023 plans to reopen an 18-hole championship course designed by Robert Trent Jones Jr., Osprey Meadows, that closed for play in 2015.
This isn't to say golf courses aren't continuing to close. They are—no different than any business.
But as the recent record levels of play indicate, closures aren't an indicator of the game's popularity. It speaks more to the appeal of golf course land. At about an average of 150 acres for an 18-hole layout, it's no wonder that developers are willing to offer good money for land in and around urban areas. And it's not surprising that some course owners in competitive markets decide to sell. Remember, the U.S. has no shortage of golf options, with more courses nationwide (16,000-plus) than McDonald's restaurants.
As such, the comeback of long-shuttered golf courses isn't something the golf industry has seen much of since the Great Depression.
Have you heard of other golf courses reopening recently after a lengthy closure?