Different generations will remember the great Tom Weiskopf for an impressive range of skills. Baby Boomers will likely recall his playing days best and forever savor the powerful, graceful swing the native Buckeye used to win 28 professional tournaments around the world, including 16 PGA Tour titles and the 1973 Open Championship at Royal Troon.
Some will also look back on a notable broadcasting career during which he worked for CBS at 12 Masters Tournaments and then ABC/ESPN at the Open Championship. Gen Xers and Millennials who recognized an affable, cerebral man might know him better as a gifted course architect—one that designed a number of genuinely excellent courses.
Weiskopf played a lot of college golf on the Scarlett Course at The Ohio State University which was conceived and planned by Alister MacKenzie and built (following MacKenzie's death in January 1934) by former partner Perry Maxwell. Weiskopf was intrigued by MacKenzie's holes and said, after turning professional in 1964, that he maintained a keen interest in the design of tour courses. He was particularly fascinated by the short par fours on the Old Course where he competed for the Claret Jug in 1970, '78, '90, and '95.
During his "second" career, Weiskopf designed or co-designed more than 70 courses alongside Jay Morrish (1980s/'90s), Phil Smith (1990s/2000s), or by himself. Every one of them featured a drivable par four, the hole with which he is associated most.
The majority of his designs were for private clubs but roughly a quarter of his portfolio is accessible to the public. Here are six of our favorites.
Forest Dunes—Roscommon, Mich.
The 1,320-acre Michigan resort bordering the Huron National Forest opened its first course, designed by Weiskopf, in 2002. After taking over in 2011, new owner Lew Thompson opened the course to the public, built a clubhouse, added lodging, and hired Tom Doak to design a reversible course called The Loop which opened in 2016 (Riley Johns and Keith Rhebb's 10-hole Bootlegger was added in 2020). Weiskopf's course remains the centerpiece of the resort, however, and is a terrific mix of forest/wetlands on the front and rolling duneland with exposed sand on the back. forestdunesgolf.com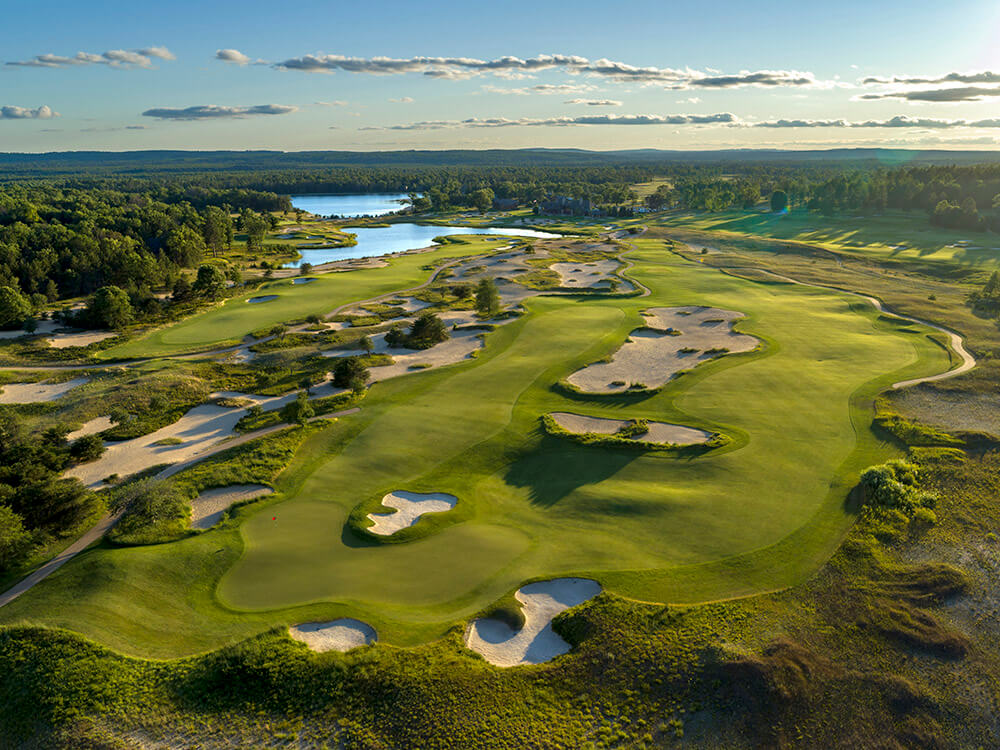 TPC Scottsdale (Stadium Course)—Scottsdale, Ariz.
Built shortly after Weiskopf's initial design effort at Troon Country Club and developed specifically to host the Phoenix Open (now sponsored by Waste Management), the Stadium Course at TPC Scottsdale opened in 1986 (staging its first PGA Tour event in '87) and was a Weiskopf/Morrish collaboration that features one of the game's most exciting four-hole finishes. The 15th is a reachable par five with water all down the left and short of the green; the 16th is the famous par three now ringed during tournament week by spectator bleachers and corporate hospitality boxes; and the 18th is a testing par four where the tee shot must carry a lake on the left. The highlight of the home stretch, though, is the fantastic 332-yard 17th, one of Weiskopf's best drivable par fours, where the green is guarded by water left and long and where the tantalizing back left pin is cut on a small projection just 11 yards wide. tpc.com/scottsdale
Weiskopf designed two courses south of the border—one at Vista Vallarta on the Nayarit coastline, the other at Cabo Del Sol on the southern tip of the Baja California Peninsula. Both opened in 2001 and while each is tremendously enjoyable, it is perhaps the Desert Course at the 1,800-acre community of Cabo Del Sol that gets the nod. Built predominantly on the sandy scrubland north of Federal Highway 1 and above Nicklaus's Cove Club course, the Desert Course features saguaro cacti, arroyos, bold bunkering, and sea views from every hole—a little piece of Scottsdale on the ocean. cabodelsol.com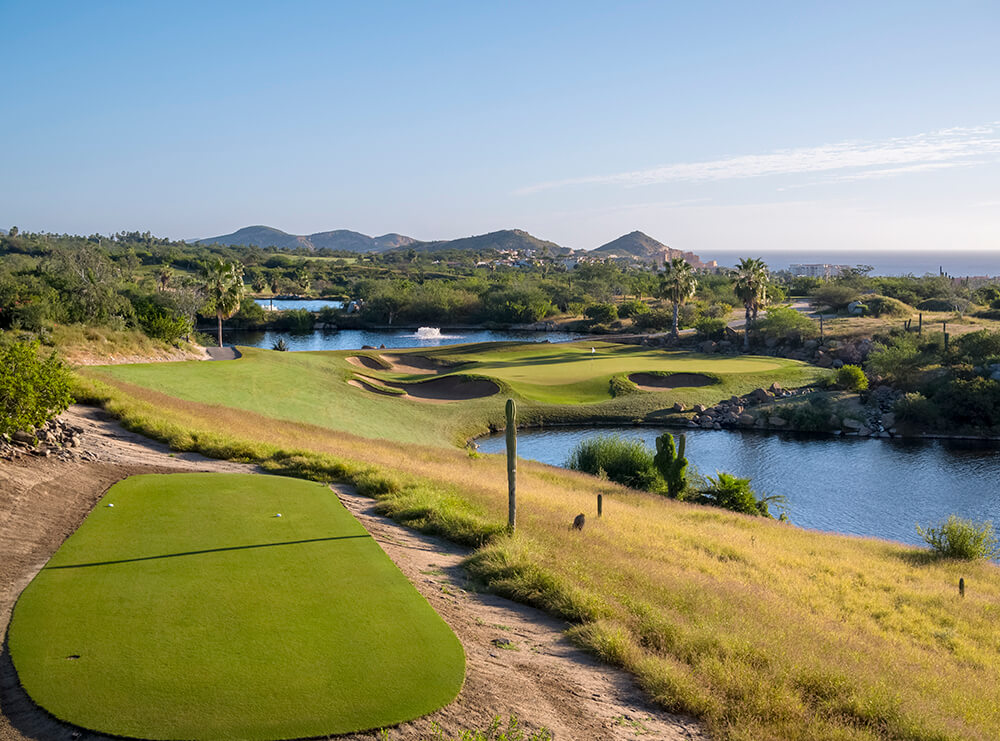 Spanish Peaks—Big Sky, Mont.
Designed with Phil Smith, Weiskopf's course at Spanish Peaks opened in 2007 and is part of a 5,700-acre private ski and golf community that sits 7,000 feet above sea level. Non-members must be staying at the nearby, 139-room, $400 million Montage hotel that opened in 2021 to get access to the course, which covers a lot of ground and offers up amazing views of the surrounding Absaroka and Gallatin Ranges. The drivable par four here is the cool, 349-yard 17th where a centerline bunker at about 225 yards from the tee forces a knotty decision. spanishpeaks.com
Troon North—Scottsdale, Ariz.
When you picture a Sonoran Desert layout, there's a good chance you're imagining Troon North where the Monument Course opened in 1990 and the Pinnacle Course arrived five years later. Working with Smith, Weiskopf routed both through pristine, rugged desert a couple of miles north of Pinnacle Peak with all the magnificent, emerald-green playing surfaces, scruffy rocky areas, washes, arroyos, hefty bunkers, and saguaro cacti that combine to make the quintessential desert course(s). The odd forced carry adds excitement and a little challenge, but nothing you can't handle. Neither course is excessively difficult, especially if you choose the correct tee for your game, but you will need to strike it solidly and accurately to avoid big numbers. troonnorthgolf.com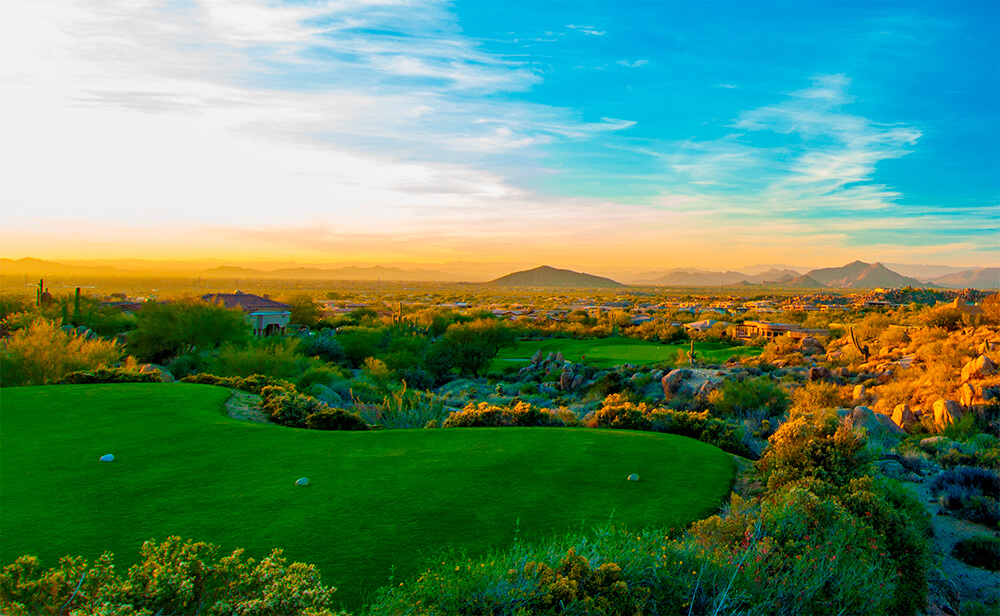 Seven Canyons—Sedona, Ariz.
A hundred and fifteen miles north of Phoenix on I-17, and roughly the same distance south of the Grand Canyon, sits Sedona—a city within the Coconino National Forest surrounded by majestic, red sandstone rock formations about 250 million years old. Nearing its 20th anniversary and found about five miles north of town is Seven Canyons—another Arizonan classic from Weiskopf who toured the site of a lost Jack Snyder-designed course on horseback before creating his own holes. As with Montana's Spanish Peaks, the course is private but guests staying at the Enchantment Inn three miles to the west can get a tee time. The course threads between pines, junipers, and a couple of water hazards with the awesome rockscape looking on. sevencanyons.com
What are your favorite Tom Weiskopf courses?