Every so often, a video of a black bear cub playing with a golf flag makes its rounds on social media. The curious cub rubs its back against the flag stick at Fairmont Hot Springs Mountainside Course in British Columbia, then grabs it and runs around on his hind legs, bending the flag as it's still seated in the cup.
A friend recently shared the video again, prompting a discussion about how that memorable moment would make for a great logo for the Canadian course, which overlooks the craggy slopes of the Rocky Mountains and the crystal-clear Columbia Lake. After all, a two-minute YouTube clip of the cub's spontaneous circus act lives on the resort's website. One could envision the bear's playful antics, red flag in paw, emblazoned on a t-shirt or headcover along with the course's name—an image that complements rather than replaces its traditional logo of steam rising from a hot spring.
There are a number of secondary logos throughout the golf world, ranging from the completely different to those slightly altered member-only logos found at old-school bastions like Augusta National and Pine Valley.
Here's a rundown of some of my favorite secondary or alternate logos in the game. Let's hear yours!
Essex County Country Club (New Jersey)
The oldest club in New Jersey, Essex County's layout is a wonderful composite of holes designed by A.W. Tillinghast, C.B. Macdonald, and Seth Raynor. While this private club's main logo features ornate but straightforward initials, its alternate logo features a fox that's a nod to its 1800s roots as the Essex Hunt Club.
Monterey Peninsula Country Club (California) 
The Sea Dragon wrapped around a golf flag has taken over as the primary logo at this private club along the Monterey Peninsula's storied 17-Mile Drive. That's not to say you won't find plenty of versions of the 36-hole club's original, understated pinecone logo around, but MPCC's Sea Dragon is now the undisputed No. 1 option.
Oakmont Country Club (Pennsylvania) 
The Oakmont squirrel has been a merchandise hit through the years for this private Pittsburgh club, especially with U.S. Open-related logo apparel. While thousands of trees on the course that squirrels called home are now gone, the Oakmont squirrel remains a distinct deviation from the club's standard "OCC" logo. Similarly, a squirrel serves as a secondary logo for another old world private in The Country Club in Massachusetts, host site of the 2022 U.S. Open.
Old Macdonald (Oregon) 
This Tom Doak design at Bandon Dunes Golf Resort might be a bit polarizing for some, but the consensus among golfers seems to be that the more recent "Ghost Tree" logo for Old Mac is vastly superior to the original. The Ghost Tree, in play off the tee at the par-four 3rd hole, is quickly becoming one of the most recognizable trees in the game.
Olympia Fields Country Club (Illinois) 
This exclusive club in the Chicago suburbs boasts a Willie Park Jr. design among its two 18-hole championship courses. It also has a unique primary logo with a "Greek key" design along with an alternate logo that features Olympia Fields's unmistakable, 80-foot-high, four-faced clock tower that sits atop a 110,000-square-foot clubhouse. 
Plainfield Country Club (New Jersey)
With a history that dates to the late 1800s, this Northern New Jersey club features distinctive blue pennants as flags on its Donald Ross-designed course. And while the main logo is a shield with initials, the pennant serves as a secondary option for accessories in the golf shop and a version also hangs above the fireplace in Plainfield's main bar area.
The Stanwich Club (Connecticut)
One of the unique logos in the game is the witch riding an 18th hole flagstick at this private Greenwich club. But Stanwich's witch visual is actually a popular secondary logo to the club's primary and far more traditional S and C lettering atop interlocking golf clubs.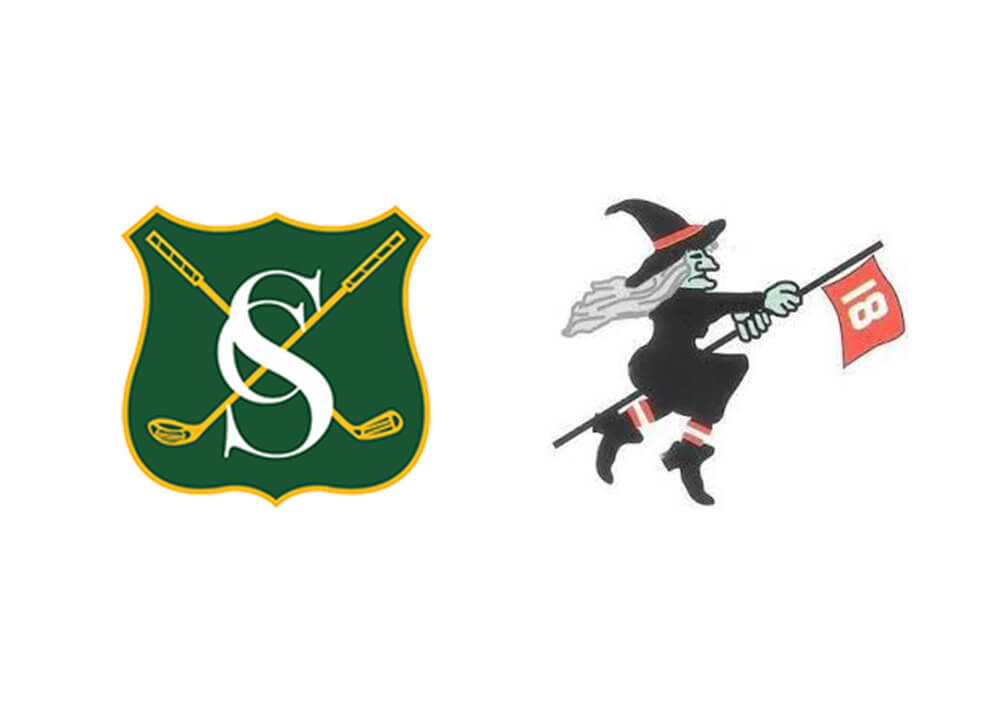 Tell us your favorite secondary golf logos!