Every year, Kapalua Resort and Waialae Country Club take turns sharing the spotlight as the PGA Tour makes a brief swing through Hawaii. Between those two prolific golf properties, along with resort courses such as Princeville Makai, Mauna Kea, and Manele (not to mention Four Seasons properties in Lanai, Hualalai, and Wailea), there's no shortage of exceptional golf destinations that remind would-be travelers that Hawaii is teeming with top-shelf golf.
Yet, there are plenty of other excellent courses where you should tee it up across those Pacific isles. Taking inspiration from Hawaii's eight islands, we spotlight eight lesser-known golf courses that are worth a round the next time you venture out to the Aloha State.
Overcoming first impressions isn't easy, but Wailua Municipal Golf Course on the east coast of Kauai proves it can be done. To describe the clubhouse and pro shop as modest would be an understatement; however, its no-frills aesthetic will surely conjure fond memories of similar muni courses where many golfers learned to play the game as kids. Similarly, the driving range is nothing special—just a utilitarian space to hit a bucket (where longer shots are likely to collide with the mesh fencing that guards against balls landing on the beach). Once players reach the middle of the first fairway, however, they're transported to a layout that will immediately make them forget they're at a municipal course. The second half of the 1st hole and all of the 2nd plays along Kitchens Beach on the left; and the Pacific reappears behind the green on the 17th, a 173-yard par three that is likely the most photographed hole on the course…and for good reason.
Wailua Municipal Golf Course in Kauai isn't your average muni…7000 yards and some gorgeous ocean views. pic.twitter.com/GSmgMiZi8K

— Golf Is Mental (@golfismental) December 6, 2016
Course architect Ted Robinson designed more than 150 layouts over a career that spanned more than five decades, and in that time he garnered the nickname "King of Waterscapes" for his penchant for incorporating water hazards into his designs. That trademark is prominently displayed at Kapolei Golf Club, where five lakes on property make a dozen appearances. In fact, water is in sight on every hole on the back nine, though you could easily argue that it's unlikely that the pond just to the left of the tee boxes on the 17th hole ever comes into play. Players who don't suffer from aquaphobia will still have to tend to Kapolei's elevated greens and 80 bunkers. Fortunately, the course offers wide fairways and plenty of collection areas around the putting surfaces, which make getting up and down a reasonable proposition.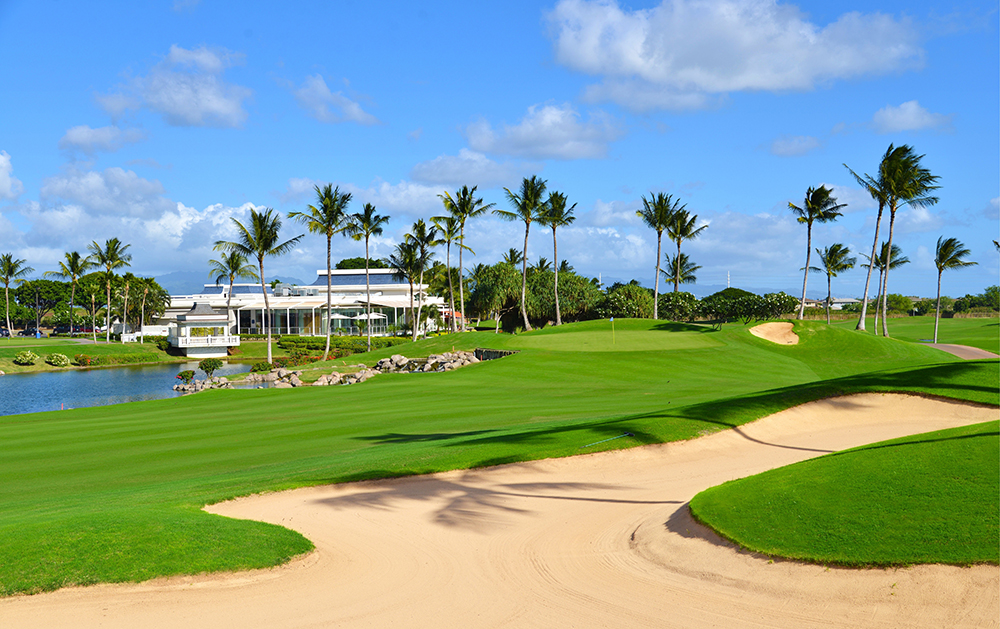 By the end of his career, Robert Trent Jones Sr. had left his proverbial fingerprints on three of Hawaii's eight islands. The prolific course architect's work spanned more than six decades, however his four Hawaiian courses were all designed and built during an eight-year window, beginning in 1962 with Royal Ka'anapali. Opening up at sea level, the course introduces a stout test of an introductory hole—a long par five doglegging to the right with water running down the entire right side. Viscerally, the front nine peaks at the 5th, a long par four that culminates with a well-bunkered green set right along May's Beach. Shortly thereafter, the course winds its way into the foothills of the Maui Mountains before returning to the scene of the crime, concluding with a long par four that plays along the opposite side of the water hazard that defines the opening hole. Arnold Palmer, who won the 1964 Canada Cup team event here alongside partner Jack Nicklaus, declared the 18th hole to be one of the most challenging finishing holes he'd ever played.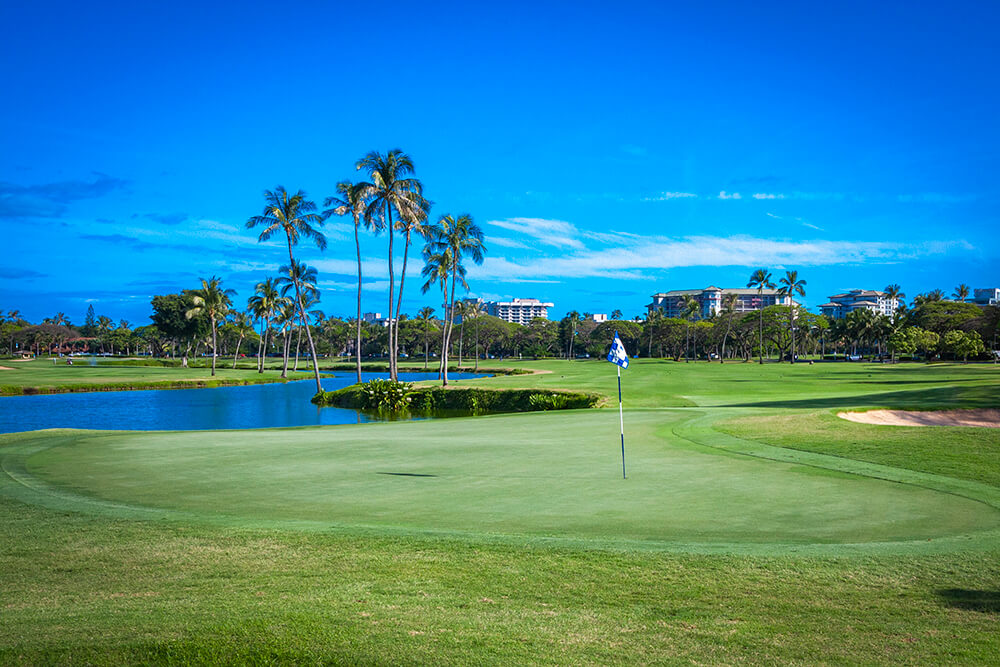 Built across a parcel of land that was once a sugar cane plantation, the Puakea Golf Course is an interesting hybrid of holes—some meandering along the outskirts of residential developments, others plunging into the more untouched regions of the island. When golfers arrive at the elevated tee boxes for the 6th hole—a drop-shot par three that plays 176 yards from the tips—they'll likely be flushed with a sense of adventure. With steep, volcanic ridgelines towering in the distance and only the Huleia National Wildlife Refuge between those rugged peaks and the bunkered green complex, visitors will see a landscape that almost feels prehistoric. Yes, rounds of golf played at some of the more prolific courses on the island of Kauai offer dramatic, oceanfront vistas, but a round at Puakea will remind golfers why the island served as a pivotal filming location for Jurassic Park.
What you see at the 1st hole at Ko Olina Golf Club isn't necessarily what you should expect the rest of the way around the 6,815-yard championship layout designed by Ted Robinson. Sure, there's a generous landing area off the tee—that's a feature that Robinson built into many of the holes here—but there's not a drop of water in sight. That changes immediately on the 2nd hole, a medium-length par four with water in play down the entire right side. In fact, water hazards at least partially define half of the remaining 16 holes on the course. Multi-tiered greens are also common and are certain to challenge your putting skills; knowing that Michelle Wie honed her game here as a teenager, it's not surprising that she ranked fifth on the LPGA for putts per green in regulation during her first year on tour.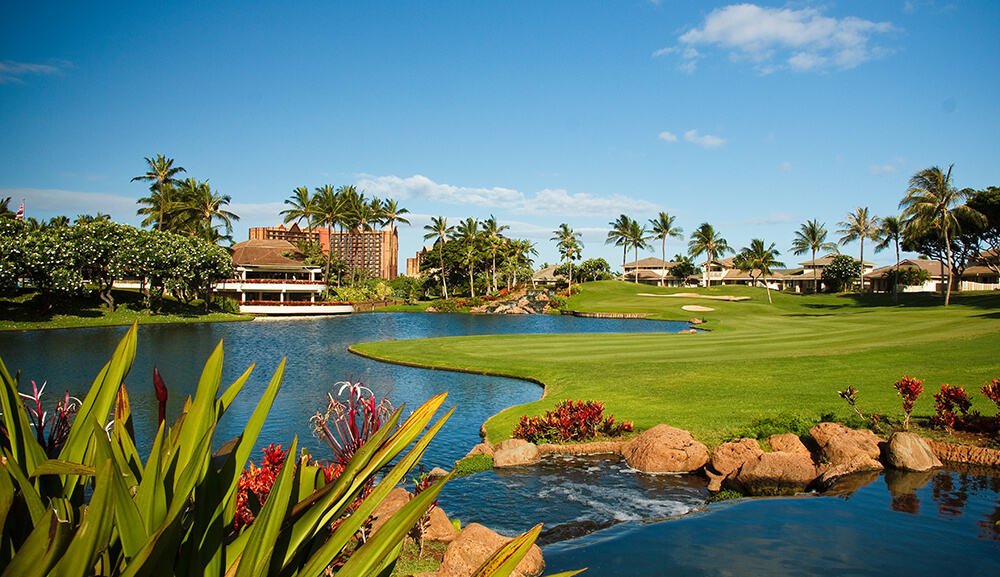 Comprised of three distinctive nine-hole loops, Waikoloa Beach Resort offers golfers an opportunity to customize their rounds, mixing and matching nines to suit their moods. The Beach Nine meanders through and around fields of black lava rock; and thanks to wide landing areas in the fairways, expansive green complexes, and low-lipped greenside bunkers, this collection of nine holes will provide a welcoming playing field for novice golfers while enticing more skilled players with plenty of scoring opportunities. The Lakes Nine covers the heart of the resort and, as its name suggests, brings water into play more than 50 percent of the time. Although not imposing in its length, this nine-hole loop, which is part of the original Beach Course that was built in 1980, requires accuracy if players are to avoid the aforementioned water and beds of lava rock. And then there's the Kings' Nine, which offers a links-like playing experience complete with native grasses, pot bunkers, and massive lava boulders. Needless to say, these nine holes will expose any course management weaknesses in your game.
In 1993, Pete and Perry Dye opened Royal Hawaiian Golf Club, only 20 minutes from Waikiki. The 6,609-yard layout was the first golf course co-designed by the father-and-son duo, though Greg Norman recently renovated and redesigned the course. Set in the heart of Maunawili Valley and flanked on either side by Mount Olomana and the Ko'olau Mountains, Royal Hawaiian still flashes many design signatures of its original creators, including railroad tie flashings around bunkers, tee shots with forced carries, and fairways that spill off into bunkers and ravines. Previously known as Luana Hills, the course is a tale of two nines, as the front is more rugged with mountainous terrain, while the back opens up and plays over rolling hills. In keeping with the style of many Dye designs, Royal Hawaiian is first and foremost a course that demands precision and smart course management—its course and slope ratings (73.1/138 from the back tees) provide proof of that, especially given the layout's modest length.
Tipping out at just over 6,300 yards, Olomana Golf Club is a resort-like course that seemingly puts the emphasis on resort. An opening par five that plays only 433 yards from the back tees (without any significant elevation change) suggests that low scores are prevalent here. However, given that the front nine is exposed to the elements and the course sits on the windward side of the island, blustery winds can sometimes compensate for a lack of distance. Even if birdies don't make a frequent appearance on your scorecard, you're likely to still see a number of rare and endangered fowl across the course. Such sightings include the Hawaiian Duck, the Hawaiian Coot, the Hawaiian Stilt, and the Hawaiian Gallinule, the latter of which is so endangered that only 300 or so are thought to still exist.
View this post on Instagram
What are your favorite courses to play in Hawaii?