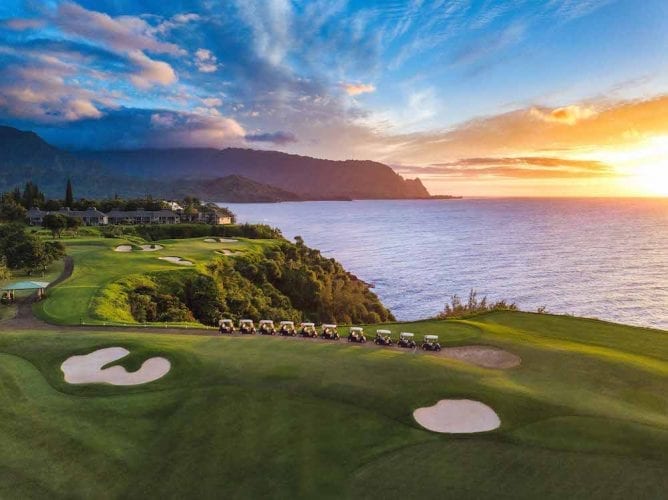 Times have changed considerably for the better in our glorious 50th state since February of 1779, when Captain James Cook found himself caught between some lava rocks and a hard place (the latter being a flash-mob of Hawaiians devoid of the welcoming "Aloha Spirit" you hear so much about nowadays). May he rest in pieces.
Fast forward a couple of centuries and you'll find that the locals have learned to hold their noses when it comes to the invading "haole" hordes (i.e., non-native mainlanders clad in garish Hawaiian shirts). Some ten million visitors a year leave behind upwards of $16 billion, accounting for more than 21 percent of the state's economy. That's a big heap of sandalwood, which used to pass for currency around here.
Residual pockets of resentment surely remain, especially when deep-pocketed tech-billionaires arrive with chump change to devour entire islands in a fell swoop. Oracle's Larry Ellison dropped a cool half-billion to take deed to Lanai in 2012, and Facebook's Mark Zuckerberg spent $100 million for a 700-acre plot on Kauai, then tried to sue local descendants of tenant farmers for even more land. As if the guy needs additional bad press.
Take all of that cutthroat corporate finagling and throw in the Big Island's recent Kilauea volcano eruption and you might think of calling your travel agent and telling him you'd like to book a vacation to Chernobyl instead of Maui this year. But that would be a mistake of epic proportions.
For those of us who travel nowhere without spiked shoes and cabretta leather gloves, Hawaii is still one of the most glorious destinations in the world, where nature provides the perpetual sunshine (with intermittent showers and the odd killer hurricane) and volcanic shape-shifting has created a topography tailor-made for dramatic golf course design.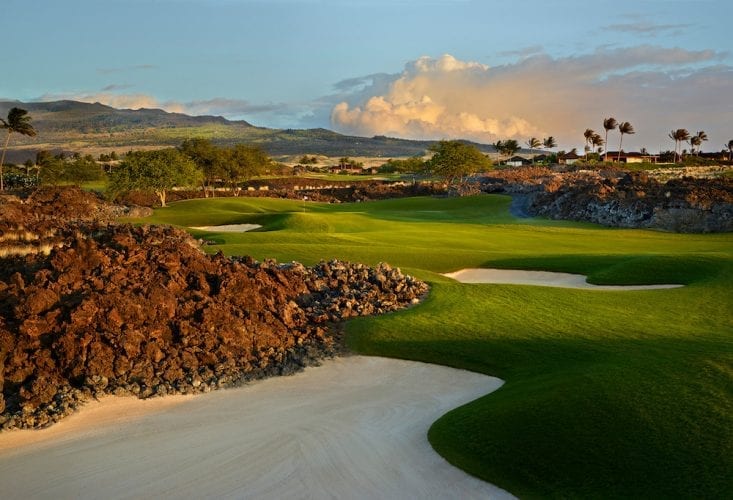 Maui resident Mark Rolfing—a voice well known to PGA Tour event watchers—is the default ambassador for all things golf in Hawaii, and claims it is the selfsame volcanic rock that helps make island golf so memorable. "Besides the reliability of the weather, people are going to hit the longest drives of their lives here. Scotland may have invented hard and fast, but Hawaii gave it a whole new meaning!"
Rolfing has been on Maui for some four decades and counting and is intimately involved in the upcoming restoration of the celebrated Plantation Course at Kapalua. Bill Coore and Ben Crenshaw—in partnership with Troon Golf—will resurface the greens, renovate bunkers, and add tees to maintain its ranking among the state's best layouts. 
There are several other courses well worth playing while on Maui (the Gold Course at Wailea ranking near the top, with the restored Fairmont Kea Lani hard by), but an adjunct plan might be to jump on one of the last inter-island ferries from Lahaina to the aforementioned Lanai, a 45-minute jaunt across generally calm waters. 
Check in at the beyond-serene Four Seasons Resort and book a time at the Jack Nicklaus-designed Manele Golf Course. Perched high above Hulopoe Bay and built on lava outcroppings, it boasts some of Jack's best work and the golf world's most arresting views: The "Member for a Week" program lets you play unlimited golf for seven days for $1,350, which amounts to a true bargain in these parts.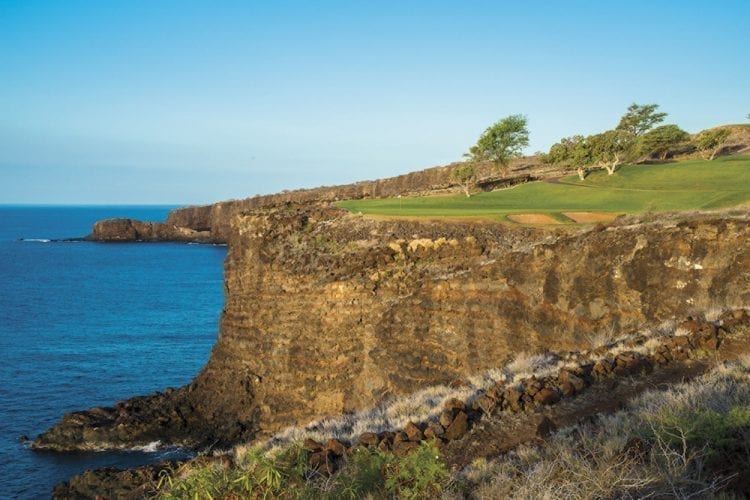 Given that Lanai's Four Seasons is the only show in town (except for the nine-hole Cavendish golf course, which is free!)—and a high-end destination at that—we might do well to talk parsimony at this point. Traveling to Hawaii isn't cheap, per se, given that one usually flies in to Honolulu (on Oahu) and then puddle-jumps one's way to the so-called "neighbor islands." That can add up to a lot of puka shells in a hurry.
A better overall strategy for nickel-knucklers like myself would be to emulate good comedians and value timing over all else. The shoulder season—late summer, early spring—means  smaller crowds and better pricing. And keep your eye on Southwest Airlines, currently prepping service to Maui and Honolulu from the west coast, with inter-island flights to follow. A little competition in this market will be a very welcome addition.
Another sure way to stretch one's vacation budget is to choose a single island and eschew the hopping altogether. If that's your bowl of poi, Oahu may offer the most diverse experience, from the helter-skelter of Waikiki Beach with its high-rise towers and designer shops, to the serene, surfer-friendly waters of the North Shore. 
Turtle Bay Resort is a fine place to call home if you fancy 36 holes just outside your ocean-view room. Most experts concur that the Arnold Palmer track is preferable to the George Fazio design next door, Arnie's wending its way through dense jungle and natural wetlands before reaching the shimmering surf. And do pay a visit to Kahuku Golf Club, a nine-hole gem just down the road that is the greatest value in Hawaii, 2,700 yards of no-frills links golf for the price of a Mai Tai and a fistful of macadamia nuts.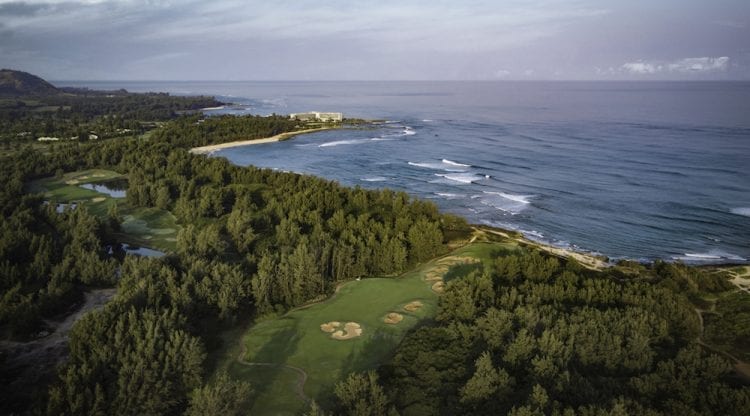 We would be remiss to not make passing reference to an infamous track called Ko'olau, once feared and revered as the most difficult course in America by the USGA. Worth playing at least once just to say you did, its 80 bunkers, jungle-bordered fairways, and insanely sloped greens make for a long day and a considerable investment in golf balls. But the spooky, fog-enshrouded mountains and distant ocean views assuage whatever pain may inhere from carding a three-digit score (also, an Oahu native named Obama counts this track among his favorites, the mark of a thick-skinned masochist).
The so-dubbed "Big Island" of Hawaii is also a good place to call it a week. Rees Jones just gave his dad's 54-year-old Mauna Kea layout a facelift, bringing the bunker total to 99 and adding 200 yards (as if the prevailing winds didn't do that on its own). And the Four Seasons Hualalai Resort's Jack Nicklaus course is a handsome eyeful: Kelly green turf against jet-black lava fields with azure seas as background. Now's a great time to visit: That pesky Kilauea volcano is taking a Kona-coffee break for a couple of years, Pele willing (she's the local volcano goddess).
Saving the best for last, the "garden island" of Kauai is great for golfers and grandkids alike, the sunnier south rife with resorts and restaurants and the tranquil north a haven for Hanalei Bay hippies and retired rock stars. Hike the 11-mile path along the Na Pali Coast (don't wear flip-flops), where a free tropical buffet is yours for the picking (bananas and guavas, etc.). Waimea Canyon is well worth a swooping copter tour to relive Jurassic Park in stomach-churning 3D. 
And yes, you Tiger Would-be's can also have your fun on Kauai. St. Regis Princeville Resort's Makai Golf Club has been updated by RTJ Jr. himself, and is a wild ride through dense jungle and atop seaside cliffs; the very same designer anchors the island's south side with his Poipu Bay layout, perennial former home to the PGA's Grand Slam event (try matching Phil's 59 if the prevailing winds are in your favor). It is a bucolic track with abundant ocean views, including finishing holes that tower some eight stories above Neptune's capacious wading pool.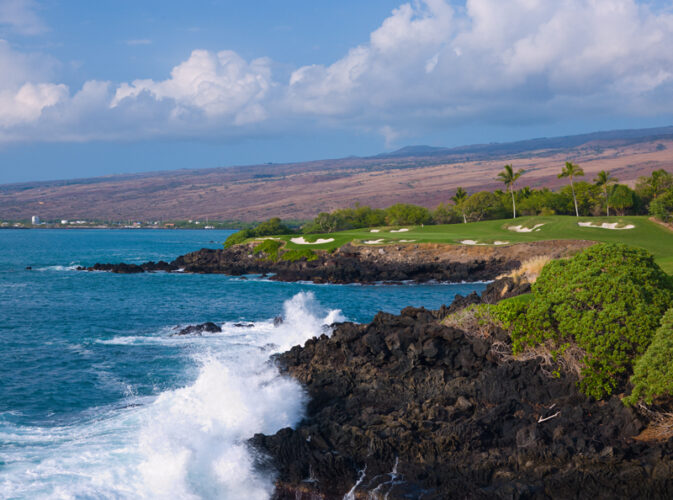 Footnote for foodies: It used to be said that if you wanted to eat well in Hawaii you should bring your own, but times have changed and then some. Spam musubi aside (think sushi with canned pork instead of fish), dig in to Giovanni's food-truck garlic shrimp on Oahu's North Shore; brunch at Honolulu's Koko Head Café which mixes Asian and Hawaiian influences to grand effect; and visit Da Poke Shack on the Big Island, which Yelpers recently voted America's best eatery. If you like your ahi tuna fresher than a drunk Congressman, $15 will land you a big bowl of the stuff and a cold beer to boot. 
The rest is up to you intrepid haoles to find a few weeks in the spring or fall when the hoi polloi aren't lusting for puka shells, poke, and poi. Seaside resorts cost more, so trade in the crashing surf sound effects for a reasonably priced room offshore. Remember, that pond called the Pacific is everywhere you look. A hotel room is a minimum security prison compared to the triple threat of sun, surf, and sky. 
So pack the flip-flops and FootJoys, sunblock and Stephen King novels, and leave the mainland behind. Chances are you'll never want to return to what passes for real life. Hang ten and handle it, Kahuna…