The land may be flat but the golf is surprisingly diverse on a host of courses found from city center to suburban sprawl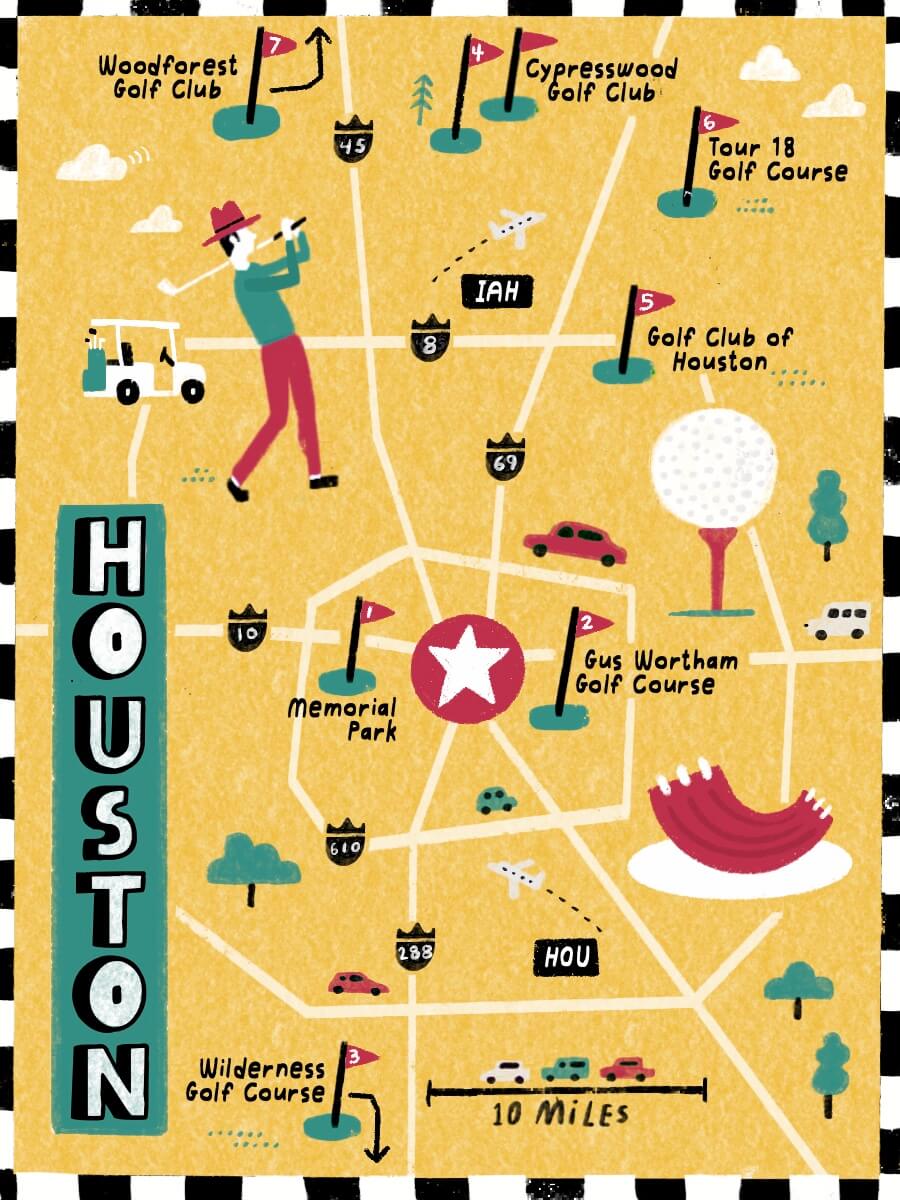 Houston is astonishing. The fourth largest city in the U.S. has never embraced zoning, for god's sake, which has led to many jaw-dropping juxtapositions of buildings and businesses. That same Houstonian independence—or orneriness—manifests in drivers who think the speed limit is merely an amusing suggestion and that the use of the turn signal is a sign of weakness.
Houston golf is also surprising—surprisingly good. The geographically huge city sprawls on the vast, flat Gulf Coastal Plain. That's a good thing, because any course with even 20 feet of elevation change feels almost hilly, and the creeks, bayous, and man-made canals that crisscross the land result in golf ground that drains well. And the best part: green fees are very reasonable. The courses named here average about $65 (cart included) during the week, $80 on weekends.
6 COURSES—101 MILES—$350
H-town has two main airports: George Bush Intercontinental (IAH) is north; William P. Hobby (HOU) is south. But no matter where you rent your car, you're going to go play Memorial Park, which is in the center. Let's say you choose Hobby: buckle up, put the hammer down, and drive 15 miles north and west on I-45 to Memorial Drive.
Memorial Park is to Houston what Central Park is to New York City, except has a golf course in it. A new golf course, really, given its complete remodel in 2019 thanks to the initiative and generosity of Houston Astros owner Jim Crane. Tom Doak and assistant Brooks Koepka eliminated nuisance ponds and superfluous trees while adding interesting movement to fairways and greens. An already good track became a Tour course, as the new host of the Houston Open.
Next, get on the big cart paths (I-10 and I-45) for the 13-mile trip to gem-like Gus Wortham Park Golf Course. It occupies the site of the original, circa 1908 Houston Country Club, and like a lot of old courses, it is characterized by small, tightly bunkered greens and a short (6,388) maximum yardage. The turf is superb and its fun quotient is high.
Equally enjoyable in a totally different way is the Golf Club of Houston, a half hour north on I-69. GC of H—which is in the modest suburb of Humble, pronounced locally as "Umble"—hosted the Houston Open on its Rees Jones-designed Tournament Course from 2007 to 2018 in the slot just before the Masters, which you'd think would be a week of rest for the best golfers on earth, but it wasn't, because they did such an amazing job of replicating the look and feel of Augusta National.
The original Tour 18—the course that attempts to duplicate some of the world's most famous holes—also resides in humble Humble, just eight miles from GC of H. Single-digit golfers may need only one dose, but mid- to high-handicappers will enjoy Tour 18 again and again.
I'm a big fan of the Traditions course, one of two at Cypresswood, in Spring, about 20 minutes west on 1960 Bypass Road East. "Not a single home flanking the fairways," they brag on their website. Instead, the fairway flankers are pines, creeks, and, surprise, cypress trees.
The other, sportier, less expensive Cypresswood course is called—wait for it—Cypress. It's not a bad final stop in a Houston excursion. From there's it's less than an hour back to Hobby. Please drive carefully.