The Northeast is the home of old golf in America—where guest passes are prized like Willy Wonka's golden tickets. But for every secluded Devereux Emmet, Walter Travis, Alexander Findlay, or Willie Campbell design there are plenty of excellent public courses anyone can play.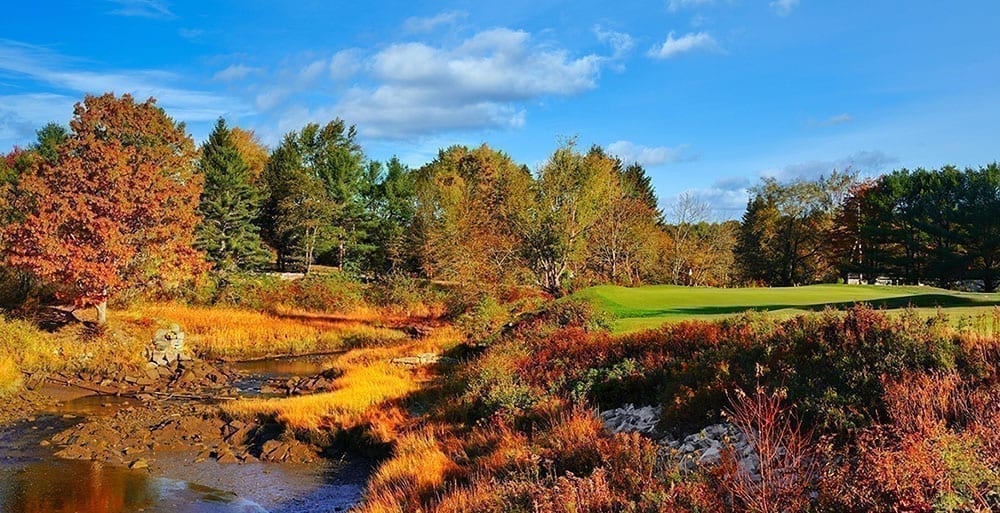 This is our version of the American Dream—really good golf where everyone is welcome and everyone can afford to play. Here's a baker's dozen we think are worth the trouble getting to.
Read the other features in our "American Dream Courses" series here:
The Golf Course at Glen Mills – Glen Mills, Pa.
Former Pete Dye associate Bobby Weed has never received the attention he is probably due, and Glen Mills, located on 235 acres in the historic Thornbury Township 30 miles west of Philadelphia, might be his best design. A host of numerous USGA qualifiers in its 20-year history, Glen Mills was a great favorite of Pennsylvania native and revered golf writer James Finegan who said that on a scale of 1–20 "with 20 for Pine Valley, Merion, Ballybunion and the like, Glen Mills gets a 19." $85 to walk midweek. http://www.glenmillsgolf.com/
Blue Ridge Trail – Mountain Top, Pa.
Blue Ridge Trail has three nines—conveniently named "Blue," "Ridge," and "Trail"—that opened in 1992 and were designed by Brian Ault and Tom Clark, a fairly prolific team in the Mid-Atlantic states during the 1980s, '90s, and '00s. The Blue and Ridge are considered the two most popular nines, but you'll enjoy the setting and terrific conditions no matter which combination you play. Ride for just $39 midweek. http://blueridgetrail.com/
Patriot Hills – Stony Pt, N.Y.
This is Rick Jacobsen's second appearance in our American Dream Golf series. Patriot Hills, which opened in 2003 in the deeply forested Ramapo Mountains overlooking the Hudson River 40 miles north of the Empire State Building, is another cracking layout we highly recommend. It's $80 to walk (or $45 if you happen to live in Stony Point). http://patriothillsgolfclub.com/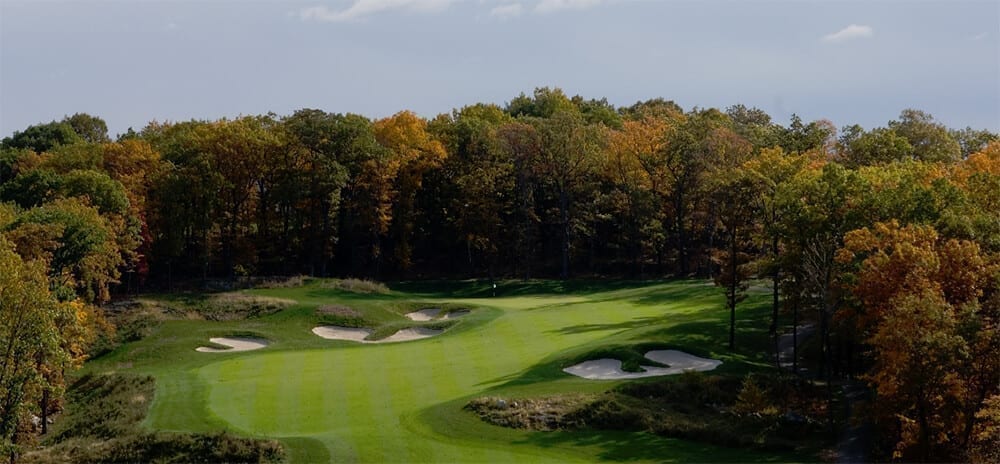 Montauk Downs – Montauk, N.Y.
This 1968 Robert Trent Jones design on the eastern tip of Long Island is often described as the "poor man's Shinnecock Hills." That's a bit of a stretch, but there are plenty of good holes here hindered by stiff winds at the intersection of Long Island Sound, the New York-New Jersey Bight, and the Atlantic Ocean. The Downs, purchased by New York State Parks in 1980, is extremely popular with residents who make the three-hour drive out from the city. $43 for N.Y. residents, otherwise it's $86. https://parks.ny.gov/golf/8/details.aspx
St. Johnsbury Country Club – St. Johnsbury, Vt.
The original nine holes, opened in 1923, were the last holes designed by two-time British Open winner Willie Park Jr. His failing health meant his brother, Mungo, had to step in and complete construction of a routing that is full of interest and requires much deliberation and finesse. The second nine, added in 1992 by Geoffrey Cornish, traverses less intimate ground on the course's perimeter but is no less enjoyable. Just $33 to walk midweek. http://golfstjcc.com/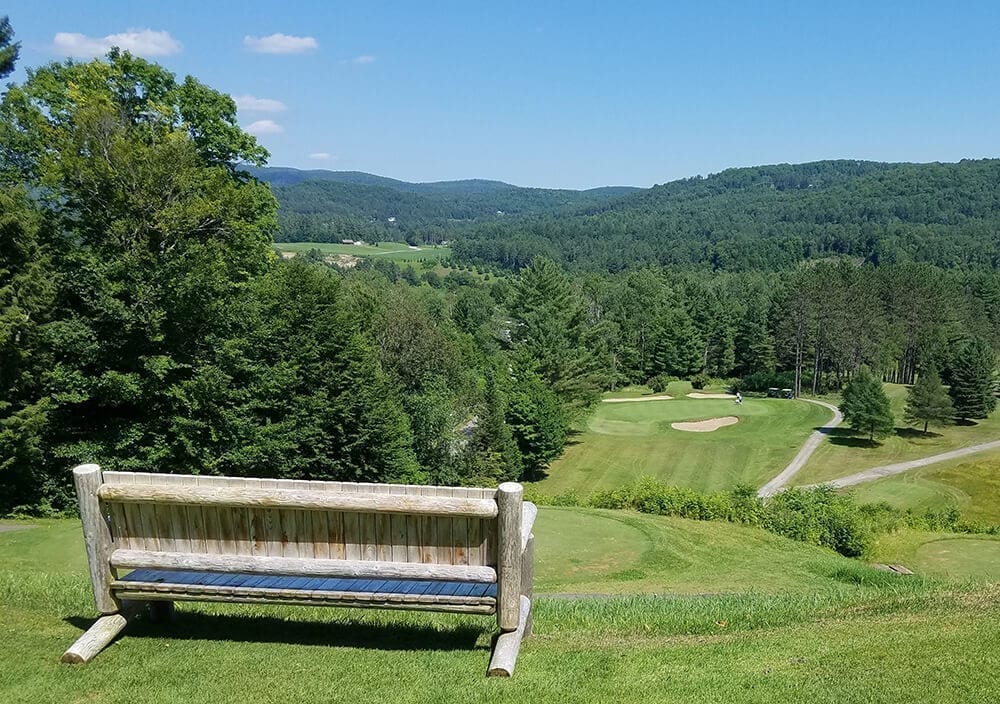 Cape Arundel – Kennebunkport, Maine
It's not widely-known and the club doesn't make much noise about it, but non-members are in fact able to schedule a tee-time here. The first nine holes were designed by Alex Findlay and opened in 1896, but Walter Travis was asked to extend the course 24 years later, and worked wonders fitting 18 exquisite holes into just 88 acres alongside the Kennebunk River. The small, heavily-contoured greens and their shapely surrounds make every hole at Cape Arundel a beguiling test of touch and creativity. Architect Bruce Hepner has consulted for the club since the late '90s perfecting Travis's masterpiece. Spring/early summer rates range from $55-$80. https://www.capearundelgolfclub.com/
Shennecossett – Groton, Conn.
Originally owned by the magnificent Griswold Hotel and a favorite summer destination for wealthy New Yorkers, "Shenny" began life in 1898 with four holes and gradually ramped up to the full 18. In 1919, Donald Ross redesigned the course which the town of Groton purchased in 1969. Ross's layout remained intact until 1997 when the club traded a 20-acre parcel with Pfizer for land on the Thames River. Mark Mungeam reconfigured the course and built three terrific holes closer to the water. Non-Groton residents pay $47 to walk 18 holes midweek. http://www.groton-ct.gov/depts/parksrec/shenny/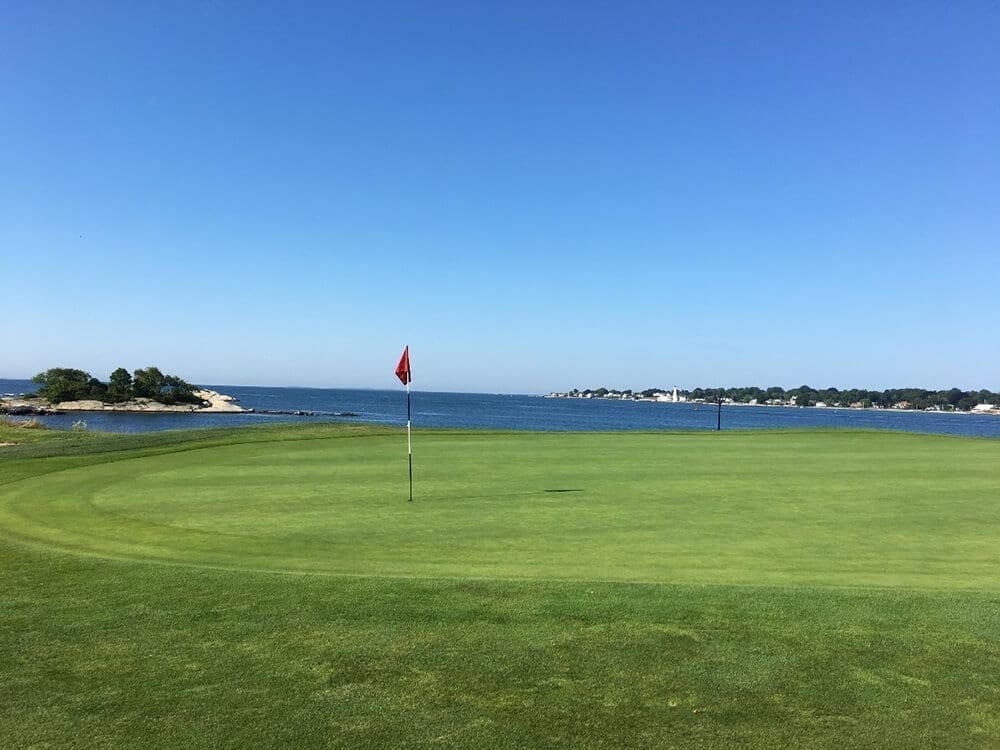 Triggs Memorial – Providence, R.I.
A couple of miles west of downtown you'll find more public Ross golf—this time a wooded beauty that opened in 1932 with plenty of Ross features the architecture aficionado will appreciate. Like any municipal, Triggs loses marks for pace of play at times, but it's a splendid course that begins with three tough par fours and tips out at 6,522 yards. $38 during the week to walk 18. https://triggs.us/index.php
Wahconah Country Club – Dalton, Mass.
The great Bobby Jones played his last round of golf on August 15, 1948 with friends at Wahconah CC, having been diagnosed with the devastating spinal condition that would eventually confine him to a wheelchair. "This was my last effort, sorry it wasn't a better one," he wrote in a note to the club. The 18-hole routing was devised by Wayne Stiles with the first nine (now back nine) opening in 1929. Geoff Cornish added the second nine 32 years later, following Stiles's plan. It's $60 to walk 18 holes. https://www.wahconahcc.com/
Cape Cod Country Club – East Falmouth, Mass.
Given Devereux Emmet (yes, Emmet designed public golf too) and his associate Alfred Tull created it, it's no surprise Cape Cod CC is a delightful, thought-provoking course you'll be glad you found. Opened as Coonamessett Golf Course ("Coonamessett" is an Algonquin word meaning "place where large fish are found") in 1928, the course went through numerous ownership and name changes before becoming Cape Cod Country Club in 1977. Surrounded by the forested Coonamessett Reservation and Coonamessett Pond, CCCC is a wonderfully peaceful place for a round that will cost you just $43 midweek. http://capecodcountryclub.com/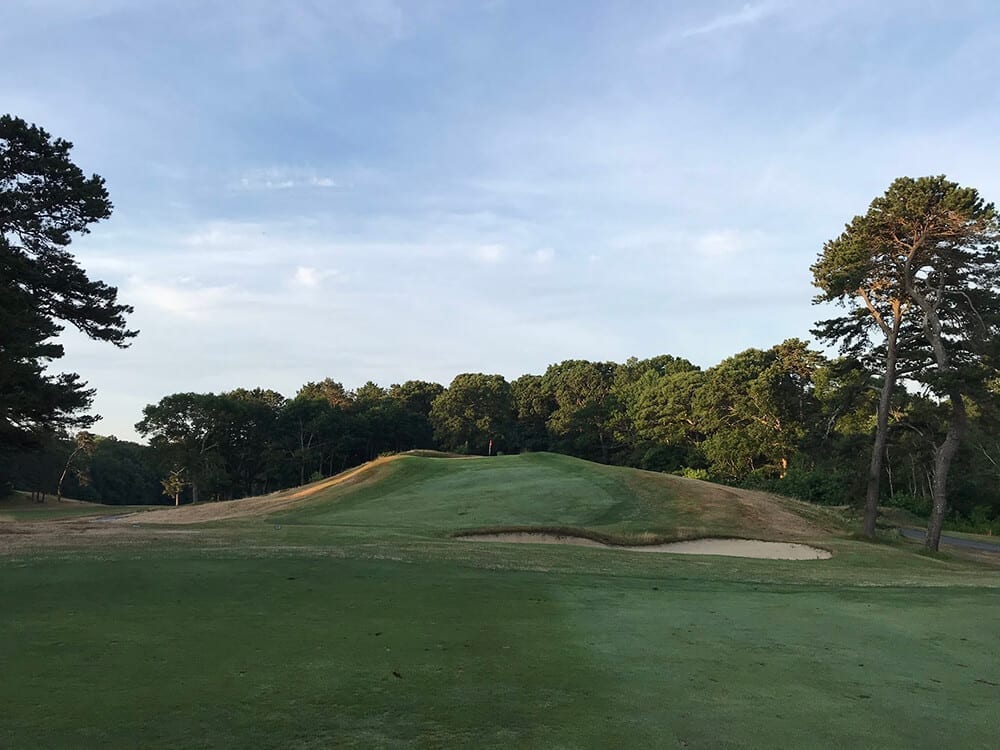 Francis Byrne – West Orange, N.J.
Seth Raynor and his prodigy Charles Banks weren't noted for their public courses, but in West Orange, N.J., half an hour west of Manhattan, you'll find two that are easily accessible and which opened nearly 100 years ago. Neither started out as public courses, however. Francis Byrne opened in 1925 and was originally the West Course of the prestigious Essex County Country Club. Essex County Parks purchased it in 1979, however, when the country club could no longer afford its upkeep. Banks designed it and a number of the familiar template holes common to C.B. Macdonald/Seth Raynor/Charles Banks layouts are present—Road, Biarritz, Punchbowl, Eden, etc.—though most have been tampered with through the years. Play 18 holes for $48. https://www.essexcountyparks.org/golf/francis-byrne-golf-course
Rock Spring Golf Club – West Orange, N.J.
Rock Spring, just a couple of miles away from Francis Byrne down Prospect Road, likewise opened in 1925. It was designed by Raynor and while it doesn't have the geometrically-shaped bunkers and greens of his other designs, there are enough quirks and Raynor elements to confirm his handiwork. The township of West Orange purchased the course in April of last year for $12 million, but you can play it for $52. https://www.rockspringgolf.com/
View this post on Instagram
Heron Glen – Ringoes, N.J.
Dan Schlegel might not be well-known nationally, but the former Ault-Clark associate has had a hand in a number of acclaimed courses up and down the eastern seaboard, primarily in Pennsylvania, Maryland, Virginia, and New Jersey. Heron Glen is a fairly flat, fairly exposed layout with large bunkers and subtly-contoured greens located in rural Hunterdon County, 80 minutes west of New York City. It's $50 to walk 18 holes. http://heronglen.com/