Lieutenant Colonel Dan Rooney is no stranger to adventure. The Air Force Reserves F-16 fighter pilot served three tours in Iraq. He's also a PGA Professional and is well known for pairing his patriotism with his love for golf within Folds of Honor, a non-profit organization that helps the families of fallen and disabled service members.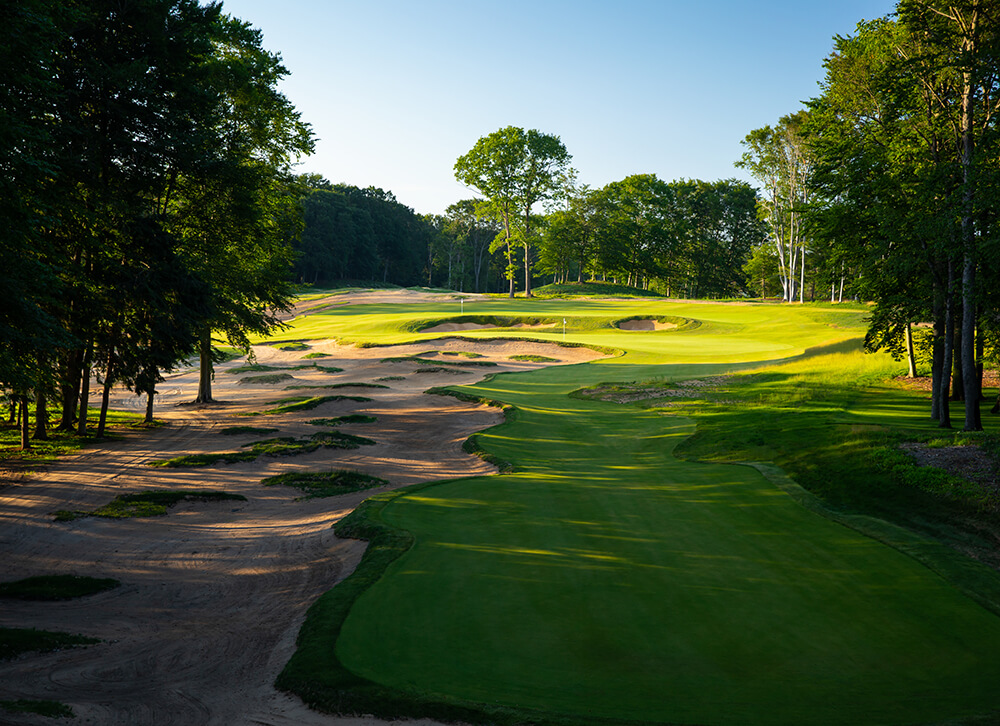 Those who know the charismatic colonel describe him as overwhelmingly outgoing—an energetic soul with an infectious personality. But when asked about the feeling he has after seeing his most recent passion project near completion, Rooney takes a deep pause.
"Humbled and blessed," Rooney says calmly before returning to his spirited self.
American Dunes in Grand Haven, Mich., has come to life after a unique collaboration between Rooney and the man he calls the greatest golfer of all time—Jack Nicklaus.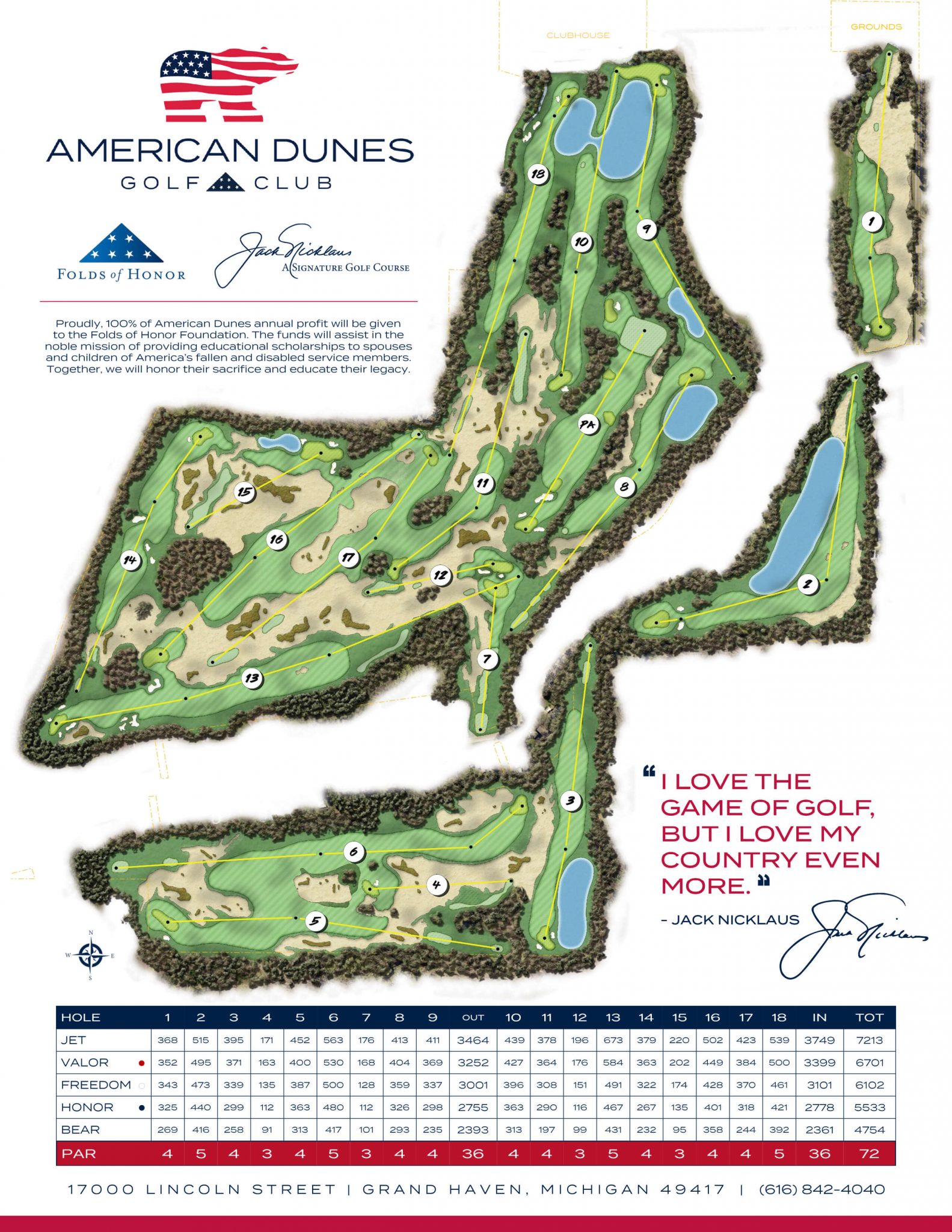 Rooney remembers February 22, 2018 vividly as the day he approached Nicklaus with the idea to build a golf course where Folds of Honor began with a mission of supporting military families.
Nicklaus wasn't just inspired—he was all-in.
"Not only is Dan Rooney an American hero, he's a professional golfer," says Nicklaus, a supporter of Folds of Honor since its inception in 2007. "When Dan asked me to participate in American Dunes, I said yes even before knowing what was really going on. I knew it would be good."
So good that Jack waived his standard $3 million architecture fee and agreed to design American Dunes as a Nicklaus Signature golf course.
View this post on Instagram
American Dunes was built on the site of the former Grand Haven Golf Club, which closed its doors in 2018. Grand Haven is where Rooney held the first golf tournament that inspired Patriot Golf Day benefiting Folds of Honor.
"It was a property full of trees, about 300 yards off of a lake. We basically took every mature tree in the interior portion of the golf course off the property," says Nicklaus. "The unique aspect was removing all those trees and creating a sand dunes property. It was really different and unusual, but I think we pulled it off very well."
The location's sandy terrain is the stuff of an architect's dreams. Rooney says he "geeks" when talking about the molecular makeup of the sand and that Jack had the opportunity to build whatever he wanted out of the dunes.
"It's as organic of a site and design as I've ever seen," says Rooney. "It feels like it's a mix between Pine Valley and Cypress Point."
Golfers will have a chance to play American Dunes following the grand opening set for May 2021. Rooney and Nicklaus are promising guests an unforgettable experience with all profits going toward Folds of Honor.
There's an on-site memorial where visitors will walk in the boot prints of soldiers who were killed in action. Golfers can enjoy what Rooney calls "an amazingly cold Budweiser" in the Squadron Bar after their round and spend the night or a weekend at "The Camp at American Dunes."
"We're going to do all we can to replicate the experience that our fighter pilots have," says American Dunes General Manager Doug Bell. "They get done with a mission and go to a squadron bar to decompress. When folks come in, they'll see a lot of military and Jack Nicklaus imagery. There will be people who come here that don't play golf and just want to experience the story that's told inside the building."
The experiential golf trend is one that has emerged over the last decade as both popular and profitable. American Dunes should fit that profile, though it's a destination unlike any other.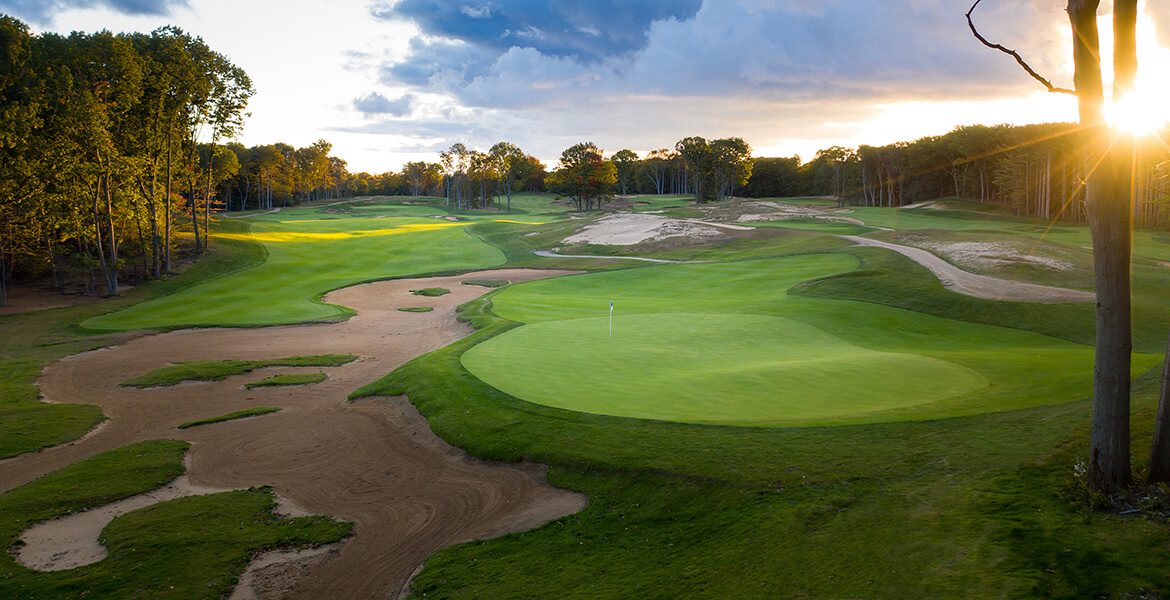 "Golfers who play American Dunes are going to leave inspired at a patriotic level," says Rooney, who has seen Folds of Honor grow from an idea 13 years ago to raising close to $20 million dollars and sending 4,000 military families to school this past year.
"Hopefully guests will want to become a wingman, join the squadron of Folds of Honor, make a donation, and help spread the word. We want this to be an engine of change on behalf of these families that have had somebody killed or disabled defending our freedoms. It's truly a mystical place."