When tragedy struck Phil Turturro and his closely knit family, he left a successful career in mobile home sales in Texas and was at a loss as to what to do next. He channeled his emotion and energy into clearing trees off the two-acre property behind the home he'd built just outside San Antonio in Boerne, Texas.
Golf had always provided an escape of sorts for Turturro, from the municipal and military courses he grew up playing as a youth for less than $10 to the buddies' trips he'd later go on with friends and family. He had a growing interest in golf architecture and, in looking at his property survey during the clearing process, realized he might have enough space to build a four-hole backyard course that could be the ultimate escape.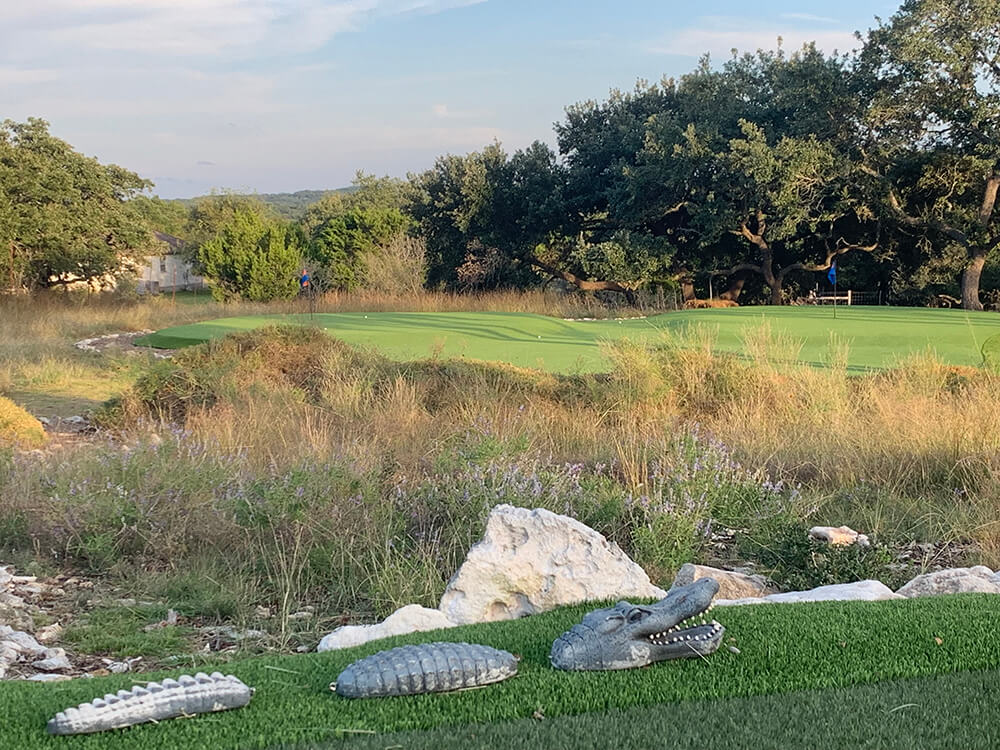 Turturro found a spot with a downhill view and an infinity edge and envisioned a plateau hole inspired by the 3rd hole at Fishers Island, one of his favorite golf experiences. A wild outcropping jutting from the ground would make the perfect Punchbowl. A self-described "golf architecture junkie," Turturro had drawn out his vision for the greens and a possible layout, but wanted to run it by someone with more real-world experience. He reached out to Oklahoma-based golf architect Colton Craig, who he'd had a chance meeting with at Augusta National's Amen Corner while serving as a volunteer ahead of the 2019 Masters.
Craig not only drove down and gave the routing a thumbs up, he helped Turturro find a shaper and an artificial turf company. Austin-based Brian Ross did the shaping in just under a month, while Celebrity Greens did the putting surfaces in a week—three actual greens along with a practice putting green that is attached to the first tee box, giving his backyard course, Gator National, what Turturro describes as an "old-school vibe."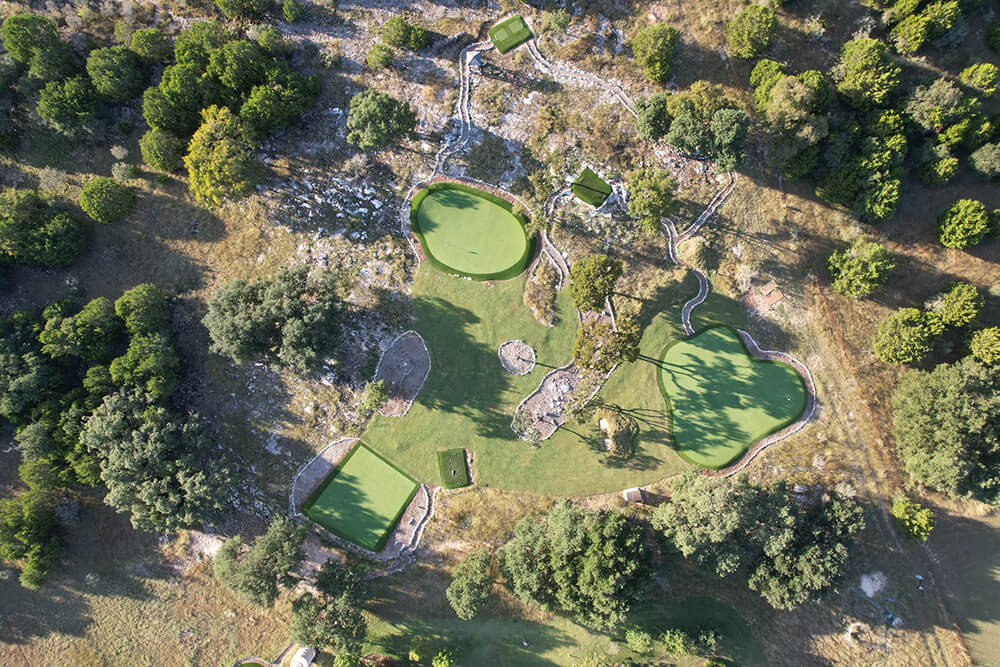 "It was an incredibly fun process," says Turturro, who estimates he's spent between $150,000 and $200,000 on the course, which derives its name from his beloved University of Florida Gators and is free for all to play and is especially welcoming to kids. "I still can't believe that I did it. My wife knew it was going to be very expensive, and it kept getting bigger, but to her credit, she never really doubted why I was doing it. She just knew I needed to do something to get my mind off where I was."
During the process, Turturro not only found an escape, he discovered a new career. The successful salesman partnered with Celebrity Greens to become their San Antonio-area dealer and now helps others create putting greens and backyard courses of their own.
While backyard courses aren't exactly commonplace, there are plenty of examples—from a par-3 course built in the hills behind an estate in Malibu, Calif., to "Some Guy's Backyard," a short course with seven crisscrossing holes built by four friends outside Kansas City known as Brough Creek National, to Vickery Creek Pitch & Putt, another passion project built with turf-mat tees and Diamond Zoysia greens through a wooded area near Atlanta.
Well-known celebrities have gotten in on the game—Jim Nantz has a replica of Pebble Beach's 7th hole behind his Monterey Peninsula home; actor Mark Wahlberg has four backyard greens for honing his game; and Hall of Fame pitcher John Smoltz has nine tees and three greens in his yard.
More companies have also sprouted to meet demand—like Lanmark Designs in Dalton, Ga., which specializes in designing par-3 and backyard golf holes, from chip-and-putt layouts with synthetic greens to an 18-hole, par-68 course that features five synthetic greens and nine tees.
Turturro recently built a backyard short course in Canyon Lake, Texas, that has three greens and eight tee boxes on the side of a steeply sloped hill between the client's house and a lake. They're now working on another project that has greens designed to duplicate the par-three 10th hole at Pine Valley, complete with the Devil's Asshole bunker, and the 6th hole at Riviera with a bunker in the middle of the green.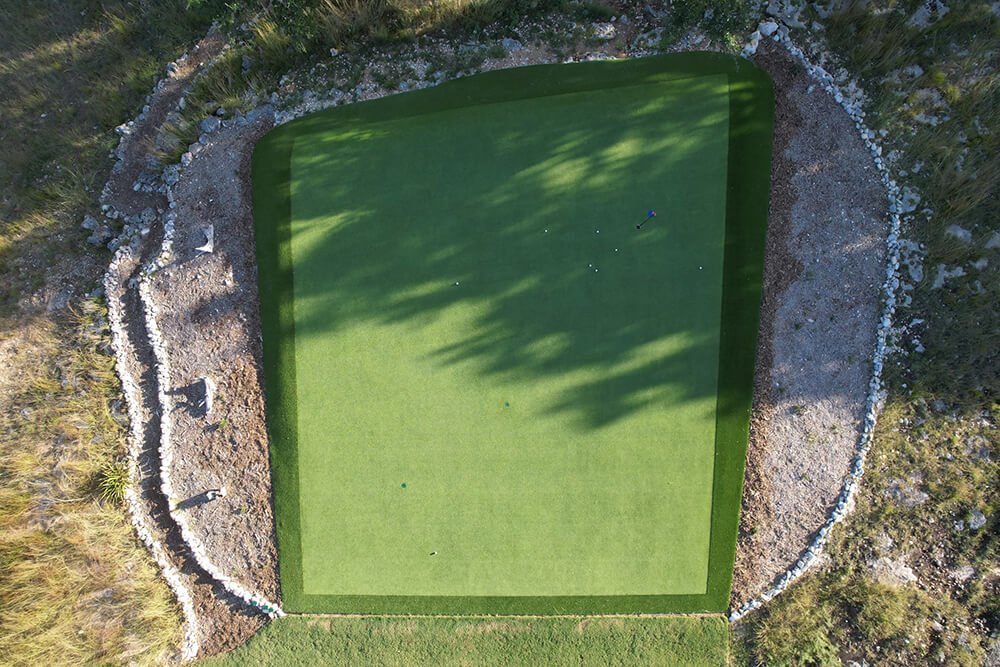 "I don't think there's a golfer on this planet who wouldn't like to have a putting green or golf hole in their backyard if they could," says Turturro. "We've all dreamed about it. And it's so much fun."
Have you played a backyard golf course? Tell us about your experience in the comment section.