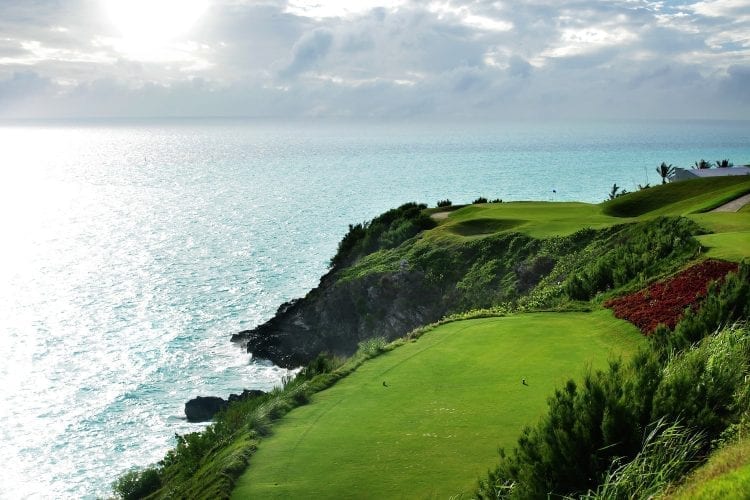 The French have an expression:
"The more things change, the more they remain the same." The British—who pride themselves on not agreeing with anything the French say—likely would counter with, "Don't change anything, it's fine."
Case in point: Bermuda, that tiny outcropping of the Commonwealth in the middle of the Atlantic  less than two hours from America's East Coast.
Twenty-five years ago, I spent a week on the 21-mile-long island playing every course—all eight of them, all 135 holes. I wrote an article for a now-defunct magazine encouraging traveling golfers to bring their clubs to Bermuda, where they would face a wide variety of shots, conditions, and challenges and have a great time no matter how they scored.
A quarter-century later, I went back and did it again.
And guess what? Things remain the same.
Which isn't to say the calendar stopped turning in the interim. It's hardly Groundhog Day with a British accent. Since my last visit, courses have been shuttered, reopened, and renovated; hotels have changed owners, been razed, and replaced; there are more people—the population is around 64,000—and many more cars (so fewer tourists braving the narrow roads on rented mopeds).
As to the most important element of all, the quality of the golf? The changes have been almost entirely for the better.
The biggest improvement is at Port Royal, a Robert Trent Jones Sr. design that opened in 1970. Now home of the PGA Grand Slam of Golf (featuring the year's four major winners or their stand-ins), Port Royal is a government-run muni where someone figured out how to overcome parliamentary paralysis and find $14.5 million in public funds to renovate the property in 2008–09. The work was overseen by Roger Rulewich, who was on Trent Jones's original crew. The result was to make a good course great by turning the clock back while also looking ahead.
New grass on fairways and greens makes the course run faster and roll truer. Updated irrigation and water-collection systems save money and ensure top-notch conditions. But the real advance is a return to Trent Jones's wide-open design, accomplished by removing nearly 1,500 Casuarina pines. Strong winds now reach nearly every inch of the course, creating a links-like feel on top of tall bluffs along the ocean. Good scores come by using the wind to move the ball left and right, finding flags tucked around corners and behind the many bunkers.
Everyone remembers the 16th hole, a Hawaii-style par three over crashing ocean waves. But it was a collection of medium-length par fours—Nos. 6, 10, 12, and 14, all 350 to 393 yards—that caught my fancy. Playing in different directions to elevated greens, they tempted attack with driver, leaving delicate, hilly approaches. I was enchanted first to last, then re-energized at 64 Degrees, the all-new bar/res-taurant that offers replenishment and expansive views of course and sea.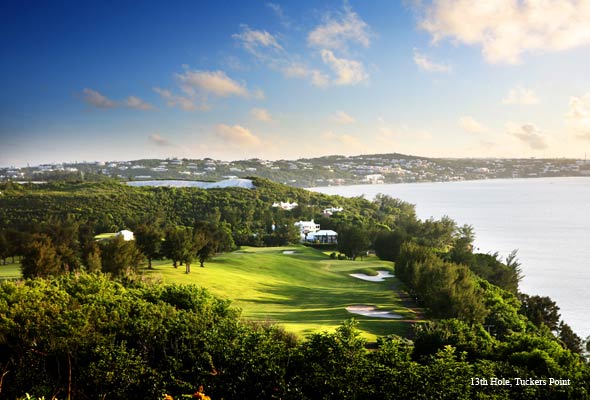 Bermuda's other great course is Mid Ocean, laid out in 1921 and one of only 20 courses  designed by Charles Blair Macdonald. It is a work of golf art and history, reimagining the great holes of Britain in the tropics.
The templates are all there: Eden, Long, Redan, Biarritz, Short, and others. Most famous is No. 5, Cape, the classic risk-reward hole, the drive over Mangrove Lake to a fairway that runs perpendicular to the elevated tee. How much can you bite off is easier to determine in this day of laser rangefinders, but hitting into the wind—and ever conscious of that big lake where Babe Ruth supposedly launched more than a dozen foul balls—the tendency is to bail out. Which is unfortunate since the fairway slopes more steeply toward the water the further you are from the green. It is heroic design at its best.
Macdonald's genius is especially evident on and around the putting surfaces. The slopes, ridges, and hollows throughout the green complexes are vexing and brilliant, keeping the course's teeth sharp nearly a century after it opened. Tom Doak has consulted to Mid Ocean for years and supposedly it was he who convinced the club to update the grass on the greens (to TifEagle, as at Port Royal): They are big, brazen, fast, and true, and just as Macdonald planned, hard to hit and hold.
The first five and last two holes are nearest to the ocean, high, exposed, and guaranteeing dramatic beginnings and endings. I was especially taken by the finishers: 17, a long Redan par three, usually into a stiff wind, that has to be played to bounce on from the right side; and the downwind 18th, the blue Atlantic on the right, with a three-tiered green best approached Scottish-style with a low punch. They truly are not making holes like these anymore.
The differences between Mid Ocean and Port Royal are endemic of their eras, perfect examples of golf then and now. Mid Ocean was meant to be played repeatedly by golfers schooled in architectural nuance: Who else would make the ship-borne voyage and stay for the season but those willing to let a masterpiece slowly reveal its secrets? Port Royal is mostly in plain view and manageable by the visitor on island for a long weekend or off one of the many cruise ships that make quick visits.
Next to Mid Ocean is Tucker's Point, part of the Rosewood resort of the same name. Those with long memories will recognize what used to be known as Castle Harbour: The old hotel, a Bermuda landmark since the 1930s, was demolished and replaced by an elegant hideaway with a beach club and real estate component; the course, laid out by Charles Banks in 1932 and subsequently reworked by Trent Jones, was recently rerouted by Rulewich.
The famous first hole—which started hard by the hotel and played across the entrance road—is now number 17 but no less daunting and part of a strong finishing stretch. This is resort golf at its best, wonderfully maintained and challenging for the good player, not overbearing for the casual golfer. As with all Bermuda courses, holes rise and fall and include blind shots; as with all Trent Jones courses, expect big humped greens, many with tricky false fronts. And as at any top resort, the amenities are first-class, including a well-stocked pro shop.
Riddell's Bay Golf and Country Club is, like Mid Ocean, a private club that welcomes guests. Both opened in the early 1920s. But that's where the similarities end. Not reaching 6,000 yards even from the back tees, Riddell's has a few challenging holes, notably the opening pair, and a few near and across water. On my last visit I was charmed by the short par-three 11th, its stepped green known locally as "the wedding cake." The icing must have melted or the marriage annulled as it is now a ho-hum one-shotter looking over boats in the bay.
One course that benefitted from my 25-year absence is Belmont Hills, next to the stately old Belmont Hotel. It was dull then but much more fun now, in good shape, with many holes playing harder than expected due to elevation changes, hilly lies, and small, elevated greens. Belmont and Riddell's are also the courses where you're most likely to meet, and perhaps play with, local golfers. Get their suggestions for places to eat and post-round activities: Like this course, there is much more on the island than first apparent.
One attraction golfers shouldn't skip is the 18-hole, par-three course at the Fairmont Southampton (formerly the Southampton Princess). It's no pushover even though no hole stretches beyond 215 yards. Much of the course is on high, open ground near the ocean so the wind will be a factor. As will water hazards, steep hills, and ball-gobbling vegetation.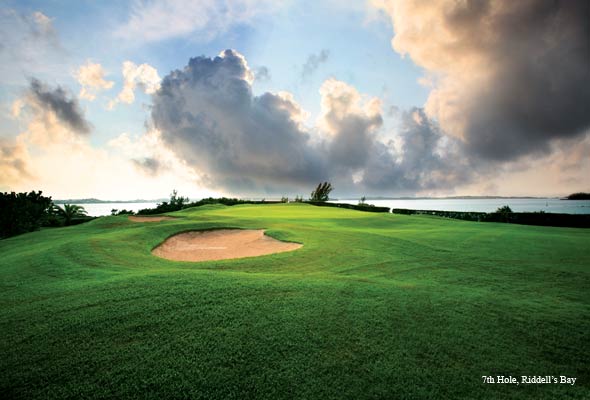 Similarly hazardous are the novices and honeymooners teeing it up: If you're lucky, a round takes little more than an hour; if not, you may want to book a room at the hotel. Luckily both it and the Hamilton Princess in the heart of Hamilton, the island's big city and shopping area, are Fairmont properties, meaning they are well run, very comfortable, and loaded with restaurants and lounges. The Waterlot Inn, near the Southampton, was one of the island's best places to eat 25 years ago and is still a luxury steakhouse with a tropical twist.
There is one nine-holer in Bermuda, Ocean View, which has double sets of tees to become 18. It's scruffy but a surprisingly sporty challenge—bending, twisting, and heaving—minutes from downtown Hamilton. (Since there are no rental cars on the island and it's hard to ride a moped with clubs on your back, taxis are the smart option. Fares are reasonable and cabs are six-passenger vans with ample room even for big staff bags.)
The last course on the island is both the saddest story and everyone's hoped-for tale of redemption. Years ago I was charmed by the St. George's Club, at the northern end of the island up against the ocean. Well conditioned and fun, it featured a mini-version of Mid Ocean's Cape hole, a risk-reward, 90-degree-bender over water known as "Oh, No!" because so many golfers uttered just that after their tee shots found the intervening lake.
For budgetary reasons, the government closed the club, which sat unused for three years. It recently reopened on a trial basis but is desperately in need of money, maintenance, and management. Very short—there are 10 par threes, no par fives, and the longest par four is only 367 yards—it still can put up a fight as it roller-coasters up and down, has a few holes that seem to drop into the Atlantic, and sits on an idyllic spot. It can also be exhausting as there are no carts to traverse the steep hills and long walks over tattered tarmac. However, all is forgotten after teeing off on 15: Cut through the bushes to Blackbeard's Hideout, a waterside bar just a few steps off the fairway, for the lubrication necessary to power you through the finishing stretch.
A pro from another club described St. George's as having enormous potential and, in fact, Nick Faldo's design team has drawn up plans for repairing and lengthening the course. Plus, there's talk of a luxury hotel next door. However, both upgrades will take major infusions of cash and no one on the island is betting either will happen anytime soon.
Still, hope springs eternal, and perhaps there's a good omen in another tale from St. George's. On my last visit, I played the course with Kim Swan, widely regarded as one of the island's finest golfers. Back then he was the club pro; today he is a Member of Bermuda's Parliament. I will leave it to you to decide if that's a change for the better.