Yes, Virginia (or wherever you're coming from), there's a lot more to golf in Oregon than that rightfully vaunted resort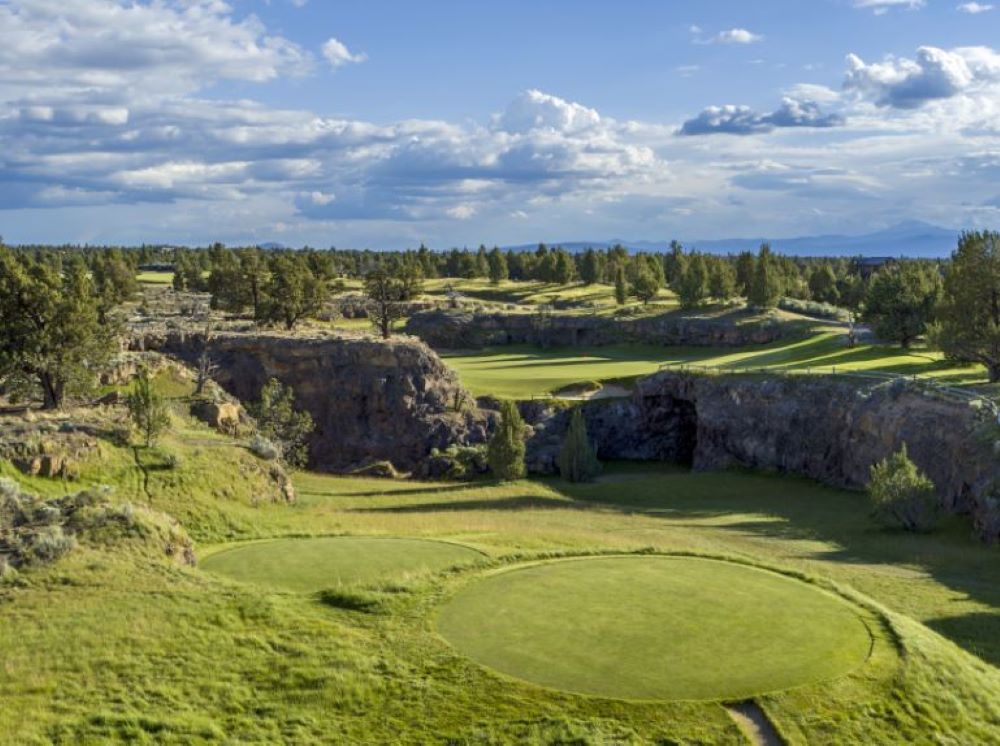 Long before flagsticks fluttered in the Oregon coastal winds, a pair of high-handicap drifters named Lewis and Clark surveyed the virginal future fairways of the Pacific Northwest. "Ocean in view!" exclaimed the latter in 1805, mistaking the Columbia River estuary for the mighty sea. "O! The joy!"
Forgive William his premature celebration and give belated thanks for discovering this as yet unsung parcel of paradise, soon to give way to rutted wagon trails and legions of pioneers and profiteers in search of beaver furs and Douglas firs alike. Statehood followed in 1859, and—O! The joy!—the game of golf in 1892.
That first foray, Gearhart Golf Links—the passion-project of a claque of homesick Scots—persists proudly to this day, calling itself the oldest course west of the Mississippi River. Its tidy, 6,551 yards will play appropriate host to the 2021 U.S. Hickory Open in September. And located 90 minutes from Portland, it's a fine place to begin a joyful golf expedition across our ruggedly beautiful 33rd state.
Mind you, we come forewarned to avoid the B-word when it comes to assessing the rest of the contemporary golf scene in Oregon, only because the mere mention of the nonpareil Bandon Dunes Golf Resort sucks most of the salty sea air out of the room. That facility's wind-lashed 103 holes are well worth an extended visit and bounteous praise. Just not here and not now.
If you're arriving by air, Portland is a worthy starting line, and Bob Cupp's Ghost Creek at Pumpkin Ridge a spectral presence indeed, framed by misty mountaintops and looping through primeval wetlands. David Duval won the 1993 Nike Tour Championship here, while Eldrick Woods notched his third consecutive U.S. Amateur crown on Witch Hollow, the adjacent private course. Keep it out of the bunkers (par is 71, bunkers are 72) that haunt the Ghost and you'll post an acceptably un-scary number.
If you're perched atop wagon wheels as I was coming north on Highway 101 from hated California (another one of them consarned land speculators), coastal Oregon offers a modest but worthwhile collection of holes. Bandon Crossings is but 20 minutes south of the not-to-be-mentioned resort noted above but distinguishes itself with its serene, parkland design, blessed lack of angry sea gales, and abundance of mature cedar and redwood trees. Only 13 years old, it has the look and feels of a venerable heathland course, albeit with more grade and minus the damnable heather. And way cheaper than you-know-where, as well.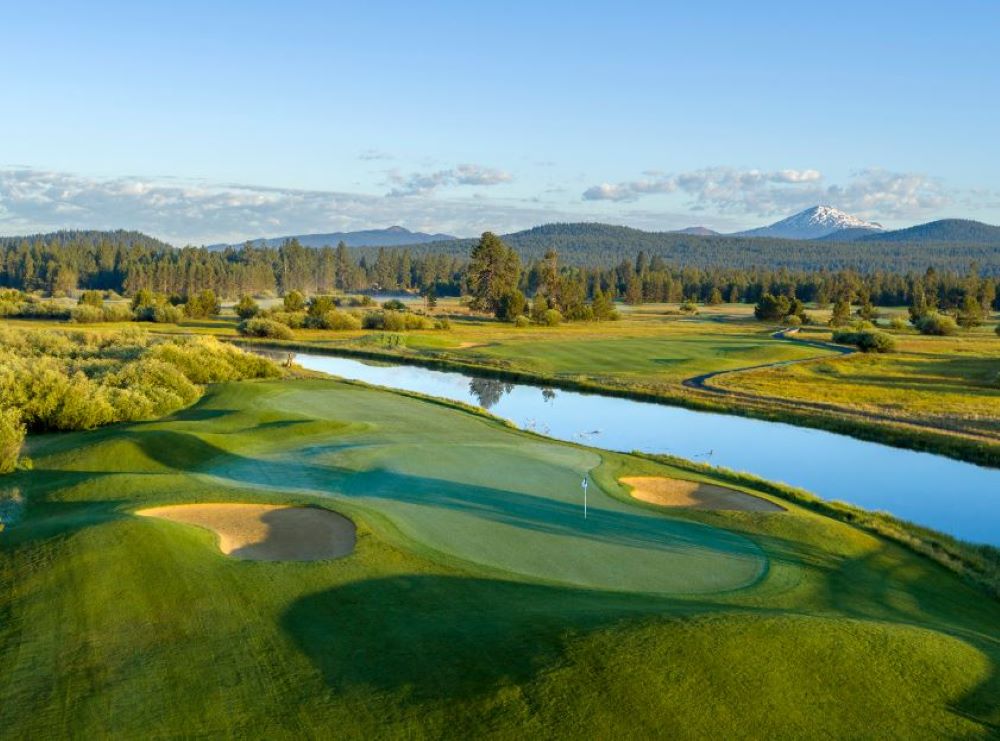 Culinary local knowledge: Don't roll the dice on the sub-gringo Mexican restaurants, same for the execrable excuse for passable pizza. But if you have a thing for fresh seafood and crimson-tinted sunsets, Lord Bennett's is an oasis of class in an otherwise arid foodscape. The clam chowder is a hearty opening act, and coconut-lime marinated prawns a piquant finale. Nice people there, to boot.
Three hours drive northward lands you at Salishan Coastal Lodge, home to a tight, Peter Jacobsen redesign circa 2004. Lengthened to 6,400 yards, the links-style layout snakes its way through old-growth timber and seaside bluffs and can easily prove penal if you try to invoke power over placement. The lodge is woodsy/homey and ultra dog-friendly: Our trusty mutt, Lucy, made a fast friend two balconies over before joining me for an early morning round.
Much as it pained us to lose sight of the glorious Oregon coast, we headed east from Newport toward Bend, which is giving you-know-where a spirited run for its money as a golf mecca. The nearly four-hour, two-lane blacktop trek on U.S. Route 20 is worth the piney price of admission alone, crossing the Central Oregon Coast Range before descending into the comparatively arid high desert.
Not that the local deities had such an idea in mind way back when, but it turns out the Deschutes River Valley is a splendid location for golf. Yet the region is not particularly mad for the game, Central Oregonians preferring to zip by on mountain bikes, ski, trudge up trails in snowshoes, or angle for trout and steelhead. If you put on weight during your visit, you're probably guilty of lingering in one of the area's celebrated micro-breweries—22 at last count.
After such a long and sometimes harrowing drive, a ramshackle 8-Ball Motel would have looked like the Ritz, but we had the fair fortune to bunk in at Pronghorn Resort for a few nights and were hard-pressed to check out, given its luxe amenities and ultra-manicured golf. Home to both a Jack Nicklaus and a Tom Fazio 18, the 640-acre compound is studded with bulbous juniper trees and replete with eye-popping views of the snow-capped Cascades.
The Nicklaus course plays firm and fast, stretching to nearly 7,400 yards from the back tees and sloped/rated at 75.0/148—mostly due to its formidable length, but also the premium put on accurate tee shots and needle's eye approaches.
The Fazio Course is a more comely and dramatic canvas, with craggy lava outcroppings incorporated throughout. Ask for a quick tour of the petrified lava tube at the 187-yard, par-three 8th, which the designer claimed as an underground office after a dynamite blast revealed the ancient redoubt.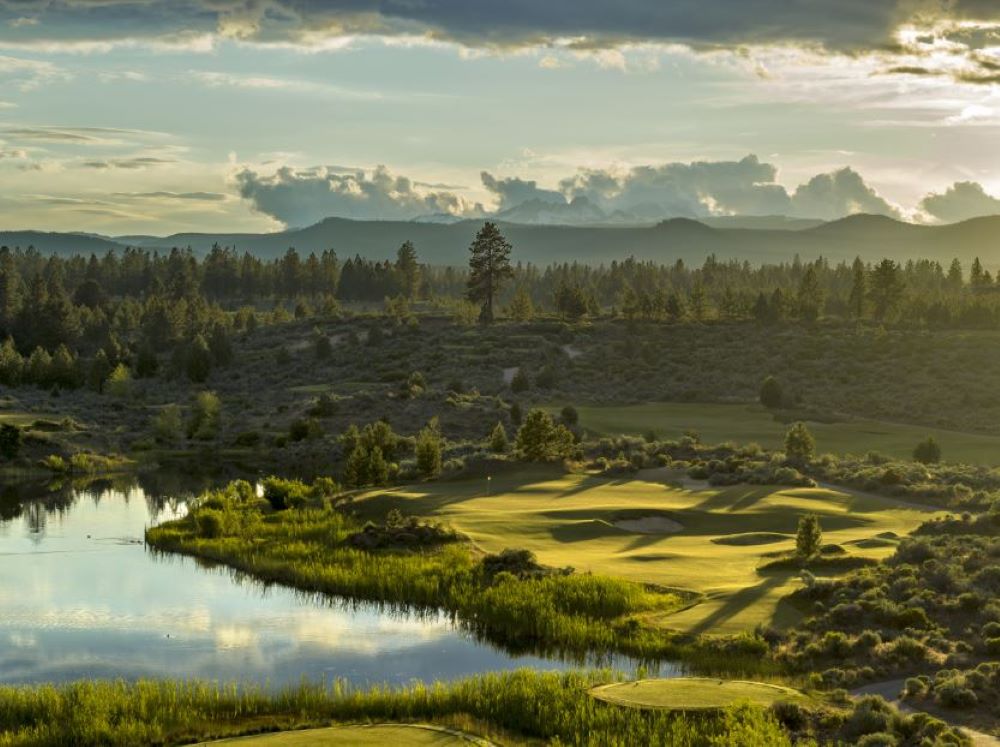 Ten minutes from downtown Bend stands Tetherow Golf Club, architect (and local resident) David McLay Kidd's home course, custom-designed to keep up his interest in the game "for years to come." Anchoring a 708-acre resort community, Tetherow is Kidd's way of making up for the eminent playability of the original course at that place we're not talking about, which was also his handiwork. The remedy? Fast and furious fescue, linksy mounding, and elephant burial grounds masquerading as greens. Vacation rental homes and a boutique hotel are available, with sumptuous views of the Cascade Mountains from most of the rooms.
Another 20 minutes southeast of Bend sprawls the 3,300-acre Sunriver Resort, winding along the eastern side of the Deschutes River and home to three 18s and an additional nine. Cupp's Crosswater is the best test and a virtual feast for the senses: Snow-capped Mount Bachelor sees all, so no covert lie-improving allowed! Water abounds as the name implies, and at 7,700 yards you'll need government clearance to play from the tips.
Note: Sunriver is decidedly a family destination, Disneyland without the whirling teacups. You've been warned.
Last word on Bend: Provision thyself with a superior lunch from Planker Sandwiches (meatball parm or chicken salad will do the trick nicely) before teeing off; afterward, skip the wrinkled hot dog at the course and make your way to 10 Barrel Brewing Co., where Pacific codfish and chips and a passionfruit wheat ale will obscure the memory of that last double-bogey.
A bucolic, half-hour drive to the northwest puts you at Brasada Ranch, formerly a fine place to graze if you were a sheep, now home to an austerely quiet, golf-centered residential development. Peter Jacobsen and Jim Hardy carved an expansive championship layout from a broad slope, leaving roomy fairways for big hitters and beaucoup bailout areas for the rest of us. The Sage Canyon Cabins are ruggedly masculine affairs, replete with fireplaces and hot tubs on the terrace. Panoramic views are de rigueur and the high-desert weather supports year-round play.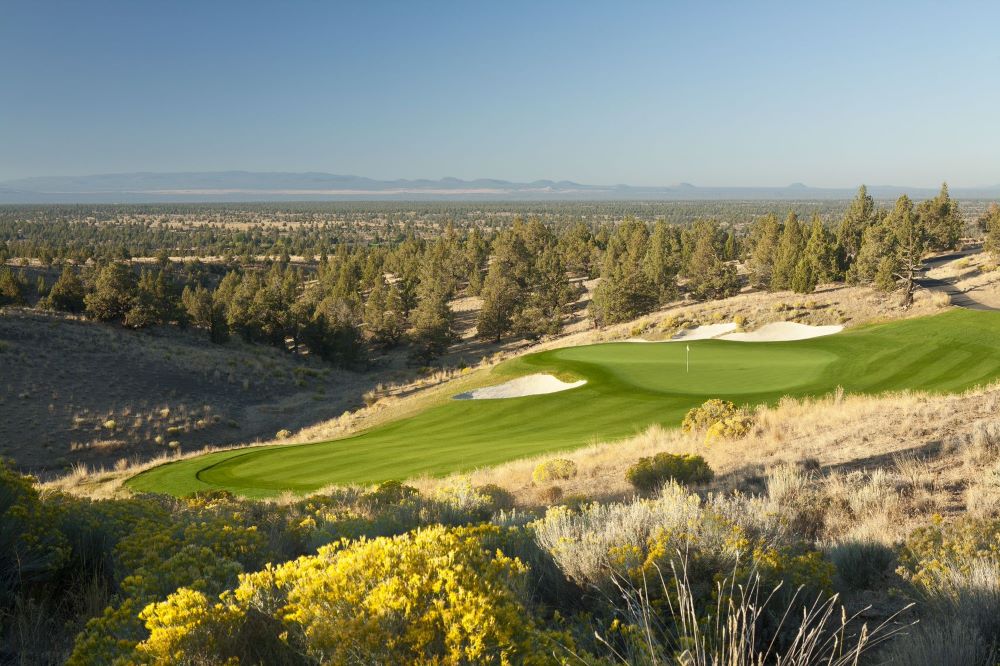 For those of you literary hackers who enjoy The Bard as much as a birdie, the Oregon Shakespeare Festival in Ashland is as close to Stratford-upon-Avon as you can get in the Wild West. Play John Fought's classically inspired Centennial Golf Club in nearby Medford, then have an order of Hamlet for dessert. As the Dark Prince said: "The play's the thing." Exeunt. Curtain.