Canada's leading wine regions are also where you'll find many of the country's best public golf courses. Drink up!
As we all know, immediately upon crossing the U.S. border into Canada you'll encounter nothing but frozen tundra, bearded goons playing ice hockey, and maybe a few moose scampering around. But wineries with sun-soaked patios where you can sip a syrah? Great golf courses in desert-like settings? Definitely not.
WRONG. Canada is home to more than 700 wineries, as well as more great golf courses than you can shake a hockey stick at.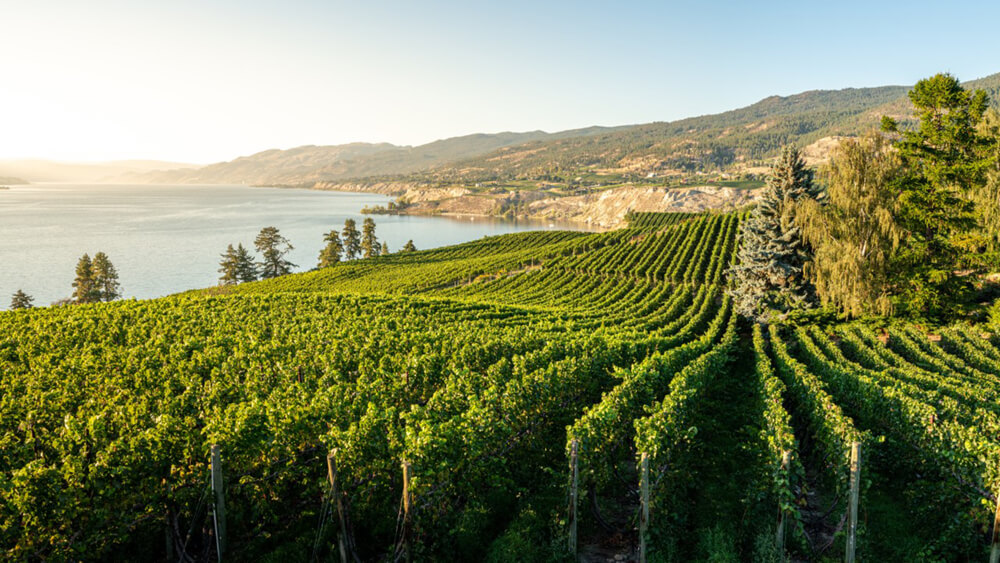 You may already know that some of the best icewine in the world comes from The Great White North. But the rest of the wine scene is hotter than you think. From big and bold cabs to magnificent merlots, many quality reds and world-class whites are barrelled and bottled in Canada.
And, typically, where there is good wine, good golf is not far away. In fact, some of the best golf courses in the country are situated in the heart of Canada's leading wine regions in the provinces of British Columbia and Ontario. Go fall through spring and it will be moose on ice skates, indeed. But June to September is sensational.
Cowichan Valley (British Columbia)
When it comes to natural beauty—including glacier-capped mountains, rugged Pacific shores, and beautiful interior valleys—British Columbia truly is heaven on earth. It's damn good for golfers and wine lovers, too.
Cowichan Valley is at the southern end of Vancouver Island, just north of Victoria, the provincial capital, and home to the warmest year-round temperatures in the country. It's the only maritime Mediterranean climatic zone in Canada, perfect for growing white varietals like pinot gris, ortega (the island's signature grape), and siegerrebe.
There are about a dozen wineries, so a fairly comprehensive tour is certainly possible. Among the local favorites are Blue Grouse, Averill Creek, and Cherry Point, where you can expect intimate tastings with the owners, winemakers, and staff.
Start your golf tour at Cowichan Golf Club, a very walkable pastoral parkland. A semi-private course designed in 1947 by the legendary Pacific Northwest architect A.V. Macan, it features tight holes bending through towering trees as well as beautiful bay and mountain views. One gets the feeling that little has changed in 70 years, which, like the local wine, is good and comforting.
A logical base for your adventure is Bear Mountain Golf and Tennis Resort Community. Located on rugged terrain high above Victoria in Langford (about 30 minutes south of the valley), this luxurious mountainside retreat features two outstanding Nicklaus Design golf courses.
The original Mountain Course, which has twice hosted the PGA Tour Champions, is a tough-as-nails layout with significant elevation changes, substantial forced carries, deep bunkers, and serious "wow" factor. The quintet of par threes is especially notable, including three do-or-die shots over ravines, a Dye-ish island green, and a doozy of a downhiller.
The Valley Course is routed through lower terrain and has a more user-friendly vibe. However, the drama—provided by huge rock outcroppings, daring downhill shots, ragged bunkering, and numerous creek crossings—is every bit as high.
Two other courses worth playing are Highland Pacific and Olympic View, the latter where a young Tiger Woods once competed for his high school team.
Okanagan Valley (British Columbia)
The hot, dry summers of the Okanagan Valley in the southern interior of British Columbia are legendary. As are the stunning orchards, vineyards, and golf courses that tumble and roll on airy benchland high above the region's many baby-blue lakes. This is British Columbia's premier grape-growing region and, arguably, its best golf destination.
The Okanagan Valley is warmer and drier than the Napa Valley, receiving two more hours of sunlight during peak growing season. With more than 100 wineries and dozens of courses, you can easily spend a month or more sampling big reds and lush greens.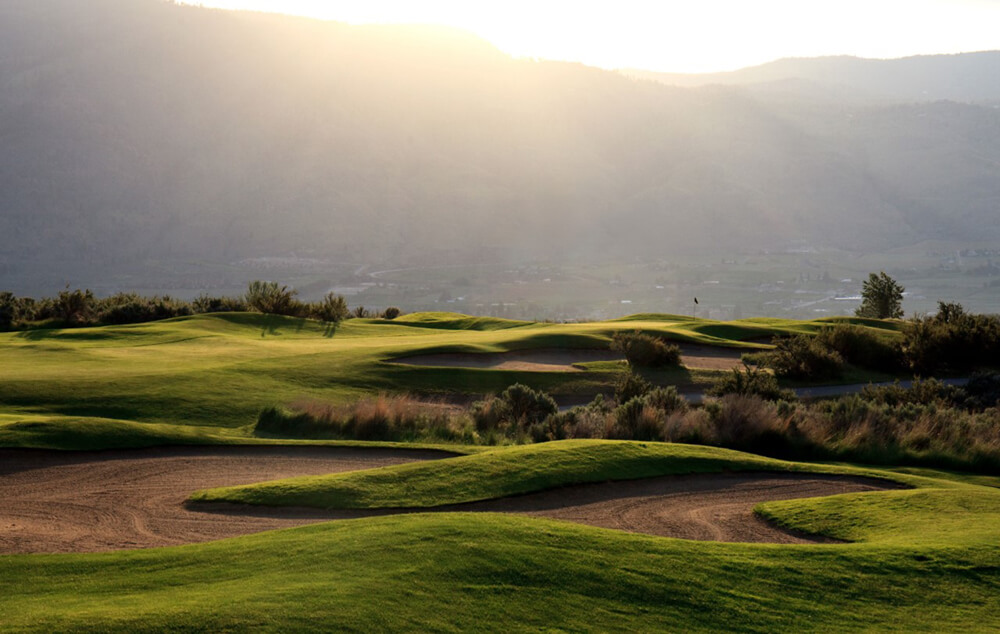 It's also massive, stretching for over 150 miles. If sipping takes precedence over swinging, I suggest focusing on the southern—and hotter—part of the region, around Osoyoos, Oliver, Penticton, and Naramata. I also recommend a drive along sun-blasted Black Sage Road and Golden Mile Bench (both between Osoyoos and Oliver), as well as the Naramata Bench (near Penticton). Among the many wineries, my favorites include Burrowing Owl, Road 13, Here's the Thing, Poplar Grove, Upper Bench, Tightrope, and Elephant Island.
For your golf fix, Fairview Mountain in Oliver is a wonderful Les Furber design situated in the heart of the vineyards. It dips and dives on rocky terrain overlooking the valley. Osoyoos Golf Club is a 36-hole facility that features what might be the best desert-like golf experience in Canada; numerous holes plunge down fall lines and serve up panoramic views of the valley and the vineyards.
But the best golf in the Okanagan is to be found well to the north, around Kelowna and Vernon. A few of the standouts include Predator Ridge, with two stunning courses overlooking Okanagan Lake; Tower Ranch, a mountainside Thomas McBroom design with wild elevation changes; and The Harvest Club, an easy-on-the-eyes Graham Cooke design routed through fruit orchards.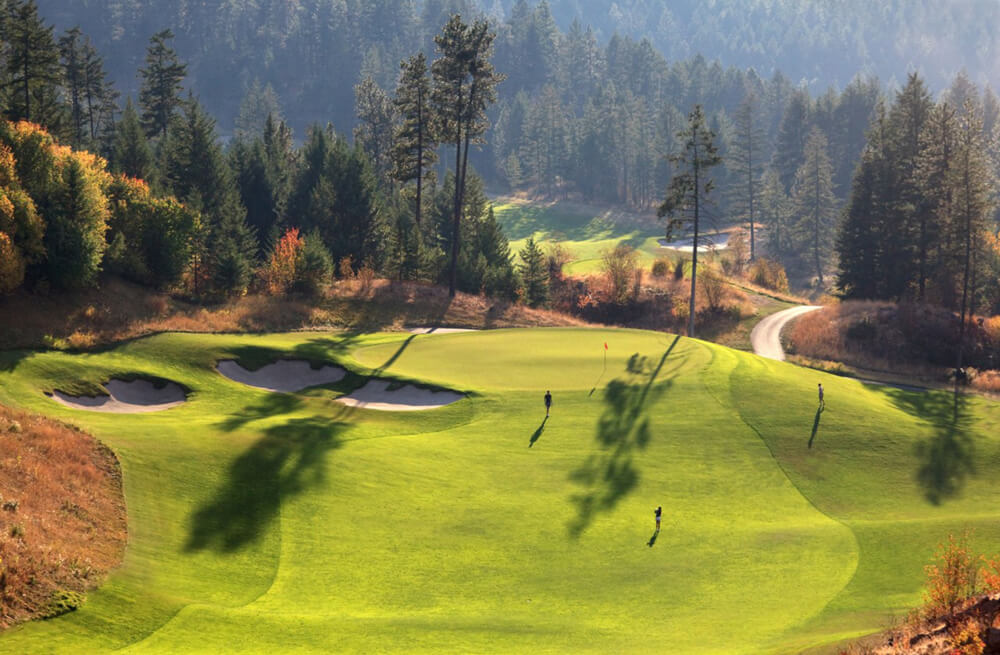 If you're really looking for a head-turner, head another two hours north to Kamloops and play Tobiano, an off-the-charts stunner routed on open bluffs high above Kamloops Lake. It's also the work of the Canadian McBroom, who has made a name with difficult yet artistic designs.
About an hour northeast of Kamloops is Talking Rock, which parades through a pine forest near the shores of Little Shuswap Lake. The surrounding Thompson Valley Wine Region is an up-and-comer where you'll find many tasty syrahs.
Niagara-on-the-Lake (Ontario)
Bordering both the Niagara River and Lake Ontario in the southern part of the province, the low-lying Niagara-on-the-Lake region is home to Canada's oldest vineyards and wineries, some five decades old. Numerous varietals thrive in the long growing season provided by the moderate, lake-affected climate.
There are just 20 wineries in this relatively concentrated area, from small and intimate to posh and palatial, allowing you to capture its essence in a few days. However, if you broaden your scope to include the entire Niagara Peninsula appellation, you're talking over 170 wineries, way too many to appreciate in one trip.
Keeping close to Niagara-on-the-Lake has numerous advantages, starting with the history and Victorian-era charms of the town: Once the capital of Upper Canada, it was the setting for many battles in the War of 1812. Then there is the proximity to Niagara Falls, a thundering spectacle everyone should see at least once. As for the wines, go to Wayne Gretzky Estates, De Simone, Inniskillin, and Pillitteri for a well-rounded sampling.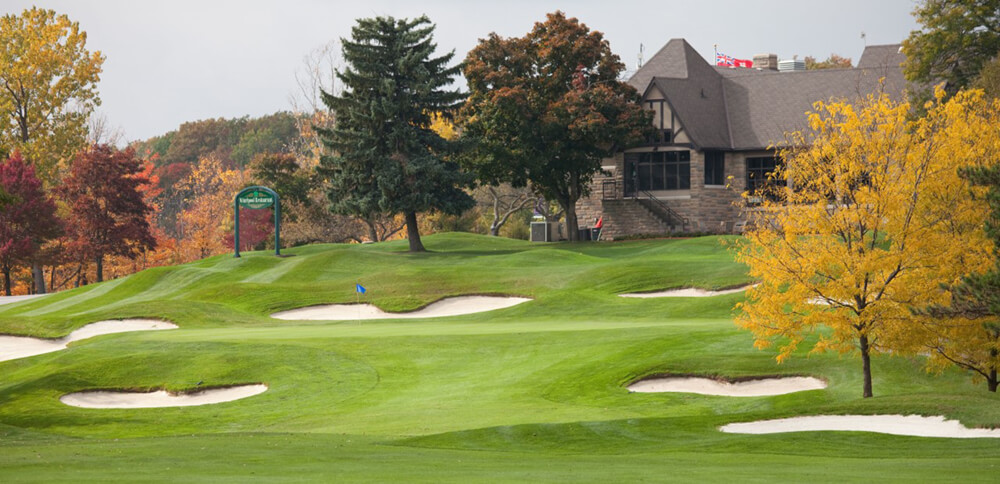 The local golf is both very good and very old. In fact, the Niagara-on-the-Lake Golf Course is the oldest surviving course in North America. While this short-and-sweet lakeside 9-holer—circa 1875—has been somewhat altered from its original state, the playing corridors remain as they were nearly 150 years ago. It's a true relic well worth experiencing.
Also don't miss Whirlpool, long considered one of the best public courses in the country. This parkland layout from 1951 was the final design of Stanley Thompson, Canada's greatest Golden Age architect.
A few more options. Royal Niagara Golf Club features 27 holes that meander along the Niagara escarpment. And just south of the falls sits a sprawling, three-course feast at Legends on the Niagara, where both the Doug Carrick-designed Battlefield and McBroom-designed Usher's Creek feature bold and beautiful shaping, eye-candy bunkering, and plenty of water.
Best to enjoy your wine after you play.