Carne Golf Links, Ireland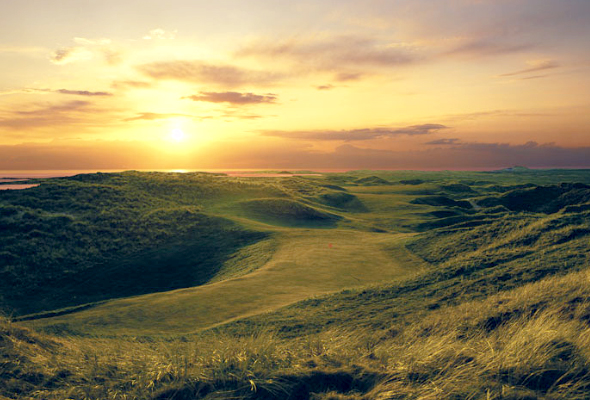 In the really old days of Irish golf – the truly medieval days of the mid-1980s – the touring golfer donned his nifty new Gore-Tex rainsuit and wandered the countryside like Johnny Appleseed sowing first-generation surlyn balls in the knee-high rough at Ballybunion, Portmarnock, Royal Portrush and Royal County Down. For less than $40, the visitor could play all day long on any number of the great links courses in the world. Wind-blown, weary and bewildered by the arcane ramblings of the caddies, golfers marveled at the high quality, low cost and abundant hospitality – and that was before they discovered the equally compelling river of thick, dark and incongruously "creamy" stout that flowed through every clubhouse.
Those in the know – we once called them "cognoscenti" and "aficionados," but no longer, please – raced on to discover what we no longer refer to as the "hidden gems" of Ireland: Lahinch, Rosses Point, Portstewart, Royal Dublin and Baltray. As the years passed, clever folks stretched to add Castlerock, Tramore and The Island to, you guessed it, the "must-play" list.
All the publicity had a predictable effect: Queues formed, green fees soared and entrepreneurs rushed in to add designer-label courses to the Irish landscape. Robert Trent Jones (the elder), Arnold Palmer, John Nicklaus and Bernhard Langer produced a new generation of "emerald greens." Long-suffering under the delusion that it was Europe's backwater, Ireland quickly embraced the $120 green fee, carpeted pro shop with indirect lighting and the former monstrosity, the electric "buggy."
The message: "Come to Ireland and play the great courses of America." Now that was something to marvel at. Believe it or not, that was my full intention as I quaffed post-round pints in the elegant clubhouse of the Galway Bay Golf & Country Club. The three local gents I'd played with were curious about my itinerary, which included three new courses near Dublin. They responded with polite silence. I prodded them for opinions.
"Typical Dublin," said the bearded chiropractor.
"How so?" I asked.
"If it's beyond the Pale," he said, referring to the former Anglo fortress of greater Dublin, "it doesn't exist."
"That's hardly fair," I countered. "The rural West is romanticized in all the travel brochures we see at home."
"Then tell me about Belmullet," he parried. Sounded like a type of fish to me. "Belmullet, the home of Carne Golf Club," he continued. "The best new course in Ireland in 20 years, since Waterville."
I was stumped. "Is this high treason, letting me in on the secret?"  I asked.
"No, It's only a secret to visitors from overseas, and that's only because the town has no proper accommodation. No Sheraton, no promotion. There's talk of a new hotel, but it'll be donkey's years.  Still, it's the best course north of Ballybunion on this coast."
"Better than Sligo?" Three affirmative nods. "Ballyconneely?" Deeper nods. "Enniscrone?"
"Just play it," they urged.
So I did, and as an aficionado of Irish golf, I proclaim it one of Ireland's "hidden gems" that should be added to your "must-play list." And let me toss another cliché into your golf bag: This links course boldly sends Irish golf back to its future.
Perched on the far western shore, it is the final creation of the late Eddie Hackett. While Hackett is Ireland's best known architect, no one – absolutely no one – could  have laid out anything but a gem over these towering sandhills. Hackett had a good deal of help from the Almighty, for this landscape rivals Ballybunion and Portrush in grandeur.
Valleys swing past high dunes, fashioning the most natural, isolated fairways. Countless mounds host many tees, which, like the plateau greens, afford lovely views of the pristine coast and adjacent farmland. Genuine links soil makes walkers feel as though they are gliding along the turf.
The club is equally intriguing because it lies in the Gaeltacht, a region where Irish Gaelic is spoken routinely by the older working-class. The club even has a synopsis of the course written in the local dialect. Known as ancient Erris, the area is one of the least developed in Ireland. Its unspoiled, rocky terrain has never yielded prosperity. During the Famine of 1848, its narrow country lanes were lined with emaciated bodies, their mouths green from eating grass. Never having learned to fish, they died beside a sea that teemed with halibut, haddock and hake.
Today, the landscape is still celebrated primarily for its raw, open beauty and the solitude it provides hikers. That solitude is apt to change for Belmullet – population 1,000 – now that the secret is out. Anyone who wants to play all the great courses will go there, big hotel or not. Upon arriving, they will find a club that's downright grateful to see them. And they will rediscover a $40 green fee for a full day's golf. Belmullet is what Ballybunion used to be: a rural town offering modest accommodations and dining, but outstanding golf at a reasonable cost.
Let's start with the front nine, which is more benign than the back but still rivals links such as Ballybunion and Hoylake. The first hole is a bit disconcerting, its fairway crossing a deep ravine and going….well, you're not exactly sure until you get out there. It doglegs 90 degrees to the right, its green set on a ledge. We'll let you in on a little secret: The best way to get on is with a low run-up shot to the left. The ground will usher your ball right onto the green, or perhaps in the swale just short.
It's followed by a par-3 with a flat-stick peeking out between two dunes. You can't actually see the putting surface or the bunkers just short of it. But armed with the proper yardage, a brain capable of adding two clubs because of the wind, and an adventurous soul, you've got half a chance. Take aim and don't over-club onto the high dune behind.
You wander over to the next tee – no long hikes on this course – and behold a fairway that looks like a sea of green that froze during a hurricane. It doesn't matter where you hit your drive, it will wind up somewhere completely different. You might even find out where. You ponder the tee shot, smile ruefully and realize that patience and imagination are required to survive Carne.
We'll stifle our strong desire to describe every intriguing hole and take you straight to the 10th tee, where you face a par-5 that starts with a plateau fairway. You can hit any medium-length club you want, and the same is true for the second shot, for the green rests at the bottom of a long slope. Your approach need only be straight and a bit low to race down the incline, where it will finish just short of the slightly raised green. This hole illustrates one of the course's more appealing aspects: Most of the par-4s and par-5s can be played with multiple combinations of clubs off its tees and onto its greens.
The next two holes are rather confusing the first time around. Tee box? Check. Fairway? Check. Fairway bunkers? Check. Green? Hmm. Nothing like a bit of mystery. This might be a good time to take in the mountainous landscape and sea.
The back nine has a couple of delightful par-3s you're sure to enjoy. The first runs along the shore to a green pinched between two dunes. The second is a ski-jump down to a green set amidst the Himalayas of Co. Mayo. By the time you approach the clubhouse you realize that it is the dramatic dunes that lift Carne above other courses.
Once inside, huddled over a bowl of soup and plate of sandwiches, you fervently hope that this wonderful course brings a new-found prosperity to the warm, humble people of the region. It should, for Carne – not Waterville or Ballyconneely – will be remembered as Eddie Hackett's finest work. Even at less than a decade old, it is already one of the great golf courses of the British Isles.