John Derr, "Golf's Voltaire"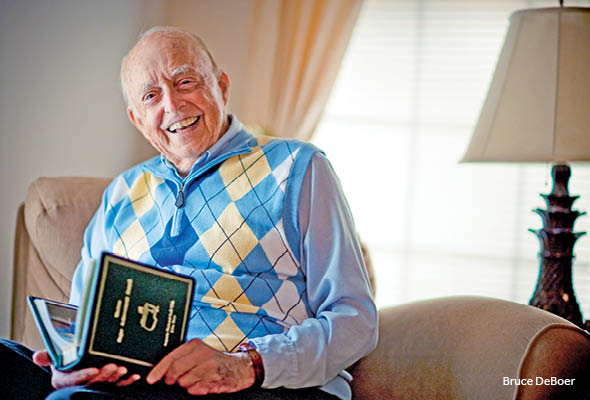 Woody Allen said that 80 percent of success in life is just showing up. No one in golf has embodied that better than 97-year-old John Derr.
His first Masters was in 1935, when the young newspaperman bought a ticket after driving down to Augusta from Gastonia, N.C. The first person he ran into on the grounds was O.B. Keeler, whom Derr had met in the press box at the previous autumn's Duke-Georgia Tech football game. Keeler introduced Derr to Bobby Jones, who became a lifelong friend and sometime golfing companion.
"I encountered two very different emotions," Derr says of his first round with Jones in 1944. "Embarrassment and extreme pleasure. On the 3rd hole at East Lake, I drove into the woods. Everybody was looking for my ball because during the war balls were very scarce. I noticed a man practically on his hands and knees, with his hands moving like a swimming stroke parting the leaves to look, and I realized it was Bobby Jones. It was embarrassing to see him looking for my ball like that."
And the extreme pleasure? "My partner that day, Johnny Bulla, shot 66, so when it came time to pay up, I went over to Mr. Jones in the locker room and let him go into his pocket and pull four one-dollar bills out to give me my winnings for the day. I think I used 'em to buy beer."
Derr was the only American broadcaster to report from Carnoustie in 1953 when Ben Hogan won his only Open Championship. He went every step with Hogan during his practice rounds, and at one point Hogan asked him if he wanted to play with him. Derr declined, recalling that Hogan had once told him he'd rather be horse-whipped than play in a pro-am.
Derr had dinner with Hogan every night, and wound up following him for eight rounds: two in practice, two qualifying rounds, and the four rounds of the championship. On the last day, Hogan asked Derr to keep up with what was happening elsewhere on the course by ducking into the R&A tent where they had live scoring; there were no leaderboards. "I told him, 'If you want anything, I will not speak to you, you come to me. I'll be in your gallery, but I'm not going to walk inside the arena.' He asked me a couple of times where things stood.
"When we got to the 16th hole, he was on the green and had an uphill putt. He came over to where I was standing; he knew I had a limited amount of time on the transatlantic lines to broadcast after the round was over. He flicked his cigarette, turned to me with those steel-grey eyes of his, looked straight at me, and said, 'John, you can go in and get set up for your broadcast. This tournament is over.' It's the thing I remember most from my broadcasting career."
His friendship with Sam Snead was of even longer standing: The two played together frequently and traveled together. "I have a fellow who's looking over my collectibles right now," says Derr, "and he said to me a couple of days ago, 'There are two things about Snead's letters to you that I'm impressed with. His penmanship is perfect, the Palmer method you learned in school. And I noticed that every letter to you starts off, 'Dear Stud.'"
He knew everyone from Gandhi to Jack Benny. He once encountered Albert Einstein walking on the golf course in Princeton, N.J.; naturally, he asked the great physicist if he'd ever played the game. "I tried it once," Einstein told him. "It's too complicated."
He helped bring the Masters to CBS, broadcast from the tower on 15 for more than a quarter-century, and covered 62 consecutive Masters—attending 69 in all. He's shared ribald tales with Arnold Palmer, gave advice to Jack Nicklaus at Jack's father's request (Jack ignored it), and got his first hole-in-one at age 92.
His friend James Dodson says, "He has a million stories, has rubbed elbows with everyone, and when he goes, a lot of the game's history goes with him. He's golf's Voltaire. With maybe a little Franklin thrown in."