Even with golf's resurgence in 2020 amid the pandemic, new course openings are exceedingly limited. After all, with more than 38,000 courses in over 200 countries worldwide, there's no shortage of supply.
Think about that. Even if you played one new course every single day, you'd need more than 100 years to play them all.
While golf courses close every year, just like any business, new courses offer the promise of new adventures—from seaside links and remote escapes to fun-filled par-3 layouts. Here are 10 new courses from 2020 that traveling golfers will surely be itching to play:
Copper Rock—Hurricane, Utah
Golf is among many special outdoor activities in the St. George area in Southern Utah, which is home to Zion National Park, Mystery Canyon, and Coral Pink Sand Dunes with its ATV trail rides. A new 18-hole Dale Beddo design nicknamed "The Rock" is the latest golf attraction, offering sweeping views of desert dunes and copper mountains as it winds through a grassy valley and climbs into the hills. A limited number of luxury homes are being built around the course, which features a shared green at the 9th and 18th holes, as well as the longest green in the state at 210 feet.  https://copperrock.com/
View this post on Instagram
Cutalong at Lake Anna—Mineral, Va.
Built on an old mining site about an hour from Washington, D.C., Charlottesville, and Richmond, Cutalong is a project that was many decades in the making. There were several starts and stops over the years, with four different ownership groups and various visions. After one-time plans for a residential development and a public course, it's evolved to a master-planned community and stay-and-play destination. The design from architect Tom Clark, who owns a house five miles from the course, is patterned after National Golf Links and features a variety of unique greens from punchbowls and a Biarritz to a Redan on a drivable par four. https://www.cutalonglakeanna.com/
Dumbarnie Links—County Fife, Scotland
Less than 20 percent of Scotland's 600-plus golf courses are true links courses and Dumbarnie joined the list in 2020 when it fully opened for play along the north shore of the Firth of Forth, less than 10 miles from the "Home of Golf" in St. Andrews. Designed by former Ryder Cup player Clive Clark, the layout is spread across 345 acres of sandy links land owned by the same family in the Kingdom of Fife since the 16th century. Sixteen holes have views of the water while a flowing escarpment provides for a number of dramatic elevated tees that play toward the expansive Firth of Forth. https://www.dumbarnielinks.com/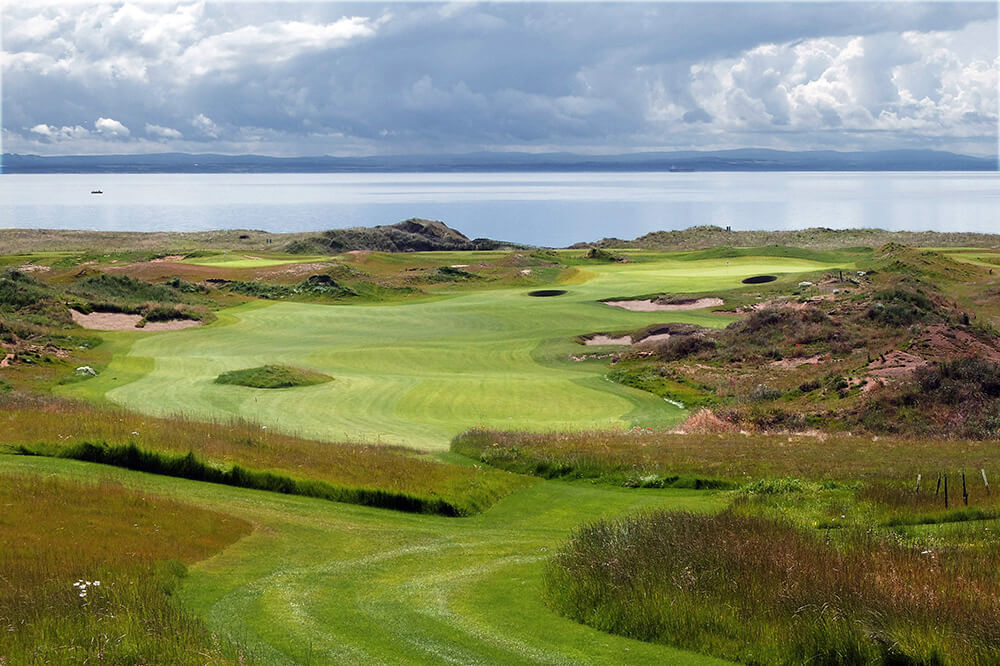 Hoiana Shores—Quang Nam Province, Vietnam
The first Vietnamese course design from Robert Trent Jones II, Hoiana Shores Golf Club is situated on the shores of the Eastern Sea and celebrated its grand opening in 2020 as part of a $4 billion planned resort development. The course, which features six holes on the shoreline and wicker baskets instead of flags, is about 10 minutes from the Old Town of Hoi An, a former Portuguese trading post known as "The City of Lanterns." Fast and firm, with greens nestled into dunes early, the layout opens up as the round progresses and takes players ever closer to the water.  https://www.hoiana.com/golf/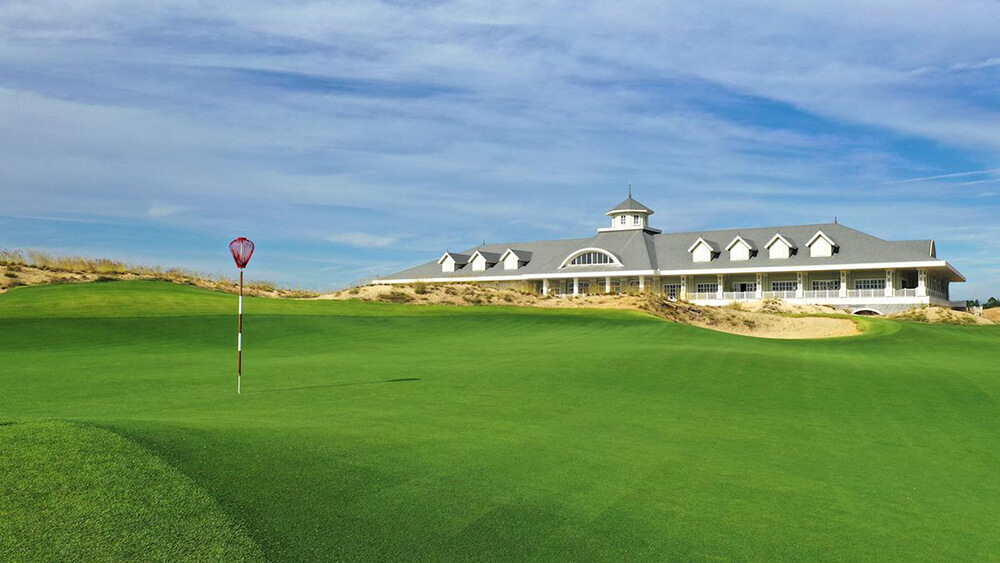 Mickelson National—Calgary, Alberta, Canada
Canada's most celebrated new course of 2020 was designed by, you guessed it, five-time major winner Phil Mickelson. Framed by rolling foothills just west of Calgary, Mickelson National is the centerpiece of a planned 1,700-acre real estate community and is, for now, open to the public. While Mickelson spent more than four years perfecting the course with design partner Rick Smith, he wasn't part of the original plans. Almost 15 years ago, prior to the financial crisis, Johnny Miller and Stephen Ames were actually set to be co-designers, but after a lengthy delay, ownership ultimately turned to Mickelson to transform the former farm field into a stadium-like setting. https://www.mickelsonnational.com/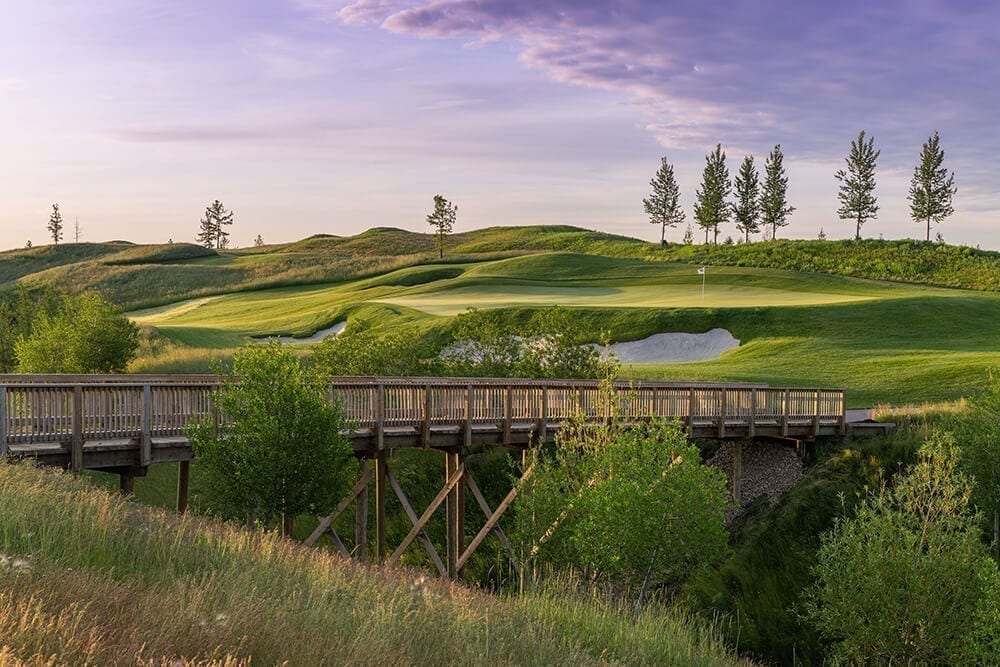 Payne's Valley at Big Cedar Lodge—Hollister, Mo.
The remaining holes at Payne's Valley, the first public layout in the U.S. from Tiger Woods's design firm, opened in 2020—giving the Big Cedar Lodge resort 77 holes spread over five golf courses. But chances are that most who watched the televised exhibition at the course involving Woods, Justin Thomas, Rory McIlroy, and Justin Rose vividly remember the island green 19th hole. Situated at the base of a 200-foot limestone wall and backdropped by waterfalls, the par-three bet-settler is golf eye-candy at its finest and a spectacular conclusion to a fun layout that's a tribute to late Missouri native Payne Stewart. https://bigcedar.com/golf/paynes-valley-course/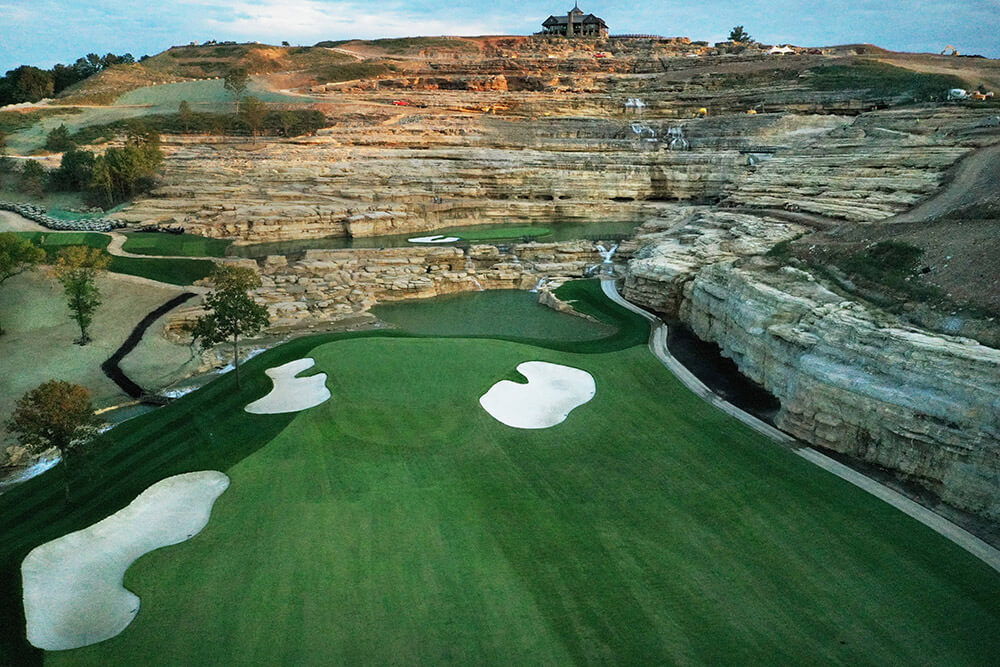 Rancho San Lucas—Cabo San Lucas, Mexico
The golf hotbed of Cabo San Lucas got a little bigger with the opening of the Greg Norman-designed Rancho San Lucas Golf Club, which starts amid windswept dunes, climbs into a forest of cacti, and culminates with five holes on the beach and the Pacific Ocean as a backdrop. While it boasts the lone island green in the region, Rancho San Lucas is also the only course in Mexico to feature revetted, sod-faced bunkers that are more akin to Scotland. Located 15 miles from downtown Cabo San Lucas, the course is situated within an 834-acre resort and residential community and is open to guest play. https://ranchosanlucas.com/golf/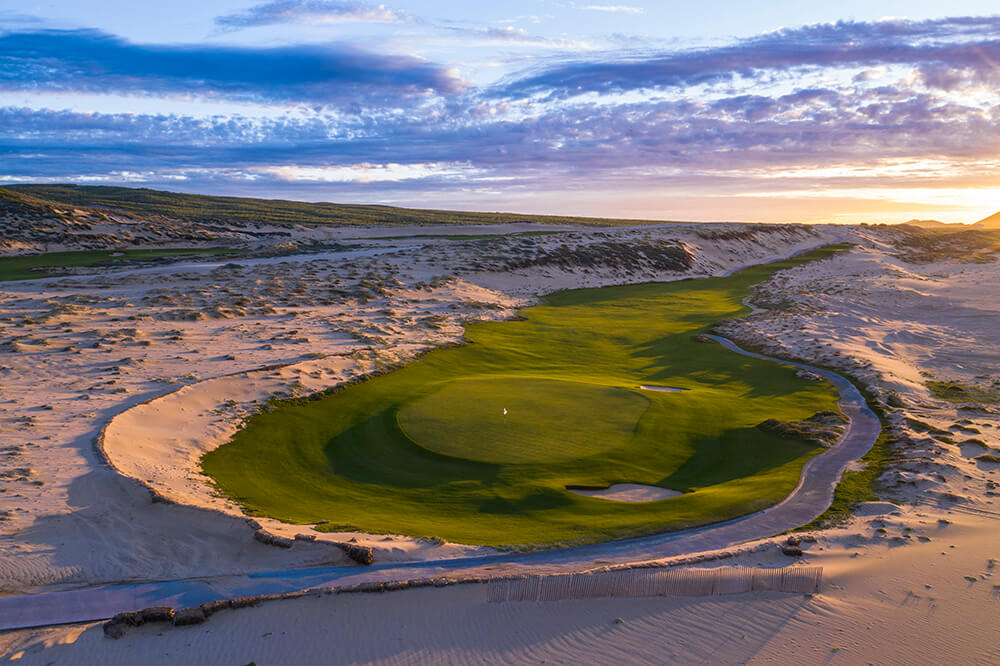 Rolling Hills at Siam Country Club—Pattaya, Thailand
Rolling Hills became the fourth course at Siam Country Club when the Brian Curley design opened with a wealth of risk-reward holes, centerline hazards, large waste areas, marsh lands, lakes, and lotus pools. But the signature element—designed to appeal to the resort golfer seeking a memorable experience—is a 19-foot-deep bunker with two levels of railroad ties that's nicknamed the "Wall of Death." The stunning feature guards the green of the 15th hole, a zig-zag uphill par five, and certainly helps the club's newest course stand out from the crowd. https://siamcountryclub.com/rolling-hills/
Sheep Ranch at Bandon Dunes—Bandon, Ore.
There was perhaps not a more eagerly awaited opening in 2020 than Sheep Ranch, which immediately jumped onto Top 100 course lists upon its opening. The course sits on a mile of uninterrupted oceanfront on the Oregon coastline and joins a cornucopia of great golf at the Bandon Dunes Golf Resort. The second Bandon design from the team of Bill Coore and Ben Crenshaw, the reimagined version of the Sheep Ranch replaces a course that existed for more than 15 years but wasn't officially part of the resort, a minimal layout of 13 greens that was accessible to only a few groups a day. https://www.bandondunesgolf.com/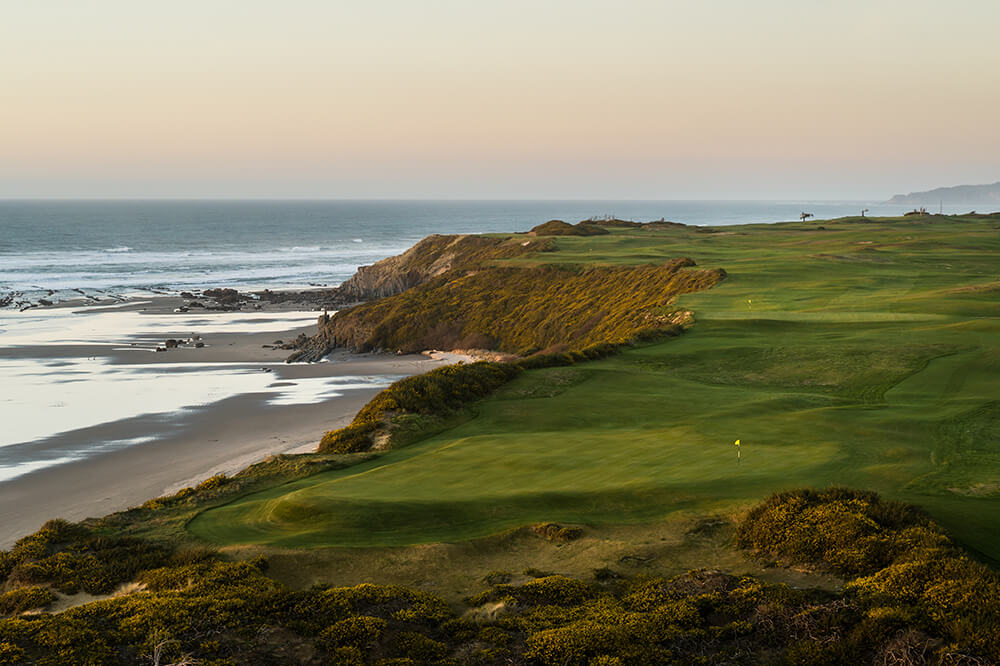 Short Course at Forest Dunes—Roscommon, Mich.
Forest Dunes in Northern Michigan joined the short course trend with the 2020 opening of its par-3 layout that features 10 holes ranging in length from 50 to 155 yards. Built by Keith Rhebb and Riley Johns, the creators of the popular Winter Park 9 course in Orlando, the fun and engaging Short Course complements the resort's original Forest Dunes course and the property's reversible course: The Loop. Play barefoot. Play music. Play in an eightsome if you want. The Short Course is decidedly unconventional—the 1st and 10th holes actually crisscross—and that's by design. https://www.forestdunesgolf.com/golf/par-3-course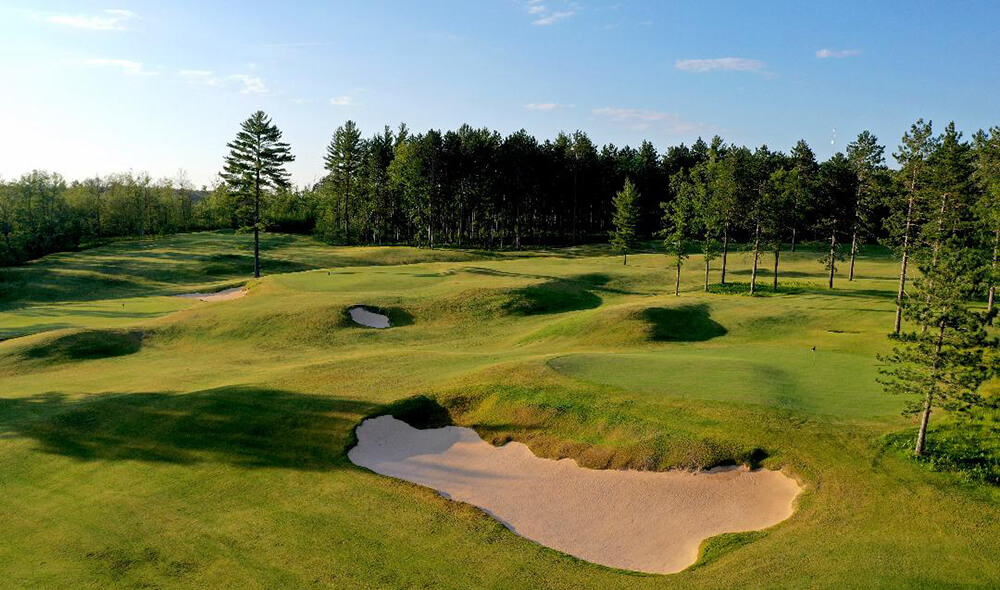 Which new golf course from 2020 are you most excited to experience?