Balcomie Links, Crail Golfing Society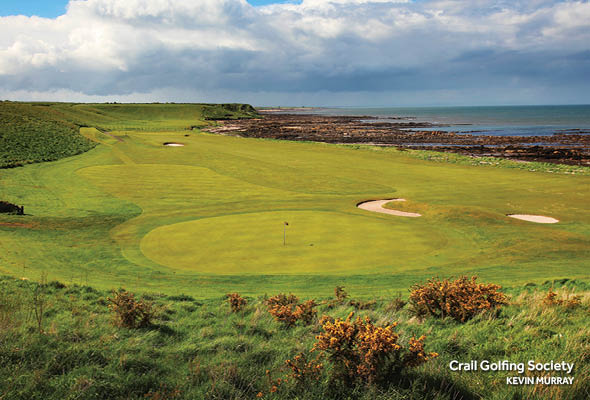 Travel 12 miles south of St. Andrews and you will arrive at Crail Golfing Society, perched on a rugged outcrop close to Fife Ness, the easternmost point of Fife. Formed in the nearby Golf Inn in 1786, it is the seventh oldest golf club in the world. Its historic Balcomie Links has been played on since at least 1850, but was formally laid out by Old Tom Morris in 1895, and again in 1899 when he completed the course. He modestly described his handiwork, "There is not better in Scotland."
The high first tee overlooks a timeless panorama, but does not reveal the many hidden delights, subtleties, and nuances of a tight layout that makes the most of the natural landscape. At 5,861 yards and par 69, this intriguing course of six par threes, three par fives, and nine par fours will captivate the imaginative shotmaker. On this somewhat old-fashioned links and at the mercy of the elements, golfers can experience and appreciate the vagaries of fairway contours and small, undulating greens.
Every hole is played within sight of the sea and no hole except the 6th is sheltered from the prevailing westerly, sometimes capricious, wind. On numbers 4 and 5, perilous doglegs hugging the seashore, the drives demand tantalizing compromise between caution and ambition. The 447-yard 5th, aptly named Hell's Hole, is the toughest on the course.
The entrancing 147-yard 14th is links golf at its finest. The small, sloping green sits far below the tee atop a cliff, is surrounded by six bunkers, and hangs just above a beach that is out of bounds.
Any description of Crail is incomplete without mention of Craighead Links, opened in 1998, the first solo design by the then fledgling, now eminent architect Gil Hanse. Its spectacular seascapes present a different, but complementary challenge to Balcomie. The last six holes provide an unforgettable closing stretch.
The comfortable clubhouse offers a friendly and welcoming sanctuary, and according to the late James W. Finegan, "one of the extraordinary clubhouse vistas of the world." None of it is to be missed.