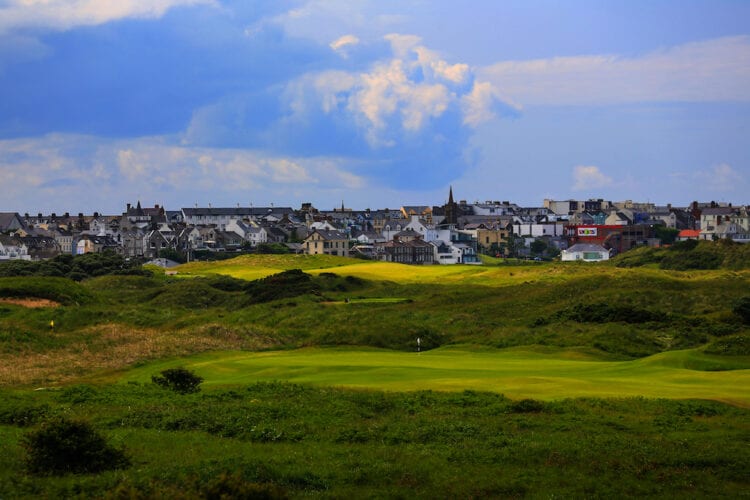 If Max Faulkner were around to defend his 1951 Open Championship title, he might not recognize what they've done to Royal Portrush's acclaimed Dunluce Course. But 2011 Open Champion Darren Clarke has had a front-row seat to all the architectural drama that's taken place there recently. The jovial Ulsterman has owned a home in Portrush for years, and he gives high marks to the changes.
"Royal Portrush, in terms of its standing and world rankings, has got to be up near the very top," says Clarke. "The changes that Martin Ebert has made, in conjunction with the R&A, to bring it up to Open Championship standards—they've done a fantastic job. The course will be very fair, in the manner of Royal Birkdale, which may be the fairest of all links golf courses. Portrush's fairways are not overly undulating, so if you hit it straight, the ball tends to stay in the fairway rather than feed offline, and the green complexes are somewhat slopey but fair. All in all, it's a brilliant test of golf."
Golf in Portrush was originally played on an assortment of holes laid out by Old Tom Morris, but the club called on Harry S. Colt to create a true championship course in the 1930s. The biggest changes that Ebert et al. made to Colt's layout in preparation for last year's Open were the elimination of its two nondescript closing holes, and the creation of new 6th and 7th holes, which were built on land taken from Portush's Valley Course.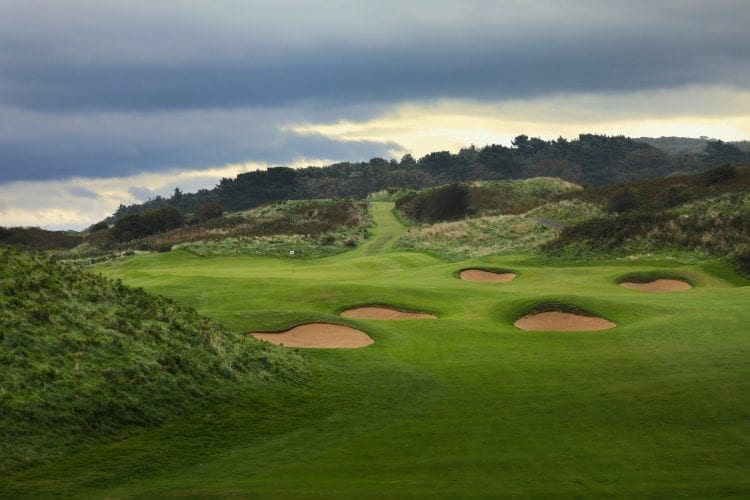 "The Valley is a championship golf course, as well," Clarke says, "but they used some of that land to create the two new holes. The logistics to stage the Open Championship—because it's one of the biggest events in the world, and because Portrush is in a limited area, size-wise—meant that they needed to use the footprint of the old 17th and 18th for the tented village. Martin used some land down to the right of the old 6th hole, which was the 4th and 5th holes on the Valley, to create a 608-yard par five, and then a very strong dogleg par four coming back. Those two new holes are great. And now, the two finishing holes will be really good holes to end on.
"It's always risky to go in and try to alter a masterpiece, which is what most people would call Royal Portrush. But I think Martin Ebert has achieved that and more with the new holes, some new bunkers, and some new greens. A new green at the 2nd improves the hole distance-wise. A new back tee on the 10th makes it a very tough driving hole. And all the repositioned bunkers make the course a good 1.5–2 shots harder than it was. It's just had a real modern revision of what was there, making an already challenging course even more challenging."
One thing that makes holding a lead down the stretch at an Open more challenging is the fact that the brutish one-shotter known as "Calamity," which used to be the 14th hole, plays as the 16th. A hilltop-to-hilltop par three across a valley to a green protected front and right by deep marram grass and on the left by Bobby Locke's Hollow, it's a monster even in the most benign conditions.
"With the new tee box for the Open, it will play in the 240 range and will be brutally tough if the wind is blowing," said Clarke. "The scoring on links courses is always dictated by weather conditions. In calm conditions, today's professionals will always shoot low numbers. But Portrush is good enough to stand up to any player. It has so many holes where accuracy off the tee is paramount, and those who try to overpower the golf course by hammering the driver will be going home early."
Like a lot of people, Clarke wondered for a long time whether The Open would ever return to Portrush.
"If you'd asked anybody about that, maybe 15 years ago, through the conflict that Northern Ireland went through with the Troubles, people would've looked at you and said you're mad to even contemplate it. But Arlene Foster, our first minister, really embraced the idea, and Wilma Erskine, who's the secretary of Royal Portrush, she was pushing it. And then you have the ex-secretary of the R&A, Peter Dawson. He came around to our way of thinking eventually. Rory [McIlroy] was talking to him a little bit. Graeme McDowell, who's from there, was talking to him a little bit. I was talking to him a little bit, and we had the Irish Open there in 2012. And that was a fantastic success. I think it showed the R&A that we could manage an event on a large scale.
"Now, what we're going to have is a monumental moment for Royal Portrush, Northern Ireland, and indeed, all of Ireland."
Clarke is understandably revered in Portrush, and when asked what other things Open spectators should do when they come to town, he offers a very Darren kind of answer.
"Go to the Harbour Bar, drink Guinness, and get drunk," Clarke says. "When I'm home in Portrush, not that I'm there an awful lot now, but I go down to the Harbour Bar and it's perfect because people are just there to have a pint. And I'm the same as any other guy who walks into the bar. Everybody's just in to have a drink and bit of a laugh and a bit of craic and then move on."
"The locals are never surprised when Darren calls in," says Willie Gregg, the bar manager, "whether it's with family, or a bunch of his Portrush mates, or top professional golfers. He arrived at the bar the morning he came home with the Open trophy under his arm. I can't remember much else as we all joined in celebrating his fantastic achievement. His replica Ryder Cup trophy is on display, pride of place, behind the bar."
Lest you think that Portrush is nothing but bars, Guinness, and craic, Clarke goes on to say that there's a lot more to commend the area. If, that is, bars, Guinness, and craic aren't enough for you.
"The coast roads around there are amazing," recommends Clarke. "You've got some spectacular views all the way from Portrush out past Dunluce Castle towards Portballintrae. Wonderful roads to drive if the weather's nice. We've got the Giant's Causeway 15 minutes away—that's one of the UNESCO World Heritage sites and a lot of people end up going there. And a couple of the locations where they film Game of Thrones (Ballintoy Harbour and The Dark Hedges) aren't too far away. Portrush is a great little tourist town. It's definitely got a huge buzz, and it will be incredible the week of the Open Championship. That'll be just amazing."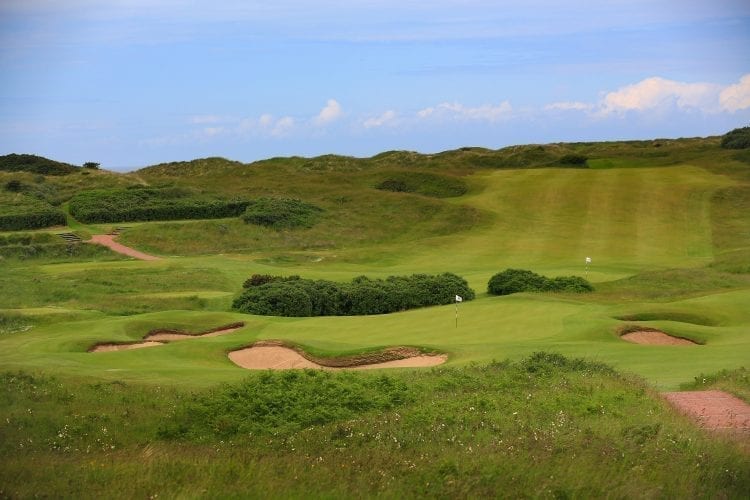 Which Whiskey is Which?
Darren doesn't mention the Bushmills Distillery in his description of Portrush-area places to visit. That's because he's partnering with Scotland's Loch Lomond Whiskies to create a new offering for the 2019 Open—The Open Course Collection: Royal Portrush Edition. But Bushmills is close to Portrush, and if you're there for The Open, you should order a dram of Bushmills and another of Darren's signature "water of life"—if only to form your own opinion about the differences between Irish whiskey (with an e) and Scottish whisky (no e—who knows why?).
Some of those differences stem from the way they're produced. Scottish whisky, a.k.a. scotch, is normally made from peat-smoked, malted barley (sometimes with other grains), whereas Irish whiskey is usually made with kiln-dried, unmalted barley (and often with other grains). Scotch gets distilled twice; Irish whiskey, three times. Some Irish whiskies are categorized as Single Pot Still offerings, denoting that they're made from both malted and unmalted barley. Both countries' whiskey makers typically let their angelic (or devilish, depending on your P.O.V.) creations mature for at least three years in oak barrels that had previous lives holding bourbon or sherry.
Generally speaking, the extra distillation makes Irish whiskies a tad smoother and more "neutral" than their feistier Scottish brethren. But in the opinion of some, it also diminishes the flavor subtleties that single-malt whiskies from Scotland are known for.  
Prices for rare bottles of both nations' whiskies can stretch into the hundreds of dollars (or more). But excellent bottles can certainly be had for far less. Some recommendations include:
Scottish Whiskies
Lagavulin 16
The Macallan 12 Year Old Double Cask
Glenmorangie Nectar D'Or
The Balvenie Doublewood 12 Year Old
Springbank 18
Glen Scotia Victoriana
Irish Whiskies
Redbreast 15
Teeling Single Grain
Jameson 18 Year Old Bow Street
D.W.D. Dublin's Own Heritage Edition
Bushmills 16
Method and Madness Single Malt