On a trip to Scotland last fall I had the opportunity to play a sneak-preview round at Dumbarnie Links. Clive Clark, a member of the 1973 Great Britain and Ireland Ryder Cup team, has taken a relatively undistinguished landscape and created 18 fun, testing, and memorable holes.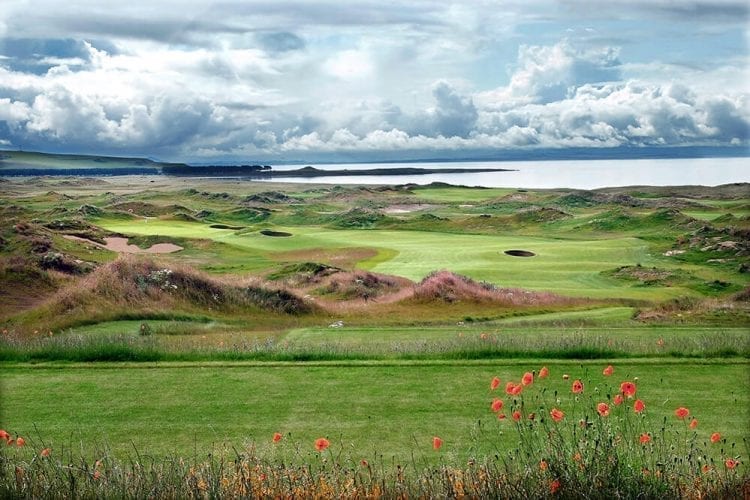 About nine miles south of St. Andrews on the Firth of Forth, Dumbarnie is set over 345 acres, part of the 5,000-acre Balcarres Estate held by Lord Anthony Balniel and his family since the 16th century.
"There was an air of uncertainty when my family was first approached about building a golf course on our land," says Lord Balniel. "Fast forward several years and we simply could not be more pleased. What Clive Clark and his team have done is nothing short of outstanding. I have been struck not only by the beauty of what has been created, with the dune landscape significantly enhanced, but also by the focus on the wildlife, plants, and birds. It has been a joy to see the project unfold."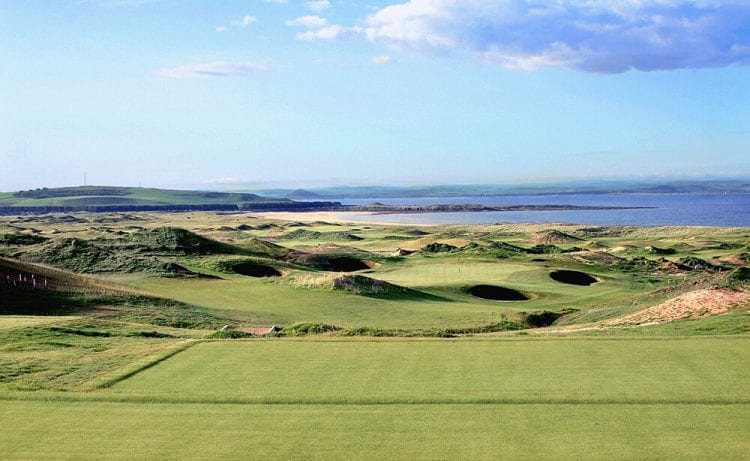 From the 1st hole, a "friendly handshake" par four played from an elevated tee to the final testing dogleg par four, the holes kept us constantly engaged. I loved the wide fairways and expansive greens as, I suspect, will 99 percent of players—continued evidence that a more welcoming style of architecture—via Gil Hanse, the reborn David McLay Kidd, even Tiger Woods—is blessedly taking hold. Mind you, I'm not saying Clark has designed an easy course. It was clear, peering back on each tee at the championship markers (over 7,600 yards), that Dumbarnie can and will be a stern test even for the world's best players. I wouldn't be surprised to see the Scottish Open come here soon, or for Dumbarnie to replace Carnoustie, joining the Old Course and Kingsbarns in the triad of courses that host the Dunhill Links Championship.
The greens were fun to putt, with broad, flowing undulations rather than the abrupt roller-coaster slopes of the nearby Castle Course (although admittedly at their newborn speed of about seven on the Stimpmeter, they're were less fearsome than they will be in a year or so). I also appreciated the green complexes that echoed the playability theme, many of them amphitheatrical bowls rather than upturned saucers. There was some Old Course homage as well—playful hints of the classic surfaces of holes 11, 12, and 17. Most of the greens also are open-fronted, allowing for bounce-on approaches. My most satisfying iron shot on a day of precious few good ones was a low, drawing 5-iron into the last which must've bounded and rolled 100 yards. 
If I were a golf architect, my theme would be risk and reward, with Cape Holes galore, and Clive Clark certainly has worked in plenty of that at Dumbarnie. Playing from the third of the five sets of tees, I savored the chance to drive the buttonhook 3rd (caught a greenside pot bunker), the inviting 11th (pushed one hopelessly right, leaving a vexing pitch), and the downwind 17th where it ran through the green, leaving what Alister MacKenzie would have called a "pleasantly exciting" chip down three tiers.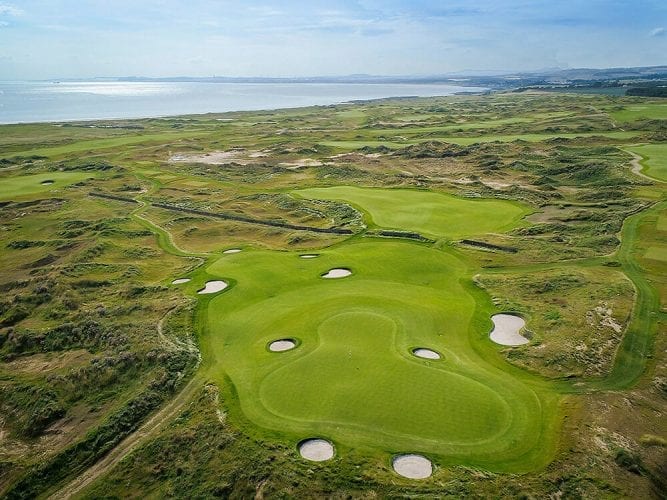 Two holes featured double-fairways offering conservative and aggressive options—and my how those options will change with wind direction, not to mention the choice of tees. These holes in particular were testimony to the creative earthmoving done on the site, essentially flat farmland that has been sculpted into an eye-catching dunescape. The bunkering here is similar to Kingsbarns and Castle Stuart, a combination of sod-faced pots and ragged-edged pits of all sizes that add to both the visual variety and challenge. 
If I had one quibble it would be that some of the walks twixt green and tee are a bit long (although I admit I'm spoiled by the St. Andrews courses—and I also have a lousy back). That said, they're easier than at Kingsbarns, Castle Stuart, and The Castle. Designer Clark and his crew also are to be commended for masking the uphill movement—only two holes called for any uphill trekking and they were minor.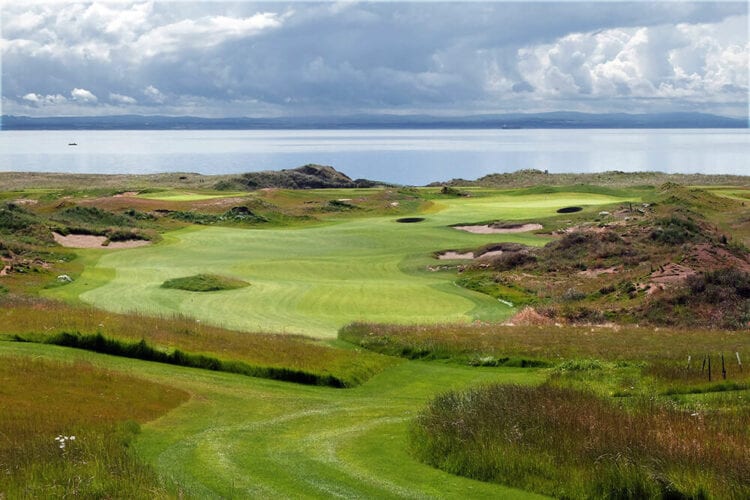 You'll notice I haven't even mentioned the views, which are wonderful, with the Firth of Forth in sight on 16 of the holes. It's just that the course itself grabbed and held my attention from start to finish. I have no doubt that Dumbarnie will soon come to stand along with Kingsbarns as the two courses (after the Old) that every serious St. Andrews pilgrim will want to play.