Linksland, heathland, parkland—the Netherlands has it all
Most Americans who venture across the pond to play golf get no farther than the British Isles, whose famed links courses are like Homer's sirens calling mariners thither. But it's time people discovered the Netherlands, home to many of Europe's finest courses.
Holland has always been a fun country to visit, whether you prefer the excitement and cultural attractions of a major city like Amsterdam or the quieter experiences to be found in the scenic villages that dot its many waterways. But especially now, as tee times in the UK and Ireland are becoming as scarce as metal spikes, Holland is an excellent option for anyone interested in padding their course résumé and having a genuinely good time.
The Dutch are a relaxed, joyful, and welcoming people, and most speak fluent English. According to many historians, they can lay claim to having invented the game—or at least a forebear of today's game. As early as the 12th Century, the Dutch were playing kolf—a word derived from the Dutch word for "club." And they played it everywhere—not just in open fields but on village streets and ice-covered canals.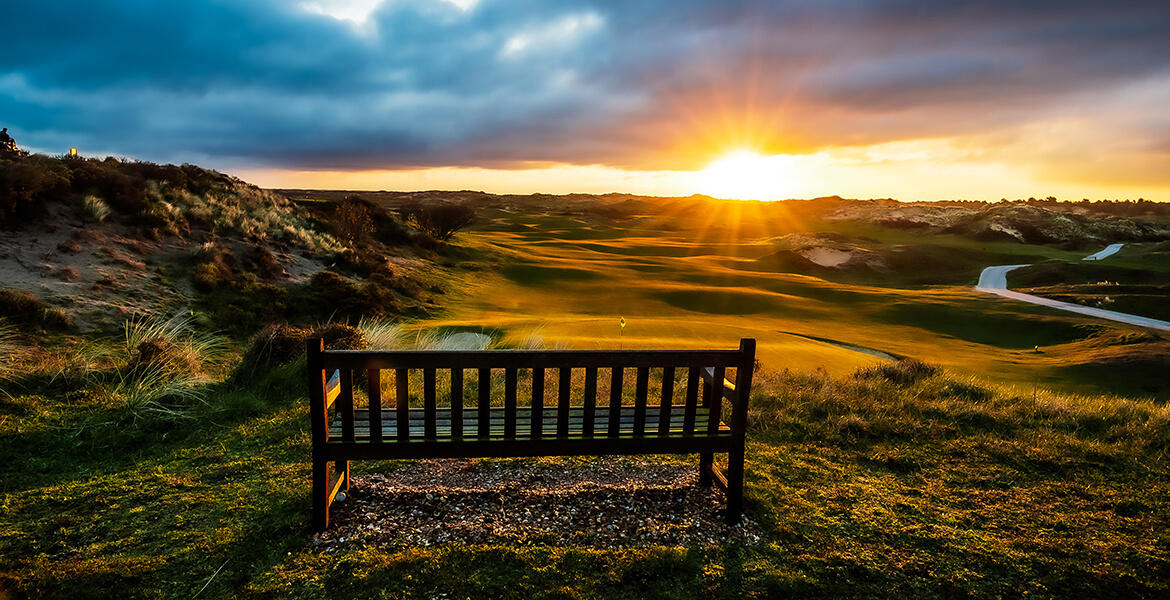 That initial Dutch version of the game didn't necessarily involve holes; they hit the ball toward targets of many kinds. But today, you'll find some very strong holes indeed in Holland—on courses that offer a stunning amount of variety. Some are true links courses, set in windswept dunescapes that rival those of Great Britain and Ireland in both size and spectacle. Others are heathland or parkland courses, including several designed by Golden Age luminary Harry S. Colt. And then there are the more modern layouts from contemporary designers, including Kyle Phillips and Dutchman Frank Pont, both of whom have also had a hand in restoring some of the Netherlands' best-loved courses.
"Holland has over 100 miles of linksland," says Pont. "And it's not just a narrow strip like you see in Scotland or Ireland, it's five miles wide in places." With that much linksland, you might expect to find links courses all up and down the coast. In actuality, there are just a handful, and Pont notes that environmental restrictions are unlikely to allow the creation of more. But what a handful it is.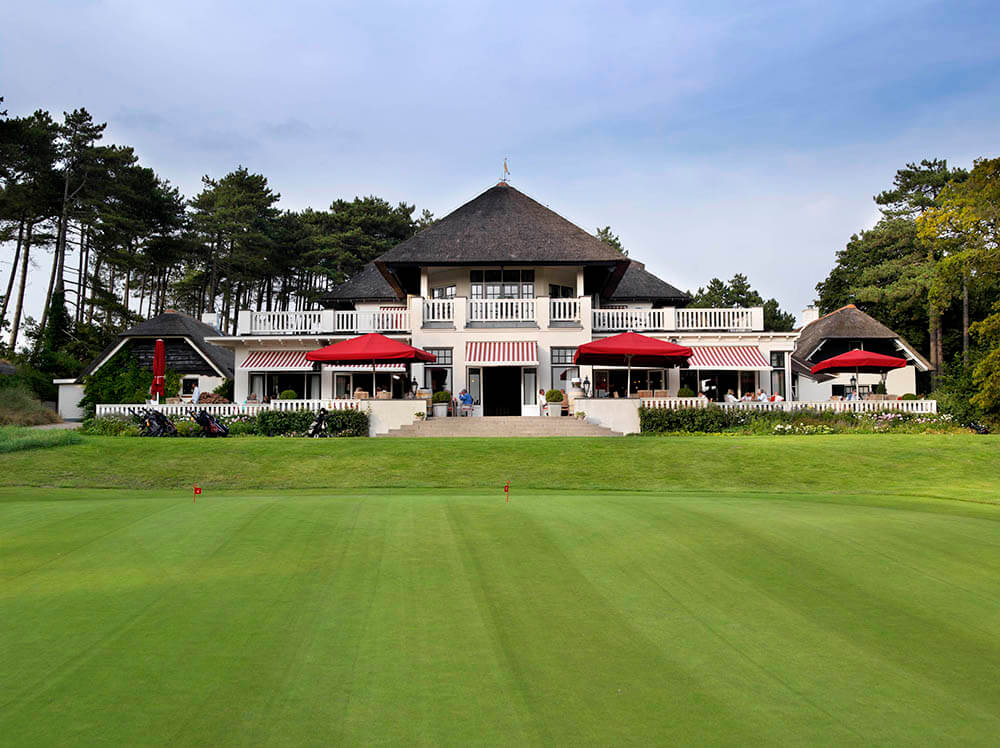 The finest of these is Koninklijke Haagsche, or Royal Hague, the oldest club in the Netherlands, founded in 1893. Royal Hague is a national treasure that winds its way up and down and up again through large dunes that produce a variety of lies, few of them flat. Many of its brawny holes feature crowned greens, often elevated, that test your skill with approach and recovery shots all day long. Like so many of Holland's courses, which are largely sand-based, it plays firm and fast. There are blind holes, like the steeply uphill par-four 7th, and holes that will blind you with their natural beauty, like the testing 4th, a 200-meter (220-yard) par three that sweeps downhill to a well bunkered green. Pont has been dutifully restoring the course for the last 15 years, the biggest project being the renovation of all 18 greens in 2008.
Venturing north, the next links course you'll come to is Noordwijkse Golf Club. Noordwijkse dates back to 1915, but today's course came about in the 1970s. Part of the journey here is through ancient dunes, but a few holes are tree-lined. The greens are compact, and there are numerous false fronts, swales, pot bunkers, and challenging angles to negotiate. One highly memorable hole is the 15th—a par four that doglegs over/around a towering sentinel dune.
Continuing north along Holland's west coast takes you to Kennemer in Zandvoort, where you'll find 18 links holes from Colt (1910) and another nine designed by Frank Pennink (1985). There's also a Dutch Open routing that features a mix of holes from all three nines. The home hole on the Colt (C) nine, an uphill par four that finishes beside the stately clubhouse, is a fittingly exhilarating end to a day at this traditional Dutch club.
Turning inland, an hour's journey past windmills and through seemingly endless tulip fields brings you to the forested parts of Holland where the country's best heathland-style courses can be found—courses that are often compared to English standouts Sunningdale and Swinley Forest.
The foremost of these is Utrechtse Golf De Pan, just east of Utrecht. Colt designed this course in 1929, but it has since been updated by Pont. Playing De Pan is like stepping into the pages of a story book. The secluded wooded site is an explosion of color, with purple heather and stands of birch and pine bordering holes that aren't overly long but are definitely long on strategy.
From the moment you step onto the 6th tee, which calls for a blind shot over a dune—followed by a second shot that's also blind—you'll be hooked (if you weren't already).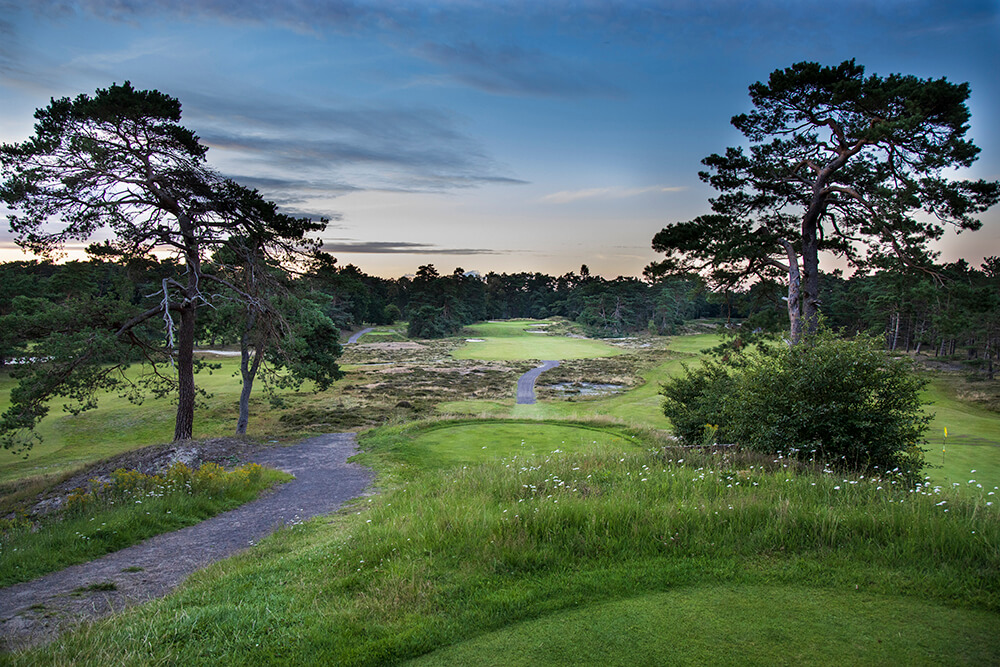 Another historic and highly enjoyable course is Eindhovensche, a challenging Colt layout dating back to 1930. This woodland-heathland-wetland playground is situated on a gently rippling site with a thatched-roof clubhouse that looks like something out of a fairy tale. Eindhoven and De Pan are two very different courses from Colt & Co., the first refi ned and understated, the second a tougher challenge on a much grander scale. You should definitely play them both.
Just north of Utrecht is a third historic heathland gem, Hilversumsche. Kyle Phillips was called upon to restore the original Henry Burrows/Colt design here, and the result is a championship course that feels classic and modern at the same time. Jagged-edge bunkers, rippling fairways, and corridors that call for accurate strikes to avoid looming pines are among the course's chief challenges.
Bernardus Golf Club in Cromvoirt isn't a historic heathland-style course yet, but give it a few years. It's one of a group of modern golf projects in the Netherlands (The International and The Dutch being two others) that have sought to bring more luxurious private golf experiences to the country. It offers Michelin-rated dining, elegant overnight accommodations, a lit practice range with its own bar and sound system, and even a three-hole short course that you can play either clockwise or counterclockwise. But the real star is the Kyle Phillips-designed course, which debuted in 2018.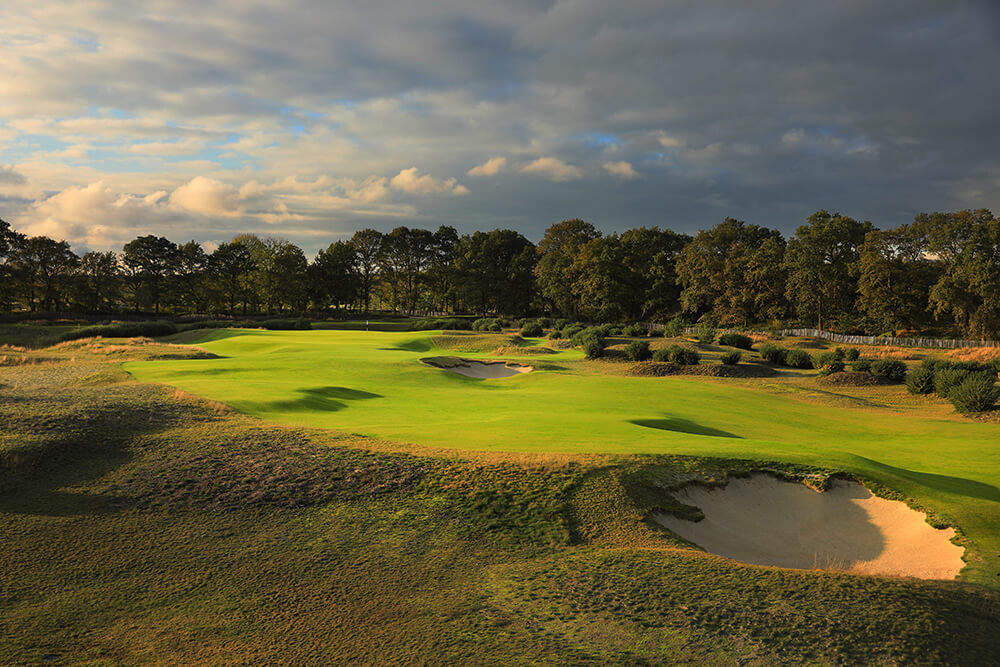 "The golf course itself is really a restoration of the landscape—the historic landscape," Phillips says. Today, that precious landscape hosts the European Tour's KLM Dutch Open, and as a "member for a day" you can enjoy it, too. Water comes into play on several holes and heather is ever-present. The dogleg-right par-five 7th hole, which plays along a lakeshore to an elevated green protected by both sand and water, is a good example of the challenges presented at Bernardus.
Phillips's first course in the Netherlands, opened in 2000, was one of Holland's earliest upscale members' courses, and one upon which Robert Trent Jones II consulted. Called Lage Vuursche, "Low Fire," it has water coming into play on 14 holes.
"We had a high-water table there, so it took some work to raise the lower side of the site and get some flow to the course," Phillips notes. "Always in the Netherlands you have to think about where the water lies underground. It was a requirement to have a certain amount of surface-area water when the project was done. But it's very playable, not too penal, and there are ways around the water."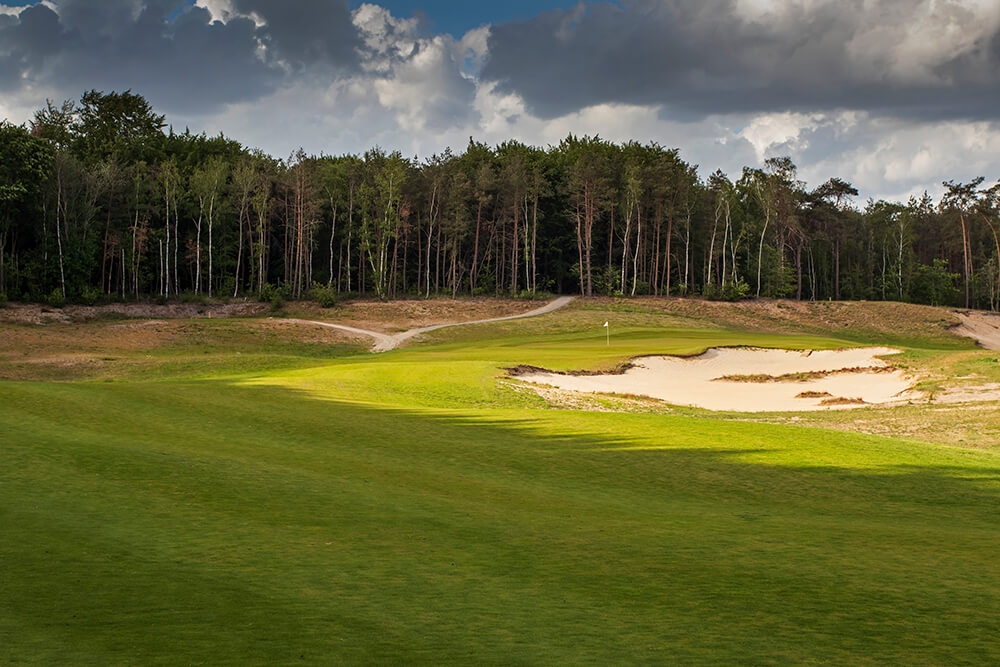 Other courses to consider in Holland include the Championship course at Stippelberg, the heathland offering at Golfclub de Hoge Kleij (which Pont renovated extensively and which hosted the Dutch Amateur Championship in 2019), and especially the 27 Pont-designed heathland holes at Golfbaan de Swinkelsche, a superb club that occupies a vast site neighboring Holland's largest heathland. Be sure to leave time for a visit to Pont's clever, reversible, 9-hole heathland marvel at Links Valley, too. Built on just 70 acres of a large family estate, it was Europe's first reversible course and presented Pont with some unique design challenges, including height differences of more than 20 meters.
"I got to thinking about a reversible course after reading [course architect] Tom Simpson's book," says Pont. "You have to design the greens so that they offer different challenges from the different lines of play, which isn't easy, but funny enough, positioning the tees to work with both playing directions might be the hardest part of the design." Judging from the result, it's likely that Links Valley was as enjoyable to map out as it is to play.
The last thing to note about golf in the Netherlands is that, like all things Dutch, it's a democratic affair. As long as you can produce a handicap certificate of 24 or lower, all of the above-mentioned courses will welcome you on visitors' days. Most players walk—and most courses are easily walkable. Golf in Holland is generally very affordable, too. For masterpieces of this caliber, it's an absolute steal.
Have you played golf in The Netherlands?