El Cardonal Course, Mexico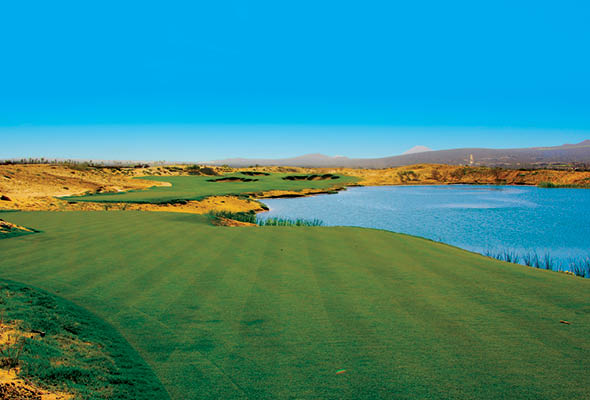 Tiger Woods unveiled his first completed 18, El Cardonal at Diamante, at the tip of the Baja Peninsula in Los Cabos, Mexico.
El Cardonal takes its name from the tall, slender, multi-armed cactus that thrives in this region. Tiger, who maintains a home at Diamante, was given an interior parcel of land set well back from the Davis Love III-designed Dunes Course routed in mammoth dunes above the Pacific that's No. 63 on the LINKS100 World Rankings.
Scenery-wise, Tiger's track does not compete with the Dunes, though it offers an ocean view from every hole. What the 7,508-yard, par-71 course presents is a superb strategic test without a weak hole in the mix. With maturity, the subtly contoured greens at El Cardonal, many skewed to the line of play and defended by spill-offs and deep-faced bunkers, may come to be recognized as among the best surfaces in Cabo.
Nearly every fairway and green at El Cardonal is defined by huge sand pits, most of them directional, others penal to a stray drive or slack approach. Tiger takes a page out of Donald Ross's playbook by pulling a few bunkers well back from the putting surface. They appear greenside, but they're not. In his debut effort, Tiger has shown he's willing to create optical illusions and visual hijinks to fool with the golfer's depth perception.
The par-36 front nine, routed on the lower, flatter portion of the property, plays to and from the sea along fairways framed by rolling, fabricated dunes. One of the best holes is the short par-four 3rd, which skirts a lake and brings a menacing central bunker into play off the tee. A choice must be made: Lay up short of the bunker on the tee shot; carry the bunker to set up a short approach from a good angle; or boldly try to carry a second bunker and drive the green.
The shorter, par-35 back nine is on higher ground with more interesting contours than the front. Cactus-studded arroyos weave through these holes and Tiger and his team have brilliantly incorporated them into the layout. The finish at El Cardonal is excellent. The par-four 17th, commanding the high point of the course, drops to a broad, saddled fairway that turns gently left. On the horizon is the community's 10-acre saltwater lagoon. Beyond is the cobalt-blue Pacific. The closer is a massive 491-yard par four that slides down to the sea. Cautious players can tack around sandy hazards and reach the green in three, while bolder golfers will flirt with a bunker to set up a good angle to the long, slim, bunker-fronted green.
According to Diamante's  owner Ken Jowdy, Tiger's goal was to create different ways to negotiate each hole. "He [Woods] focused more on the people he plays with on Wednesdays [amateurs] than on the weekend."
El Cardonal is an honest, solid course full of old-fashioned virtues, a course where precision is as important as power. Architect George C. Thomas once wrote, "Length means nothing without character, but a true test must have sufficient length and character." Tiger's debut has plenty of both.