A subscriber shares his experience at one of Scotland's most iconic Open Championship venues
By Clive Greaves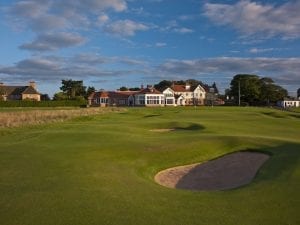 I first fell in love with Muirfield on the occasion of my first visit some 50 years ago. I have been fortunate to return quite a few times in the intervening years and my passion has only increased.
Muirfield is universally recognized as one of the world's finest courses. It is a remarkably fair links and has few hidden pitfalls such as exist on many of the other fine courses in Scotland. Good shots are rewarded and indifferent ones severely punished due to the penal rough and fearsome bunkers. The greens do have subtle nuances and a caddy is definitely a good investment if one's scoring potential is to be maximized.
The links are not as beautiful as, say, Royal Dornoch. Indeed, when one enters the hallowed grounds the first sight of the famous links can be somewhat of a disappointment. It is only when one's eyes go beyond the rather flat and featureless terrain that the Firth of Forth and the distant hills of the Kingdom of Fife come into view and one might utter an appreciative "wow!"
To fall in love with Muirfield, as I have, one must totally embrace all that this oldest of golf clubs (founded in 1744) has to offer. Do not just go to play golf; rather, don jacket and tie after the first eighteen and go into the so-called smoke room (those were the days!) and enjoy a pre-luncheon libation or two. Next, proceed into the dining room and join the members at the long table. The lunch is probably the finest of any golf club in the UK and certainly the best value for the money. Enjoy all three courses, including a piece of treacle tart and ice cream for dessert. Engage in conversation with the members who, contrary to legend, are most hospitable and will be only too happy to tell you about the history of the club and explain some of the artifacts which grace the walls of the room. You might even get them to tell you a story or two about some of amazing things that have happened at Muirfield over the years. Before setting out on the second eighteen (alternate-shot foursomes are a worthwhile experience), return to the smoke room for coffee and perhaps a kümmel.
Muirfield is an anachronism in so many ways, including not having lady members until recently (the club voted to admit women as members in 2017). I'm glad this has changed, but I pray that most of its other long-standing traditions are perpetuated.
If I had one last day of golf left it would be spent at Muirfield. I would only hope that the weather would be as fair as that of my true love.