My half century of memories of the world's greatest town
The 150th playing of the world's oldest golf event, the Open Championship, is now upon us as the competition returns to the Old Course at St. Andrews for a record 30th time. I count among the greatest blessings of my life that I've been able to witness the last eight of those St. Andrews Opens and am looking forward to being there for number nine. Moreover, I feel a sort of quinquagenary kinship this time, as my love affair with the Auld Grey Toon now stretches back precisely 50 years.
It began the summer before my senior year in college. I'd wangled an internship working three months in Paris, and when that ended in mid-August, I packed a knapsack and hitchhiked through Europe for two weeks—France, Monaco, Italy, Switzerland, Germany, Luxembourg, and Belgium—before hopping a ferry to Dover and a final hitch to London where I met up with a few college pals. Our flight home was four days later, but one of the guys was as golf crazed as I, and we'd long ago decided that if we did nothing else before the end of that summer, we'd find a way to play the Old Course.
My recollection of our trip north from London is vague, but I recall the last few hours were spent sleeping in a car two blocks from the course, waiting for the sun to rise. In those days there was no stampede for tee times, so at dawn's early light we stumbled to the first tee, somehow rented clubs, and headed off without even paying a green fee. A local chap near the tee assured us someone would catch up with us, and after about half an hour a motorbike buzzed up the dirt path beside the course and a cheery fellow in a rain slicker hopped off and asked us each for five pounds. I don't remember much about the round, but thanks to the lone photo taken I can attest I sported a golf outfit I've never repeated on the Old Course or anywhere else: blue jeans (bought at a Paris flea market), adidas sneakers, and a collarless Hang Ten surfer shirt.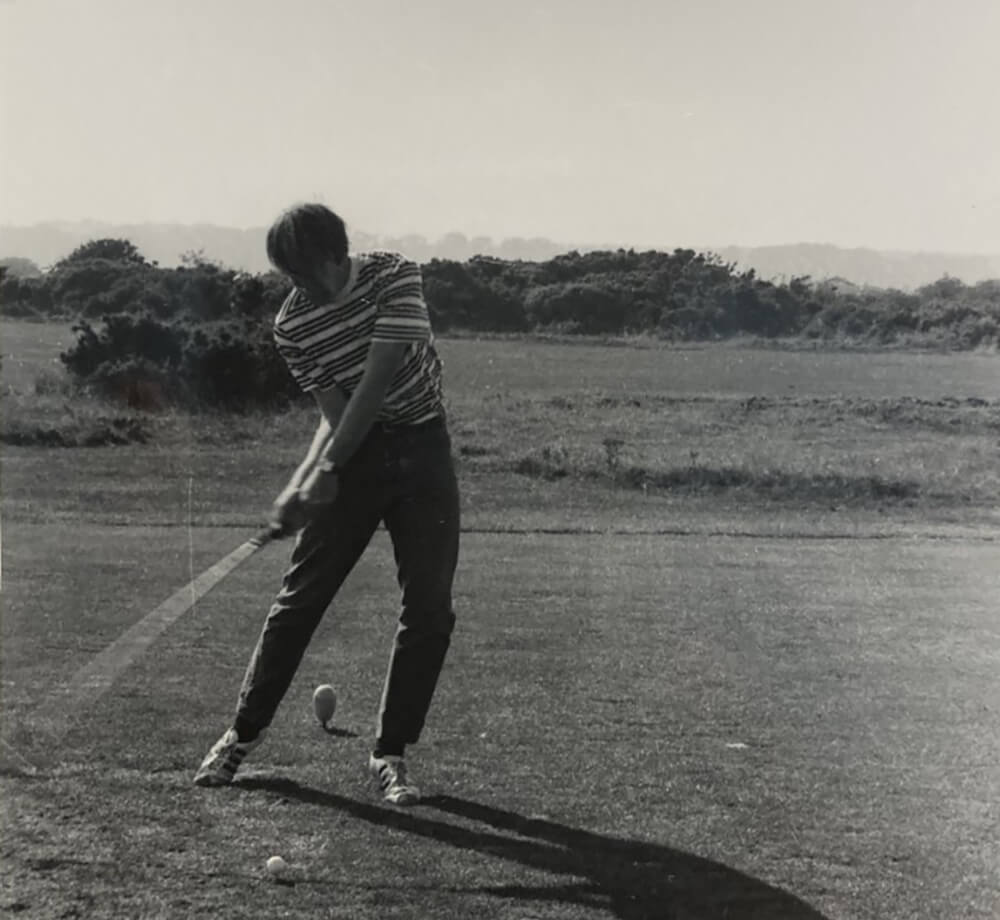 It would be four years before I returned to Scotland, this time on a buddy trip with three guys I'd met while working in New York City, one of whom, David Fay, would go on to become Executive Director of the USGA. This was surely the most joyful golf trip of my life—four young bachelors, all decent players, sharing the discovered bliss of links golf (and enjoying the pubs almost as much as the clubs). Our stops included Troon, Turnberry, Carnoustie, and, of course, St. Andrews, where there's a photo of Fay and me on the Old, festively clad in plaid trousers and floppy tweed caps. He's doing his best to scrape out of a pot bunker as I stand by in amusement.
A few years later, David and I would return for another trip, this time with half a dozen pals. In between those two visits, however, I'd undergone a couple of major life changes. Number one, I'd found my dream job as an Associate Editor of GOLF Magazine and 18 months later, through some very good fortune, had become the Editor. Not long thereafter, I'd had the even greater good fortune to meet Libby White, the remarkable woman to whom I've been married for 44 years.
As a wedding gift, my boss at the magazine company generously sent me and Libby on a second honeymoon to the 1978 Open Championship at St. Andrews. It was there and then that she fell in love with Scotland in general and St. Andrews in particular, just as surely as I had. We bunked in a spare room of a home rented by a fellow American named Mort Olman, a serious golf collector and owner of The Old Golf Shop in Cincinnati. Back then, Open week attracted an ad hoc convention of collectors, many of whom stopped by the house that week, including Ben Crenshaw, who pored through Mort's vintage books, and Ray and Maria Floyd, who bought a golf-themed sterling silver toast rack.
The Sunday evening of that Open was memorable for two reasons. First, nothing I've witnessed in the ensuing five decades has equaled the thrill of watching Jack Nicklaus, his golden locks glowing in the late-afternoon sun, walk triumphantly up the 18th fairway to claim his third Open title. The roar and applause were deafening from a six-deep crowd, people standing on milk cartons and leaning out windows to get a view of golf's greatest player winning the world's oldest championship on the game's most fabled course. Then, a couple of hours later, I made my way to a tiny stucco cottage in the village of Strathkinness, a few miles outside of St. Andrews. For over a year I'd had my eye on a young man I'd hoped to sign to a Playing Editor contract with GOLF Magazine, and on that evening I met with him and his agent to close the deal. His name was Seve Ballesteros, and the next year at Royal Lytham it was he who hoisted the claret jug, the first of his five major wins.
When the Open returned to town in 1984, Seve once again took the title with a fist-pumping birdie on 18. By this time, through yet another stroke of luck, Libby and I had become St. Andrews homeowners. The year before, while playing the Old Course on a press junket, I'd sliced my tee shot on 18 into the row of grey townhouses lining the hole, and there I'd spotted a For Sale sign. A two-bedroom flat, with a large bay window overlooking the course and North Sea beyond, had become available at a price even I could afford. Two months later, at a law office in Perth, we closed the deal on the best purchase of our lives.
The place needed a lot of work, but it was good enough to rent out to students from the University of St. Andrews, which we did for the next 20 years. Since they were absent during the summer months, that's when we paid our visits and did gradual renovations, while also getting to know the town and some of its citizens. During one fortuitous pick-up game on the Old Course, one of my companions turned out to be a member of the Royal & Ancient Golf Club. Upon learning I owned a flat in town, he said, "You should be in the Club—leave this with me." Incredibly, a couple of years later, that came to pass.
I wish I could say we watched the Opens of 1984, '90, and '95 from our home, but the rental income from those weeks was just too good to pass up, so I found places to bunk while the flat was occupied respectively by: a quartet of junior staffers from Mark McCormack's International Management Group ('84); Jaime Diaz, Rick Reilly, and a couple of photographers for Sports Illustrated ('90); and the CEO of Swedish National TV ('95). In 2000, however, we treated ourselves to a front-row view of Tiger Woods in his prime, as he stormed to an eight-stroke victory in the second leg of the Tiger Slam.
In 2003, our relationship with St. Andrews took on a new dimension. My tenure at GOLF Magazine had ended, our two sons were out of the nest, and in a moment of divine inspiration for which I will be eternally grateful, my good wife suggested that we "go on an adventure," sell our suburban New York home, and move to St. Andrews. "We can live there for two years, fix the place up, and then sell it just before the 2005 Open," she said.
That two years turned into almost eight as Libby and I became enthralled with the myriad charms of St. Andrews. Beyond the golf there was the seaside location, the university, the history, and the most cosmopolitan town in the UK. We bought a car, got driver's licenses, found doctors, dentists, lawyers, and accountants, even bought a second dog. Our sons came for Christmas, our extended families came for vacations, and we were visited by a steady parade of friends—a few we didn't know we had!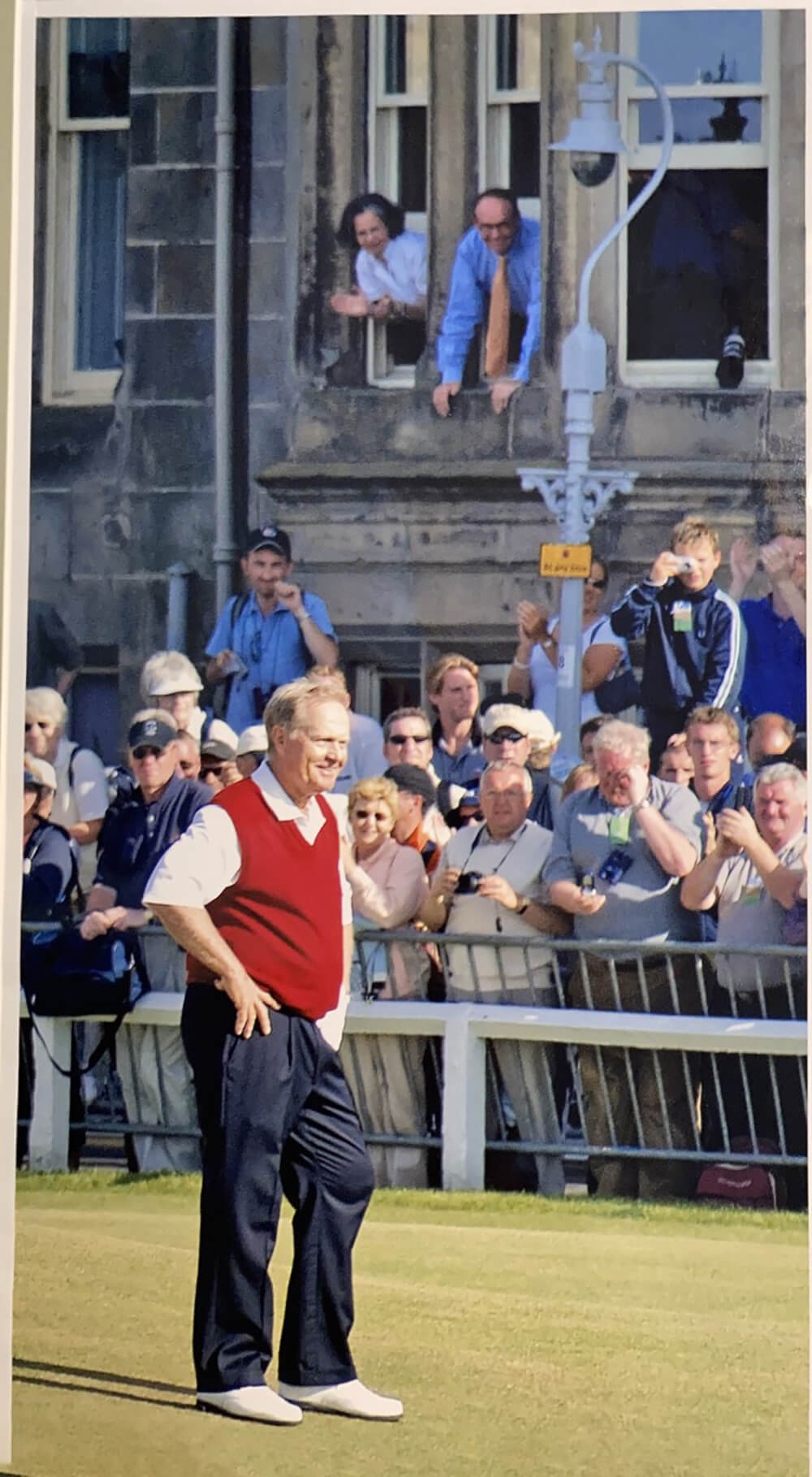 And, of course, both of us played golf, I far more than Libby—an average of twice a week on the Old Course alone. During the same eight years, I kept busy writing books, consulting (including briefly for Donald Trump), and speaking. I ate too much haggis and sticky toffee pudding, drank too much single malt whisky, witnessed literally four weddings and a funeral on the Swilcan Bridge, watched Tiger win a second St. Andrews Open, both Arnie and Jack bid farewell to championship golf, and joined in the celebration of the R&A's 250th anniversary. Best of all, both Libby and I discovered in our fellow St. Andreans some of the world's kindest and most genuine people, friends we will have for the rest of our lives.
It's been almost 10 years now since we sold that beloved home and returned to the U.S. (after my writer's UK visa category was discontinued), but we have kept a modest flat in St. Andrews. It's a place we will someday leave, but it will never leave us.
My most recent round on the Old Course came late last August, 50 years almost to the day after my first, in the company of three St. Andrews friends. It was a brisk, rainy day, and I wasn't sure I'd complete 18, not because of the weather but because of an arthritic back that has confined me to cart golf. Well, call me stubborn, but I've never taken a cart on the Old Course and I was determined to play my anniversary round just as I had as a college kid, on foot.
By the back nine, I was regretting that decision, limping along while punching the ball weakly down the fairway. As I walked to the 18th tee, I realized with horror that unless I could make a par, I would for the first time in my life, fail to break 100 on the Old Course.
A 160-yard drive, followed by two tiny 5-irons, left me short of the green, in the Valley of Sin. With the pin at the back left of the green, over 100 feet away, my hopes were over. And then St. Andrews magic took hold. The putt I slugged up the slope climbed determinedly while breaking at least 10 feet from right to left, and somehow found its way into the center of the hole, bringing a wild round of hoots and applause from the dozen or so folks watching from greenside.
It was a moment that left me very close to tears, a moment of deep gratitude and good fortune. My guess is that the golf gods were telling me, "Okay bud, you've had your fun here, it's time to move on."
As I write this, although my back is feeling much better, I suspect I've played my last round on the Old Course, and that's just fine. For, as Bobby Jones once said, far more eloquently than I ever could, "I could take out of my life everything except my experiences at St. Andrews and I would still have a rich, full life."