An Interview with Golf Historian David Normoyle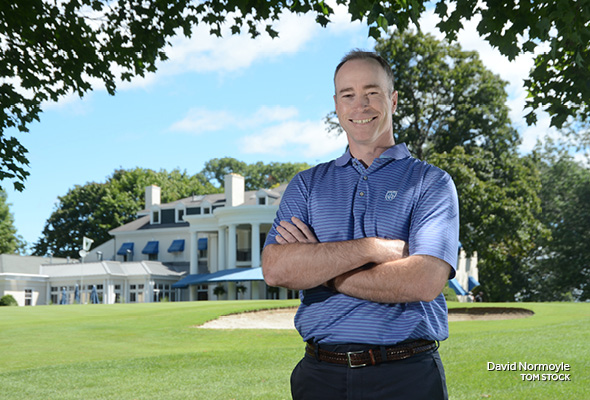 Saratoga Springs, N.Y., is a town with many stories to tell, from its origins as a mineral-spring spa town, to its Civil War-era flowering as a horse racing (and gambling) mecca, to its place today as a prosperous hub of education and high culture. It's the kind of place a history buff would love, so it makes sense that a visitor would find David Normoyle very much at home at the Saratoga Golf & Polo Club, a supremely chilled-out nine-holer that dates to 1896. It's a course that unfurls with deceptive simplicity across a series of ridges and valleys—an "uncomplicated golf experience," as he puts it, that can be enjoyed on foot in an hour or so.
And that's a good thing, because David Normoyle is a busy guy. After spending most of the 2000s with the USGA, eventually becoming assistant director of its museum in Far Hills, N.J., his marriage—to former LPGA star and CBS commentator Dottie Pepper—necessitated a change of scenery, but not of career focus. In 2010, the couple moved to Pepper's hometown of Saratoga Springs, where Normoyle quickly set up his own historical consultancy. Now 38, he is one of the most accomplished historians in the game, working with many of the best clubs in the country—Oakmont, Los Angeles Country Club, and Cherry Hills, to name  a few—to define and present their legacies to the world.
Normoyle, a strong golfer who earned a Blue (the UK equivalent of a varsity letter) during his grad-school years at Cambridge, is a compelling advocate for history not just as an academic pursuit but for the real-world benefits it can offer: "Any time you have something that's taught in school, some people are going to hate it. What's undeniable, though, is that history is an asset." Every golf club, he points out, has a portfolio of assets that are managed by professionals. The course and clubhouse are overseen by highly trained superintendents and general managers, while a PGA member, the head professional, is the face of the club. "And yet," Normoyle says, "the aspect of the club's identity often falls to a retired executive who was maybe a history major in college, and it's something he does in his spare time."
There's nothing wrong with that, of course, but professional historians can provide a sharper focus on a club's narrative, whether it be in the form of a history book, clubhouse display, or museum exhibit. They can also offer archival interpretation and context for a club's master plan. In other words, historians aren't just sneezing in attics over century-old minute books (though that happens, too); their work, at its best, helps establish credibility with those outside the club and fosters loyalty within the membership.
Normoyle's art resides in a threefold process: the mission of why a history matters; which stories need to be told; and how to tell them. Curation, inventory, editorial. For a club like Oakmont, the first National Historic Landmark in American golf, there was no shortage of material. As Normoyle collaborated with club leaders to "spruce up" its interiors in advance of this year's U.S. Open, a single front-entryway artifact—a portrait of founder Henry C. Fownes, set in an oak-stained walnut case, a brace of trophies to his left and right—was chosen, charging the space with intense power and demonstrating how such a narrative journey can begin.
But clubs aren't embracing history just to be "retro"; rather, they are seeking renewed vitality in a time of rapid change, both within the golf industry and society at large. David Normoyle excels at distilling stories like this down to their essence, and his guiding question here is no exception: "How do you find your future in your past?"