What Are the Chances the Next Masters Champion Will Be…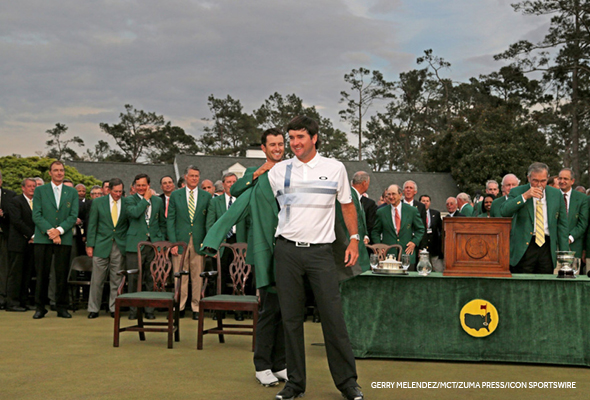 Age: 32
Height: 5-11.5
Weight: 178
Years on PGA Tour: 8
Years played Masters: 8
PGA Tour wins: 16 (median 8)
Total worldwide wins: 21 (median 17)
Major wins: 2 (median 1)
Masters top 10s: 3 (median 2)
Masters finish previous year: 18th (median 12th)
Previous year money list rank: 16th (median 10th)
Current year money list rank: 36th (median 15th)
Current world rank:** 16th (median 9th)
Position through 54 holes: tied for 1st
*Since 1980, **Since 1986
WHAT ARE THE CHANCES THE NEXT CHAMPION WILL…
Be in his 20s: 32%
In his 40s: 8%
The last winner in his 40s was Mark O'Meara (1998).

Be 6'2" or taller: 23%
5'9" or shorter: 21%
George Archer (6'6", 1969) is the only champion taller than 6'3"; Ian Woosnam (5'4 ½", 1991) edges Gene Sarazen (1935) by half an inch as the shortest.

Weigh 200 pounds or more: 12%
Weigh 150 pounds or less: 8%
Jack Nicklaus's listed weight ranged from 180 to 210 pounds in his six victories. 
Have 0 worldwide wins: 1%
1-10 worldwide wins: 32%
30-plus worldwide wins: 24%
The only player to win the Masters without a previous win on any tour was Claude Harmon (1948). Bernhard Langer (1985) and Charl Schwartzel (2011) are the only others to make it their first PGA Tour victory. 
Have 0 major wins: 41%
1 major win: 23%
5-plus major wins: 18%
The longest streak of players making the Masters their first major is three years (1967-69 and 2011-13). 
Be playing in his first Masters: 3% (doesn't include inaugural Masters)
In his second, third, or fourth Masters: 24%
Have played in 10 or more Masters: 35%
Since the inaugural, only Gene Sarazen (1935) and Fuzzy Zoeller (1979) have won in their debut. Jack Nicklaus was playing in his 28th in 1986, Ben Crenshaw in his 24th in 1995. 
Have 0 Masters wins:
61%
1 Masters win: 22%
2-plus Masters wins:
17%
The longest streak of players winning their first Masters is five years (1937-41, 1955-59, 1967-71).
Have 0 Masters top 10s: 26%
6-plus Masters top 10s: 21%
Four of the last eight champions hadn't previously finished in the top 10. 
Play left-handed: 8%
Play right-handed: 92%
But lefties are on a roll, with all six of their wins coming in the last 12 years (Mike Weir, Phil Mickelson 3, Bubba Watson 2). 
Wear glasses: 3%
Not wear glasses: 97%
The only players to win wearing glasses were Tommy Aaron (1973) and Vijay Singh (2000). Art Wall wore glasses later in his career, but not in 1959 when he won the Masters. 
Have facial hair:
1%
Not have facial hair:
99%
The only winner to sport facial hair was the mustachioed Craig Stadler in 1982. 
Be known primarily by his nickname: 9%
Be known by his middle name: 9%
Fuzzy Zoeller, Tiger Woods, and Bubba Watson have accounted for seven victories; John Byron Nelson, Eugene Claude Harmon, William Ben Hogan, Emmet Cary Middlecoff, and Billy Charles Coody for another seven.
Have won the Masters the previous year:
4%
Runner-up the previous year: 9%
Other top 10 the previous year: 31%
Missed the cut the previous year:
4%
The last champion to have missed the cut the previous year was Tiger Woods in 1997 (as an amateur in 1996).
Have led the money list the previous year: 9% 
Other top five on the money list the previous year: 26%
Worse than 50th on the money list the previous year: 4%
The worst money-list rank the year before winning was Angel Cabrera in 2009 (122nd). 
Have not won a worldwide tournament in the current year: 54%
Have won two or more worldwide tournaments in the current year: 22%
The most wins in the current year were Jimmy Demaret in 1940 (five) and Arnold Palmer in 1960 (four).
Be No. 1 in the world ranking: 14%
Other top 10 in the world ranking: 45%
Worse than 30th in the world ranking: 8%
Winners at No. 1 since the world rankingstarted in 1986 were Ian Woosnam (1991), Fred Couples (1992), and Tiger Woods twice (2001, 02).
Have led or was tied for the lead through 54 holes: 56%
Trailed by 4-plus strokes through 54 holes: 14%
Only seven champions (9%) were in fifth place or worse entering the final round, none since Nick Faldo in 1989. 
Be from the U.S.: 74%
From Europe: 14%
From the Southern Hemisphere: 10%
Recent history is a lot different, with only 51% of winners from the U.S. since 1978 (19 of 37).
Have brown hair: 73%
Blond hair: 15%
Black hair: 12%
There has never been a redheaded champion. Blonds have been shut out since 1995 (Ben Crenshaw).
Be married: 83%
Have never been married: 13%
Two champions were separated, on their way to being divorced (Ben Crenshaw, 1984; Nick Faldo, 1996), and one was divorced (Sandy Lyle, 1988).
Be a father: 71%
Have no children: 29%
Prominent Masters champions who never had children—before or after winning—were Byron Nelson, Ben Hogan, and Cary Middlecoff . 
Have earned a college degree: 21%
Have attended college but not graduated: 37%
Champions of the 1930s, 40s, and 50s and recent international players account for most of those who never went to college. Cary Middlecoff, who earned a degree in dentistry, was the only champ to attend grad school.