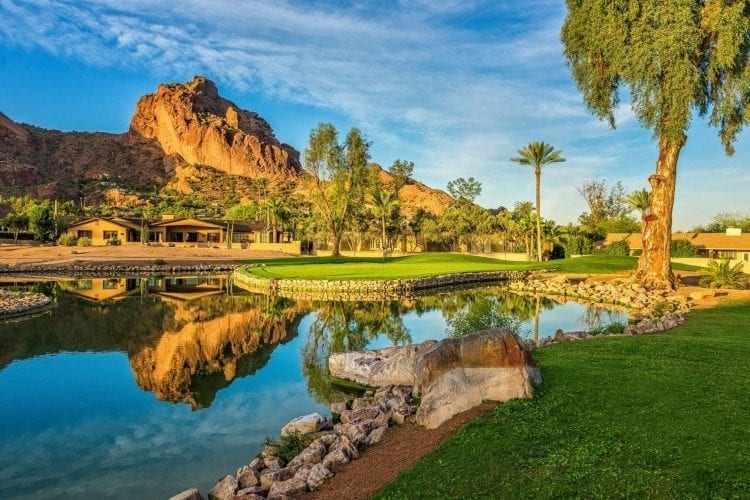 The conversation surrounding what makes golf fun, and where we can find it, has increased significantly of late. Frankly, fun was missing on most new courses over past decades, but with designs such as David McLay Kidd's Gamble Sands and others roaring onto the scene, "fun" is making a comeback.
One such place where fun was clearly the architect's foremost motivator was the new Short Course at Mountain Shadows Resort in Paradise Valley, Ariz. The original Martin Stern Jr.-planned resort opened in 1959 and was a great favorite with celebrities and other well-heeled guests. Its 18-hole, par 56, executive-style course was designed by Arthur Jack Snyder and opened in 1961.
For a decade, it was constantly busy, a great favorite with locals and those staying at the resort. But its popularity began to wane in the 1970s when the USGA established a length threshold for courses to receive an official rating. In an effort to gain official status, Snyder's design was seriously compromised and it continued to suffer as numerous good courses were built within a short distance.
As the golf course slowly faded from view, so too did the resort which eventually closed in 2004. Ten years later it was demolished.
In June of 2015, however, Scottsdale's Westroc Hospitality announced it had formed a partnership with Dallas's Woodbine Development Corporation to jointly redevelop the iconic hotel and its old golf course.
The man chosen for the job of resurrecting Snyder's layout was his protégé Forrest Richardson, a Phoenix-based architect with dozens of acclaimed new-builds, renovations, and remodels in an impressive portfolio.
Richardson, for whom the project clearly meant a great deal and who described his role as "preserving, honoring and uncovering," knew exactly what he wanted to do with the $3m budget. "FUN was the primary word," he says, noting that it should be written in capital letters for emphasis. "The trick with an all-par 3 design is to make each of the greens an interesting story and experience. You are presenting the golfer with repeated attempts to get the ball close, if not even into the hole, on every tee. My goal was to give golfers a different look and make them think about every tee shot."
Displaying common sense, great imagination, and sound judgement with regard to water usage and maintenance costs, Richardson chose Bermuda turf (TifDwarf and 419) that works well in the desert, reduced the area of irrigated turf to just 13.5 acres by covering largely out-of-play areas with gravel, and limited the bunker count to just 18. Think again though, if you assume that makes it easy.
"I wanted to avoid making bunkers the sole defense," he says. "There is a combination of slopes (the 4th is named Biarritz), mounds (the 14th is Dell), trees, and a pond that combine to protect par. Yes, it's fun, but it's certainly not without its challenges." Fun and challenging—the mark of intelligent design.
At just 2,310 yards from the back tees, with holes ranging in length from 90 to 193 yards, the Short Course at Mountain Shadows probably won't be the highlight of your golf trip to a town with a dozen or more world-class venues. And it certainly won't be the reason you reject Palm Springs, Las Vegas, or Myrtle Beach next winter, and head to the Arizona desert instead.
What it could be, though, is a really cool way to settle some bets one evening. Or it might be the perfect place to introduce your wife and kids to the game during a stay at the seriously cool, $100m, Mid-Century-inspired resort which reopened earlier this month to huge acclaim from publications saying it looked set to regain the "iconic" status it once knew.
But could it be more important than that even? Could it be a model for the direction in which golf should be headed?
We're all suffering from reduced golf time these days. We simply don't have the necessary gaps for multiple rounds (or even one round) every week. But we don't love the game any less, and need something to quench the thirst. Mountain Shadows, and other shorter than conventional courses (Sweetens Cove in Tennessee, Bandon Preserve at Bandon Dunes in Oregon, Caldera Springs at Crosswater also in Oregon, Magnolia Grove in Alabama, Threetops in Michigan, Top of the Rock in Missouri) are obviously viable alternatives.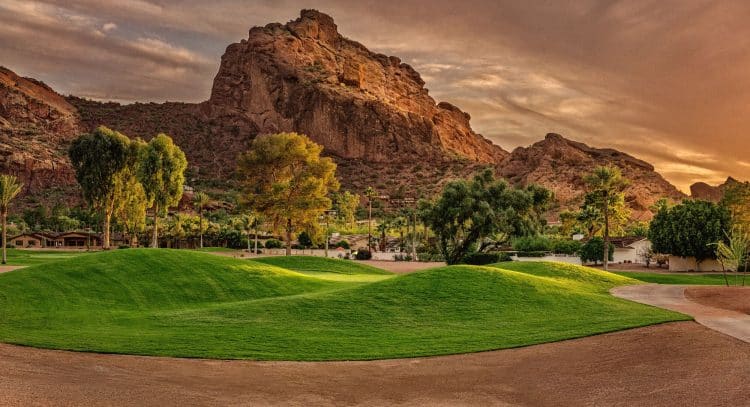 "Nine-hole, executive, and Par 3 courses are vitally important in a world of time-urgent, but still enthusiastic golfers," says Richardson. "What better way to get your golf in without always having to plan for five to six hours?"
Thus far, reviews have been almost entirely positive with golfers young and old, good and… less good, giving the Short Course an unequivocal thumbs-up. "We're not taking away the golf," Richardson stresses, "just redistributing it into smaller bites."
FUN, smaller bites.
By Tony Dear
______________________
Do you think short courses are key to getting new golfers in the game? Let us know in the comments below!