For a state with an annual snowfall that's measured in feet, Michigan has a lot of avid golfers—and more than 800 courses for players to choose from when the snow finally melts. From the Motor City of Detroit in the state's southeastern corner, to its long Lake Michigan shoreline in the west, to its Upper Peninsula that stretches north to the edge of Lake Superior, the Wolverine State is jam-packed with exciting courses that make a visit to the state a veritable golf smorgasbord.
Twelve major championships have been held in the state—six PGA Championships and six U.S. Opens, most of them at the South Course at Oakland Hills, a private Donald Ross design that debuted in 1918. And many of the state's other preeminent courses, including famed Crystal Downs, Kingsley Club, The Dunes Club, and others are similarly not open to visitors. But you don't need to have connections or be chasing major titles to have a great time playing golf in Michigan.
Here's a list of my 10 favorite Michigan courses that are open to the public—you won't go wrong playing any of them.
1. Forest Dunes (Forest Dunes), Roscommon
The name of this northern Michigan resort gives you a good clue about what you'll find there: trees and sand. Located on 500 acres in the Huron National Forest, Forest Dunes offers two strong courses. The original Forest Dunes course from Tom Weiskopf tracks through dense stands of hardwoods and pines, with sandy waste areas reminiscent of Pine Valley in many spots and especially on the back nine. The 10th Hole, "Decision," serves up a split fairway. The 12th, "White Tail," is one of the prettiest par fours you'll ever see. And the reachable par-five finishing hole lives up to its name, "Eagle Chance." It's an exhilarating course that calls for careful shot placement, and one you'll want to play more than once.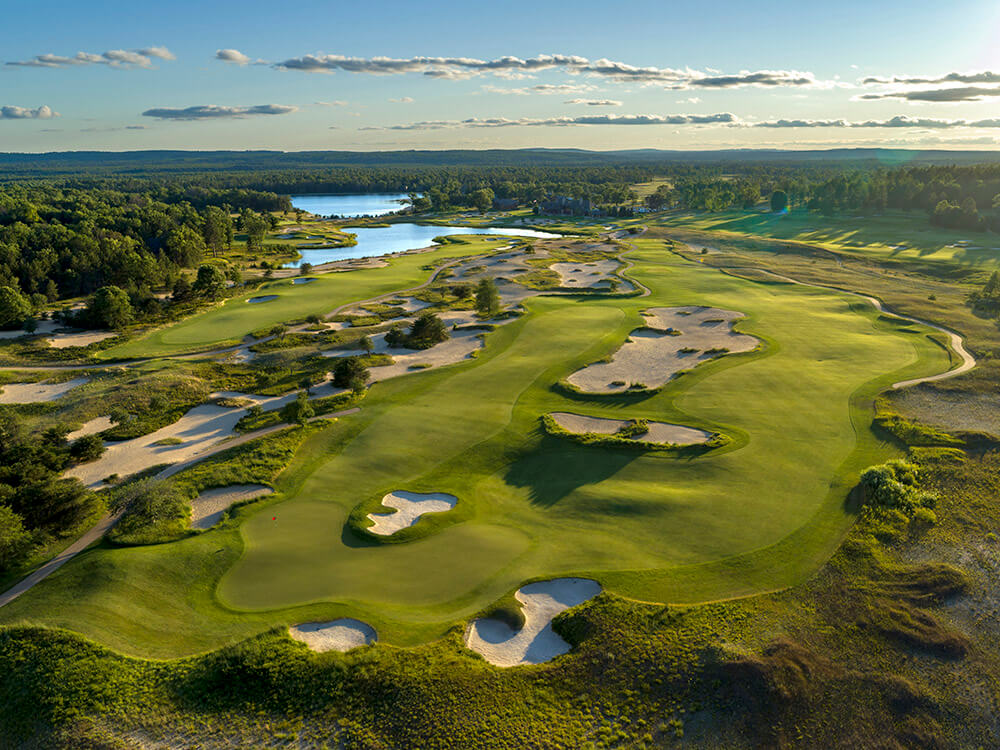 2. Forest Dunes (The Loop), Roscommon
You'll want to play The Loop at Forest Dunes more than once, too. In fact, it was created with that in mind. Tom Doak designed it to be a "reversible" course, meaning that it can be set up to play in two ways: clockwise and counterclockwise. The clockwise Red routing is the longer and more traditional of the two choices. Players tee off to the right of the 18th green and aim to the red flags on the front nine and the white flags on the back. This Red loop has five strong par threes, along with a host of other thought-provoking holes that will test every club in your bag (and often call for shots to be played along the ground). To play the Black routing, you tee off to the left of the 18th green and play to the white flags on the front and red flags on the back. Among Doak's favorite holes is the long par-three 3rd, with its green sitting right on the edge of a ridge.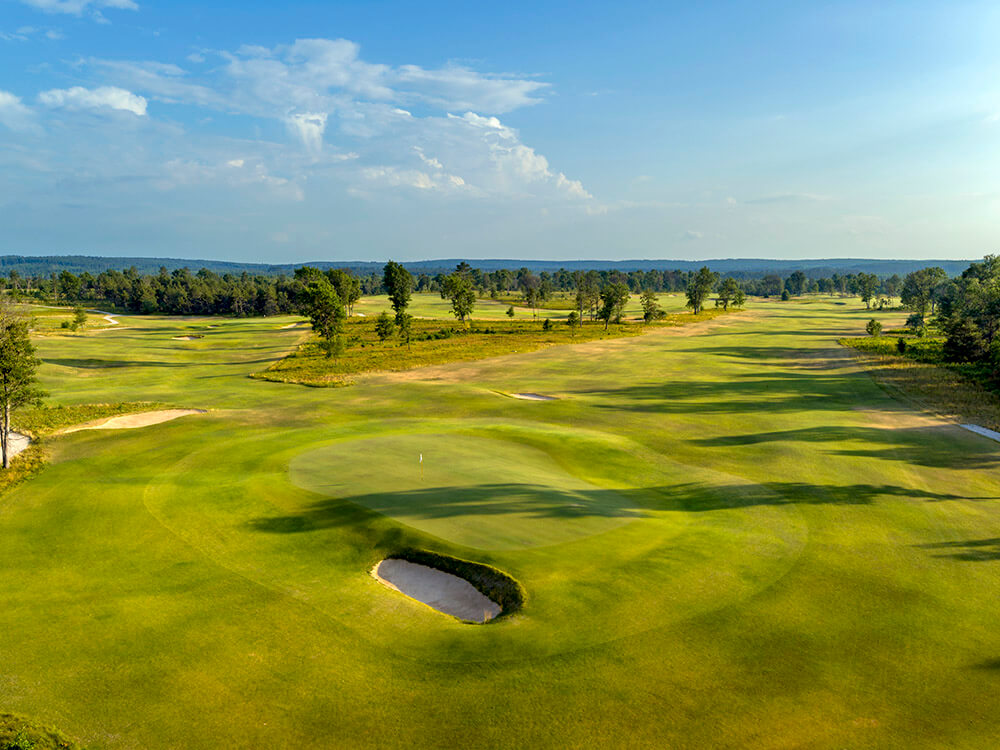 3. Marquette Golf Club (Greywalls), Marquette
To get to Marquette in Michigan's Upper Peninsula requires some travel time. To get to the first tee from the clubhouse at the Greywalls Course takes a while, too. But it's well worth the effort, because after driving your cart for 10 minutes through dense Michigan forest, you come to the 1st tee (the highest point on the property) and see some of what awaits you: emerald green fairways, rough granite walls, and tumbling terrain that course designer Mike DeVries put to superb use in the creation of this 18-hole wonder. The par-three 6th, where you hit up to a green surrounded by rocks, is just one of many unforgettable holes here. The club has a second course, the Heritage, but Greywalls is the standout.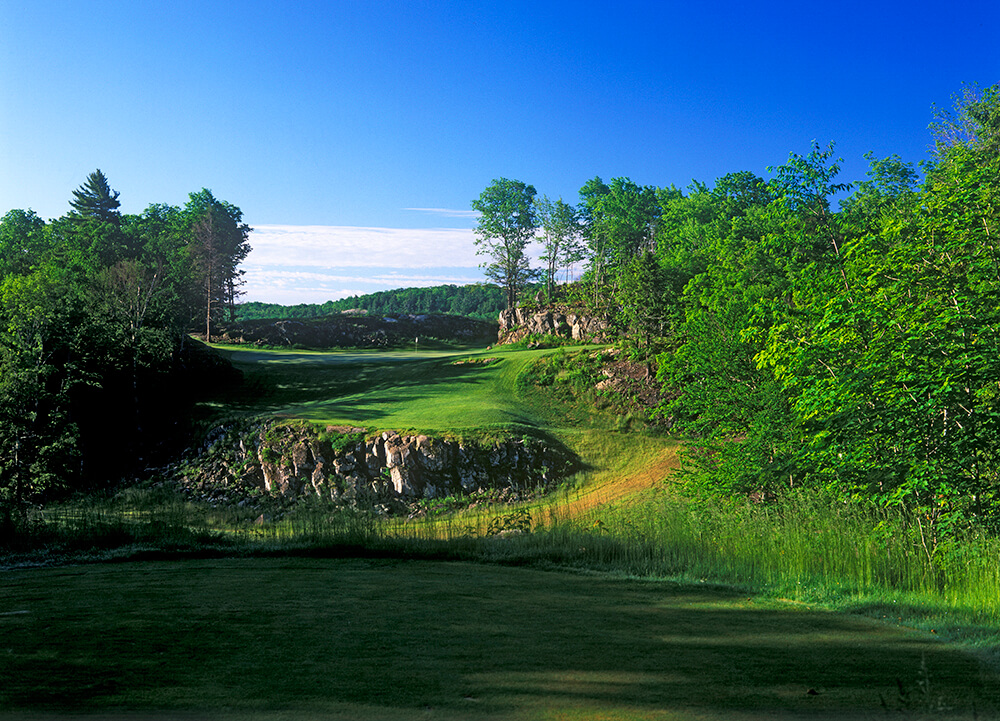 4. Arcadia Bluffs (Bluffs), Arcadia
The Bluffs course at Arcadia Bluffs occupies a rolling site overlooking Lake Michigan—a site that was cleared and engineered to offer a links-style experience amongst impressive, manufactured dunes. That the terrain here was man-made detracts not a bit from the playing experience, though. And while the turf may not play as firm and fast as a true links, the Bluffs is a ton of fun and highly scenic. The wind is often a factor here, and the greens have a lot of movement to them. You'll find challenging holes throughout, including the serpentine par-five 11th that winds between two ridges. If you throw away your scorecard and just appreciate each shot, you'll love this course. Meanwhile, the South course, located a couple miles inland, is also an enjoyable test. Many holes hearken back to golf's Golden Age of architecture, like the 1st green cut square as a die in the old-school manner.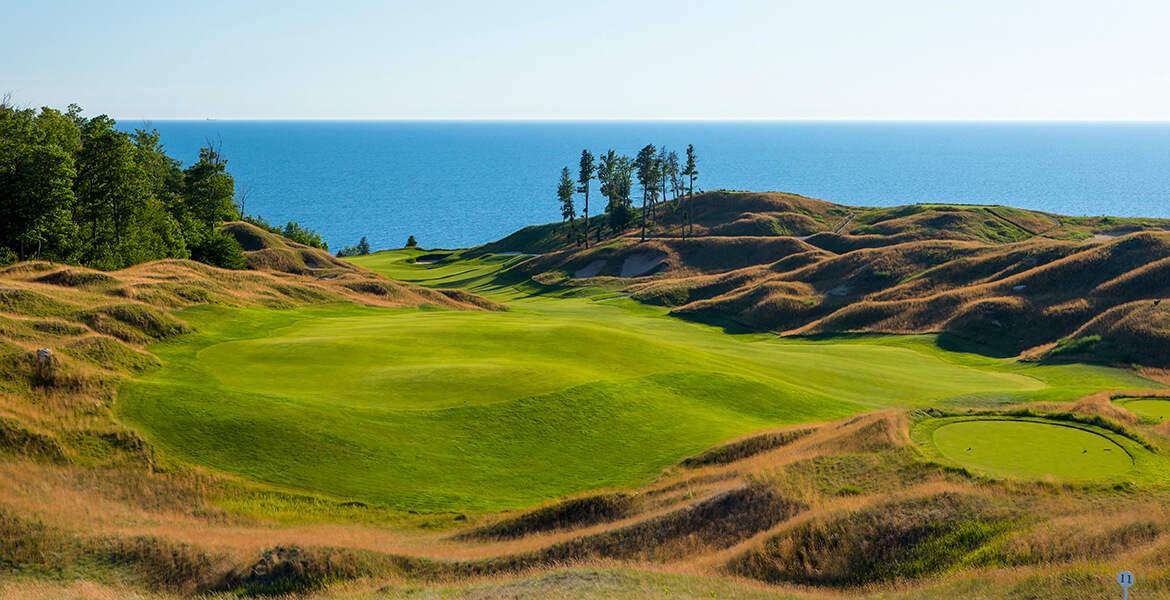 5. The Highlands at Harbor Springs (Heather), Harbor Springs
The Highlands (aka Boyne Highlands) is an all-season resort community in northern Michigan with swimming, skiing, zip-lining, horseback riding, mountain biking, and even dinner theater. You can also play golf—on four different courses—and the Robert Trent Jones Sr.-designed Heather course takes top billing. A long and demanding track, the Heather has a strong set of par threes with some requiring pure shots over water. At the terrific 18th, which plays from the highest point on the property, you'll need to avoid water on both your tee shot and approach shot. The other courses here are the Arthur Hills (an even longer and tougher design), the Donald Ross Memorial (with 18 Ross replica holes), and The Moor. They're all worth a go while you're in the neighborhood.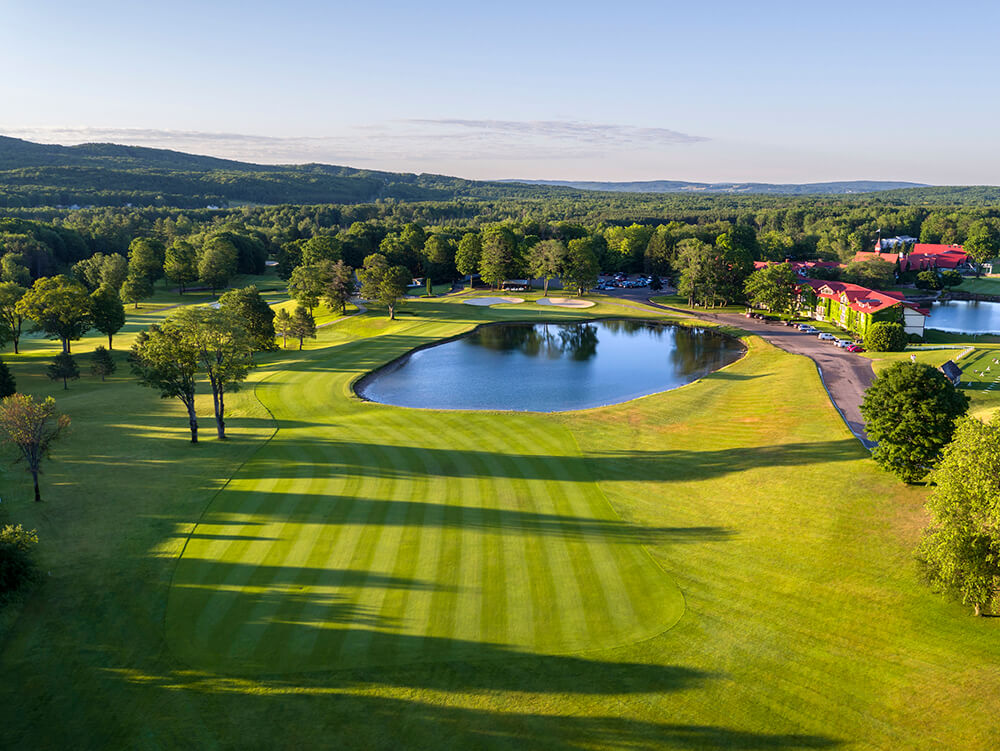 6. Belvedere Golf Club, Charlevoix
A traditional northern Michigan club dating back to 1925, Belvedere exudes history. The original course was designed by William Watson, who also designed The Olympic Club's Ocean and Lake courses, TPC Harding Park, both Minikahda and Interlachen in Minneapolis, and several other notable layouts. At Belvedere, which was recently restored by Bruce Hepner, you can enjoy many of the most recognizable features of Golden Age design. The course isn't long by today's bomber standards, but the green complexes feature subtle undulations, ridges, and drop-offs, which puts pressure on you to get your approach shots close. It's old school fun all the way.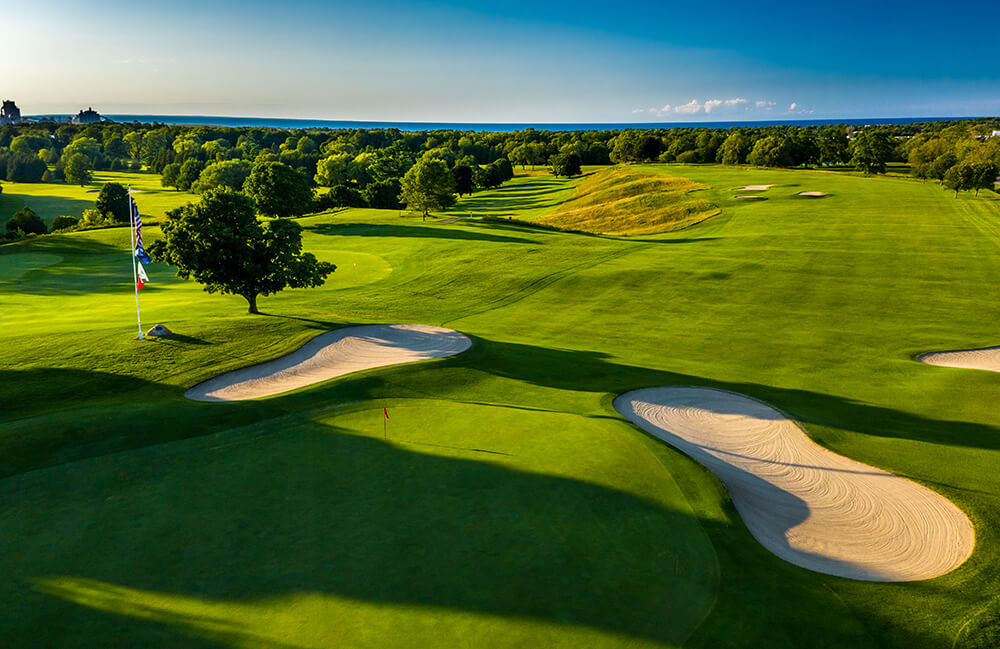 7. Gull Lake View Golf Resort (Stoatin Brae), Augusta
The Scott family's mega-resort in southwest Michigan probably didn't need this sixth course. But visiting golfers will be glad it's there. Stoatin Brae, which translates from the Gaelic as "Grand Hill," occupies a high setting overlooking the Kalamazoo River Valley. Created with the help of Tom Doak's Renaissance Golf team, it was designed to offer a links-like experience and be playable for players of all stripes. There are no expanses of trees or water hazards to contend with, and the fairways tend to be generous. But you'll need to plot your way carefully between bunkers, play the angles, and use the slopes to score well.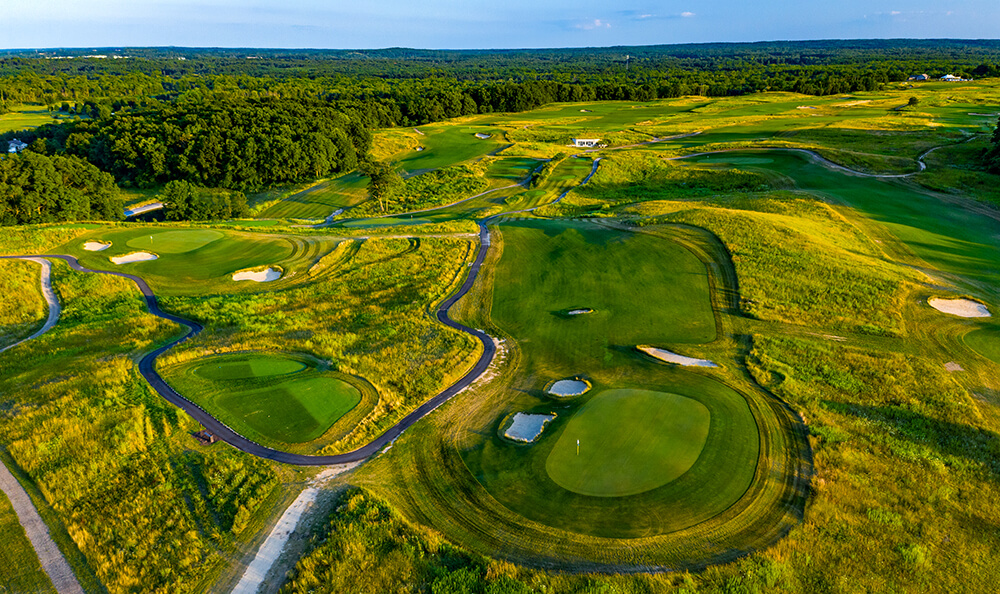 8. University of Michigan Golf Course, Ann Arbor
Technically, the U of M course is restricted to university staff, students, alumni, and their guests, but it is sometimes accessible to visitors and is well worth a trip—in part because of its pedigree. The course was created by Alister MacKenzie and Perry Maxwell, two of American golf's foremost Golden Age designers. The course they created in Ann Arbor tips out at 6,700 yards, and the U-shaped green at the 14th hole is just one of the many memorable features of this classic layout.
Episode 2 of Tourist Sauce (Michigan):

Tron vs. Soly at the Alister MacKenzie designed University of Michigan Golf Course, as well as a tour of the facilities from the men's and women's teams.

Presented by @PreProGolf.

YouTube Premiere at 9 PM ET: https://t.co/S68pN9tyus pic.twitter.com/QsSItUUqFE

— No Laying Up (@NoLayingUp) October 27, 2021
9. Treetops Resort (Signature), Gaylord
You have four courses to choose from at Treetops, plus the par-three Threetops course and the rollicking Himalayas putting course. All of them feature lots of steep slopes and elevation changes, but it's the Rick Smith Signature track that gets the most acclaim. Its par-five 6th Hole is a good example of the thought Smith put into his first course design. From the tee, you need to avoid a Principal's Nose bunker. If you do, you're set up to go for the Road Hole-style green in two. But you'll need to avoid that deep pot bunker short and left of the green. The resort's Premier course, from Tom Fazio, is also well worth the price of admission.
10. American Dunes, Grand Haven
When Jack Nicklaus was approached to turn the former Grand Haven Golf Club course into a world-class track for a cause that would benefit military veterans, he didn't hesitate. "I love the game of golf, but I love my country even more," the Golden Bear said. American Dunes was created to memorialize the birthplace of Folds of Honor, and to support that group's important mission to provide scholarships to the spouses and children of America's fallen and disabled veterans. The new course bills itself as "golf's most heroic round," and it's also a highly enjoyable one as you navigate your way through the tree-lined fairways and sandy waste areas that give American Dunes its distinctive appearance.
What is your favorite public golf course in Michigan?