By George Peper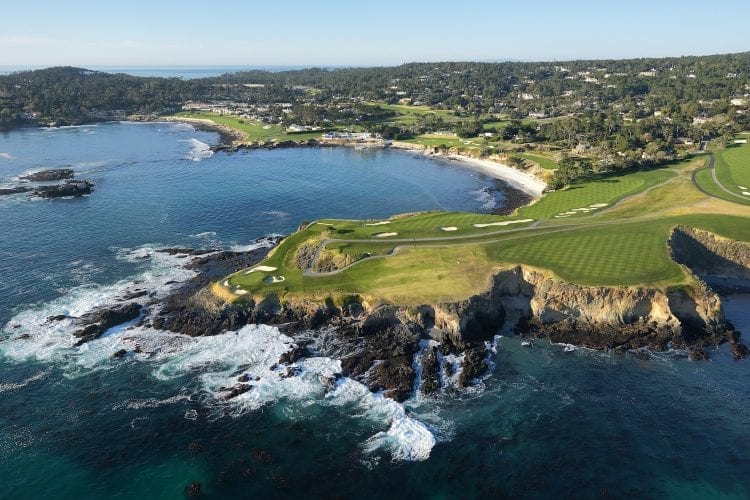 From the LINKS Magazine archives…
They had really started to annoy me. As innocent and well-meaning as they were, they were also relentless—and so emphatic, so damned sure of themselves. For the better part of three years I had suffered their gushing pronouncements and smug sermons, nodding patiently and feigning enthrallment with a series of politely timed "Wow!"s, "Really?"s and "No kidding!"s. By last spring, however, I had heard enough.
I'm referring, of course, to golf's fastest-growing cult: the Bandonistas, that fraternity of fanatics conjoined and consumed by the conviction that true golf Nirvana can be achieved only on a dreary stretch of coastline in southern Oregon.
Ever since the official opening of the Bandon Dunes golf course in 1999—an opening I was unfortunately unable to attend—the reports had been streaming back.
"You have to see this place," said one of my colleagues. "It's unlike anything in the U.S."
"Pure golf at its finest," said another.
"More Scottish than Scotland," said a third, in a particularly irksome tone. I was intrigued, but also busy, so all I could do was sit and listen as the breathless raves continued, not just from golf insiders but regular hacks as well—friends of mine who took delight in regaling me on the charm and challenge of a course they had seen but I hadn't. Then, in 2001, just when I thought the torrent of platitudes might end, it spewed forth again, worse than ever, with the opening of a second course on the same spot—Pacific Dunes.
"I didn't think Bandon could be topped, but this one did it."
"It's brutal but bewitching—Ballybunion with better views."
"I needed three days just to lift my lower jaw and restore my eyes back to their sockets."
"I've just booked the 18th tee for my wedding—and my funeral."
At the end of that year, when Golf magazine's biennial course rankings appeared, there was Bandon Dunes as 70th in the world and Pacific Dunes, in its debut, an astonishing 26th. Word had spread among the cognoscenti that, once this layout matured a bit—and more people got to see it—Pacific Dunes might actually become regarded as the No. 1 course on the planet.
Both despite and because of those reviews, I was skeptical. Like the last 12-year-old in town to see the Harry Potter movie, I was determined not to become as besotted as the impressionable oafs who had gone before me. Besides, I had been burned before, especially when I had traveled long distances. Machrihanish, Royal Dornoch, L.A. North, Seminole and Kawana are among the far-flung venues that have failed to live up to my expectations.
Moreover, having studied the rankings for two decades, I knew that courses bursting into the top 100 routinely jump on at unrealistically high numbers, because the first people to play and rate them usually are locals or friends and associates of the course architect or owner/developer. A backlash invariably occurs in the next ranking, when the second wave of raters—skeptics and curmudgeons like me—add their votes. Typically, it takes six years—three ballots—for a course to find its rightful rung.
However, all that skepticism about Pacific Dunes was balanced by a longtime friendship and respect for its designer. I had known Tom Doak since his college days and had helped him ply his talent as a golf writer before he pursued a career in course architecture. I had no doubt Tom could craft a superb golf course.
So could it be true? Could this upstart pseudo-links really be the best course I had never played? More to the point, could it ever replace the course I had long cherished as No. 1, Pebble Beach? There was only one way to find out. Thus it was on Monday of Memorial Day weekend that I set off on a four-day investigative boondoggle: two rounds at Pebble followed immediately by two rounds at Pacific.
The comparison would not be easy, I knew. I had played Pebble Beach more than 30 times, in all conditions, from all tees. I had had great rounds and awful ones, but never a round that wasn't a joy. Pacific, on the other hand, was a blank slate and I would have only two shots at it.
Happily, however, I was blessed with ideal circumstances at both places: great weather, tour-caliber caddies, affable and low-handicap playing companions, and ideal starting times—one morning and one afternoon at each site—that resulted in an average round of well under four hours. (In fact, the early time at Pebble was 6:10 a.m. and we walked off the 18th green less than two-and-a-half hours later.) What's more, my game was equally weak at both places. So the playing fields, topography aside, were dead level. That said, the two experiences could not have been more divergent. One course is 84 years old, the other a babe of 2. One is a classic, host of four U.S. Opens, the other an original, all but unseen by the pros. One is maintained meticulously, the other a calculated paragon of benign neglect. One resort is radiant, its every aspect the definition of luxury and the good life. The other is raw, an unabashed celebration of minimalism and simplicity.
And both are spectacular. Bottom line: Pebble Beach remains as gorgeous and formidable as ever, the world's most dazzling test of championship golf—and Pacific Dunes, with its own jaw-dropping location and an ingeniously plotted series of holes, absolutely blew me away.
Still, I refuse to cop out. Do I rate Pacific more highly than Pebble? No, and for two reasons. First, it's a bit too susceptible to the whims of Mother Nature. During my second round the wind blew at a constant 25–30 miles per hour with occasional gusts near 50, and that day, according to my patient caddie, "Hoops," was pretty average. "About five or six on a scale of 10," said Hoops.
Second, Pacifice Dunes measures less than 6,700 fast-running yards—in large part because of that wind—and that's not a full test for today's pummeling pros. Fair or not, that's my tiebreaker—the element that gives Pebble the nod. With new Tiger tees just installed at holes 2 and 9, Pebble is now approaching 6,900 yards. Courses like Pacific Dunes, Cypress Point and Fishers Island stir this golfer's soul—maybe even more so than does Pebble—but except under difficult weather or tricked-up conditions, those American classics would be too easy for today's tour pros.
For the other 99.99 percent of golfers, however, it's close to a toss-up. Together and separately, Pacific and Pebble are beyond compare. I will therefore resist the temptation to pontificate on the relative shot values, design philosophies and strategic integrities of these two gems. Besides, we all know that's painfully dull. Instead, here are a few quick thoughts—mini-showdowns—with a winner declared in each case.
More difficult: Pacific. Not for the world's best players, but for the rest of us choppers. You'll probably never hit a ball into the ocean at Pacific Dunes, but thick fescue and gorse-of-no-return border most of the holes, and the greens are gripped by steep-faced dune bunkers and swooping falloffs. And keep in mind, again, that the average weather conditions are more severe at Pacific than at Pebble.
More evocative: Pacific. Although it was a bit less seaside-spectacular than I'd expected, I was transported by Doak's routing and hole designs—and the inland holes were actually more inspiring than the cliffsiders. Tom clearly drew on his encyclopedic knowledge of the world's greatest courses. In just one round, I was reminded of Carnoustie, Ballybunion, Gullane, Royal Cinque Ports, Gleneagles, Muirfield, Cruden Bay, Shinnecock, Pinehurst, Casa de Campo and Kapalua.
If I had just one more round, I'd play: Pebble. There is something about the sparkle of Stillwater Cove on a sunny day, the constant roar and tumble of the sea (at Pacific Dunes, it's there, but never quite in your face) and the knowledge that you're playing in the footsteps of Jack and Tiger. Besides, I've always said there's no finer place to play badly than Pebble Beach—and my final round I will surely play badly.
More scenic splendor: Pebble, by the whisker of a walrus. In the course of a round at Pebble you have roughly 20 shots where, if you were to lift your head up at address, you would see the ocean. At Pacific, the tally is a mere dozen or so.
Single best view: Pacific, from the championship tee of No. 18. Perched atop the highest point on the property, it offers a 360-degree panorama of the courses, the cliffs, 20 miles or so of pristine beach and the endless sea beyond.
Better bang for the buck: Pacific, hands down. In season, the green fee is $200 less than Pebble, and off season, it's more than $300 less—at a mere $50. The rooms and restaurants are similarly priced, and use of the sauna and spa is free, as opposed to gazillions.
Superior condition: Pebble. I didn't mind the intentionally laissez-faire look of Pacific's fairways and bunkers—that all goes toward the genuinely linksy feel—but sorry, I do like fast greens, and Pacific is so windy that the greens must be kept at about 8–10 on the Stimpmeter, lest resting balls self-embark into the bunkers.
Shotmaker's paradise: Pacific. Minimalist Doak moved very little dirt in crafting these holes. The result, as a byproduct of the natural look, is a fair number of hilly lies and greens tucked and propped in places that call for a well-crafted attack. Add the wind and you have all the ball-bending assignments you can handle.
Putter's paradise: Pacific. First, because its greens are roughly one-and-a-half times as large as Pebble's. Second, because the links conditions have been replicated here more successfully than on any American layout, with the result that the putter can and should be used for shots from the fairway. At the short but vexing 16th, my partner Grant Brooks, teaching pro at Pacific, putted his approach shot from about 70 yards, bumping it through a series of humps and hollows to about five feet.
Power hitter's paradise: Pebble. The broad fairways allow big dogs to eat, and the par 5s average barely 530 yards. Not until the 8th hole will a long knocker approach a green with more than about an 8-iron.
Best par 3: Pebble's 7th.
Best par 4: Pacific's 13th.
Best par 5: Pebble's glorious 18th.
Best for pure golf: Pacific. The resort's slogan is "golf as it was meant to be," and everyone involved works hard to make good on that promise. Best example: At each place, I played with the director of golf. My partner at Pebble wore cashmere and hired a caddie whose fee was $105; the fellow at Pacific played in frayed khakis and shouldered his own bag.
Most enjoyable for all levels: Pebble. Room to swing from the heels, options into the greens, few onerous carries, and unless you hit a ball into the surf, you're unlikely to lose it. But Pac Dunes' steep slopes, blowout bunkers, gorse and wind can wreak havoc with high handicappers.
If you want to play the sister course: Pacific. David McLay Kidd's design at Bandon Dunes is every bit as impressive as Pacific, and yet entirely different—flattish, Scottish, along-the-ground golf as opposed to the more dramatic, Irish-bluffs look of Pacific—and it may be even more fun to play. In any case, it beats the heck out of Spanish Bay.
Ease of walking: Pebble. Ironically, although Bandon Dunes prides itself on being a walking-only resort, some of its paths are both circuitous and downright treacherous, especially when wet. At dear old Pebble, nearly all the tees are within a pitch shot of the greens. As for carts, they come at no charge—once you've paid that silly green fee.
For everything beyond golf: Pebble. Part of me loves the simple, hang-your-coat-on-a-hook-and-go-play atmosphere of Bandon Dunes, but I'm afraid I also have a taste for foie gras and fine Chardonnay. Bandon is not just below Pebble in this area; it's avowedly below just about every major golf resort. And Pebble isn't just ahead of Bandon; it's ahead of the world.
World-class practice facility: Pacific. Granted, it's a van ride away, but hey, so is Pebble's—and only one of them is worth the trip.
Take your wife to: Pebble (see above).
Take the guys to: Pacific (see Best bang for the buck).
Should all this comparing and contrasting have you primed for an on-site tour of your own, you'll need to consider a few logistical particulars. First, ease of access is a point in favor of Pebble. Granted, Monterey is no straight shot for anyone starting on the East Coast—you'll need to make at least one connection. That said, Bandon requires at least two connections—in Portland and then in tiny North Bend, where you'll have to board a van and make a 40-minute journey.
Second, do you plan on venturing off-property at any point? With attractions like 17-Mile Drive and the elegant village of Carmel, the Monterey Peninsula serves up diversions aplenty. Pebble has a decided advantage here, but don't overlook Bandon Dunes' namesake town, Bandon-by-the-Sea: It's a charming little fishing village in its own right.
I haven't taken a true stand until I specify which of these meccas you would be best off spending the rest of your life at. And yet the best answer I can offer is—either. What I learned from my one visit to Bandon Dunes is this: As an idyllic place to stay and play golf it has only two peers—the Monterey Peninsula and the town of St. Andrews. Color me a confirmed Bandonista.