The 2015 PGA Championship was the sixth major played at The American Club in Wisconsin since 1998, and the third PGA since 2004. That's a pretty good track record for a resort that didn't have golf until 1988, when Herb Kohler, executive chairman of the Kohler Company—famous for sinks and faucets, but with other divisions including one devoted to hospitality and travel—opened his first Pete Dye-designed course. Now he has four, including Whistling Straits, which is about to challenge the world's best golfers and is preparing for the Ryder Cup. His holdings also include the Old Course Hotel and Hamilton Grand, a collection of luxurious private residences, in St. Andrews, Scotland, as well as The Duke's Course and Kohler Waters Spa in the home of golf.
You said you're not much of a golfer, so why did you get into the golf business?
One day in 1983, a young accountant brought a stack of about 100 suggestion slips from clients of The American Club saying, in essence, thank you for taking us to a nearby public course and a private course about 15 minutes away, but really, Mr. Kohler, you own all this land around the hotel. Why in the world don't you have your own course?
What did you want your own course to be?
We have five guiding principles in the company, one of which is to live at the leading edge of design and technology in product and process. So in my total naivete, we set out to build a course for a major. It was called Blackwolf Run, with a River nine and Valleys nine. But having been open just a few months we had a lead time of three months for a tee time. So Pete [Dye] built a third nine and it still didn't affect the lead time. I called Pete again and we built a fourth nine, which we combined with the first, and combined the second with the third. Golf Digest wrote that we had committed the greatest crime in golf, because we took the course they'd called the best new public course of 1988, split it apart, and created two new courses. A year later, they came back and apologized and said we'd created two courses as good as the first one.
Why did you pick Pete Dye?
We looked at half a dozen designers and came up with this character who had just completed TPC Sawgrass, the home course of the PGA Tour, and the pros were up in arms. But instead of putting me off, it fascinated me that he could agitate the pros that seriously. Also, he'd built The Honors Course in Chattanooga, a beautiful course in woodlands much like we have here, and essentially built it for amateurs. Here's a man considerate of the amateur and he could also upset the pro. I liked the combination.
How did you manage to buy the Old Course Hotel in St. Andrews?
We're about to hold our first PGA Championship in 2004 when I get an email from a fellow in France who is part of the buyout group for the hotel. He'd been in the U.S., had driven up to Wisconsin to see our tournament site, went to the hotel, was impressed with what he saw, then sent me this email that I almost eliminated before I read it. From that email, we closed the deal in 40 days. It was the fastest bloody purchase anyone has ever done anywhere. Then we discovered, not having had time to do the due diligence we should have and because Scotland is notorious for poor water pressure, that this hotel was no different. So our first task was to replace all the plumbing.
That shouldn't have been very hard for someone named Kohler.
In front of the wall is one thing. Behind the wall is something very different.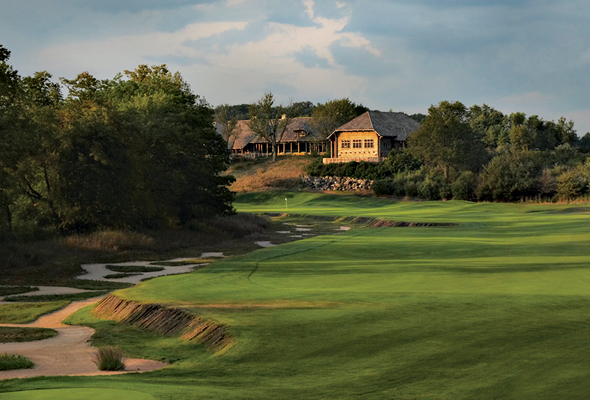 Any more purchases in the wings?
We're always looking and if something pops up where we think we can maintain this quasi-iconic status that we have both in St. Andrews and Kohler, we'll do it. But I haven't found it at this moment.
Do you feel in competition with the other big golf developers like Donald Trump and Mike Keiser?
No. Donald came to our majors early on and always said to me, 'How in the hell do you get these majors?' I said if you buy enough hotels and courses, soon enough you'll get a major.
You're a local lad. What do you suggest people coming to Wisconsin do besides playing golf?
We have two tremendous physical attributes nearby. One, obviously, is Lake Michigan, with some of the best fishing in the country and the sailing and motorboating are phenomenal. Second, we have something called the Kettle Moraine, which was left after the glacier moved through [about 20,000 years ago], a series of deposits and rivers, 30-, 40-, and 50-foot changes in elevation at random, then a forest on top of it. It's absolutely gorgeous for hiking, trail riding, snowmobiling.