Royal Cinque Ports Golf Club (Deal), England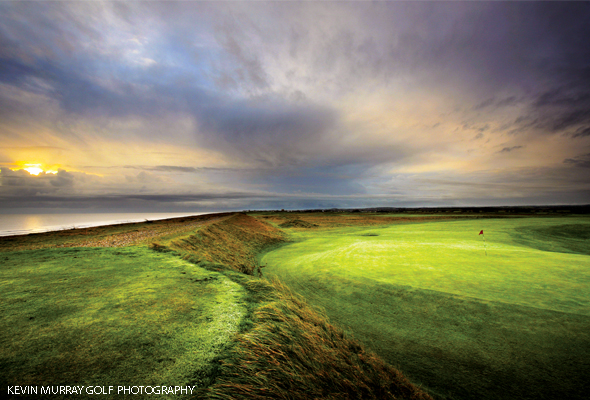 In 54 B.C., Julius Caesar's Roman legions landed on a remote beach on England's Kent Coast near the current town of Deal and marched inland over crumpled sand dunes that two millennia later became the Royal Cinque Ports Golf Club (referred to as Deal). Mighty Caesar's troops demanded full submission of the local folk and the links built on these grounds echoes a similar spirit.
Deal's evolution dates from 1892 when Ramsay Hunter completed a rudimentary nine-hole design. Hunter's brother Harry, the course's first greenkeeper, expanded and revised the links that has subsequently seen modifications by James Braid, C.H. Alison, J.S.F. Morrison, Sir Guy Campbell, Henry Cotton, Donald Steel, and, more recently, Martin Ebert. Many of the changes are due to nature and man alike: Flooding from the North Sea and Army occupation during the First and Second World Wars required extensive renovations; in 1979, a sea wall built to protect the course resulted in further design amendments that wiped out views of Pegwell Bay until newly added tees returned the vistas.
Deal was an early member of the Open Championship rotation, holding the 1909 and 1920 Open Championships. But fate proved to be capricious as high tides caused the 1939 and 1949 Opens to be moved elsewhere. Since Royal Liverpool's return to the rota, hope sparks anew that Deal will be reconsidered for the Open Championship.
In design, Deal is the links with a routing most similar to that of the Old Course. Its holes run out along the seashore and make a loop before returning snugly inland. The course's major asset is a longitudinal sand dune, which begins by the 2nd tee, heaving and contorting until reaching its zenith at the 6th green, then dwindling at the 11th hole. Play is over and through the landform, giving the golfer a series of haphazard bounces, hanging lies, and challenging putts. Bunkers are sod-faced, revetted monsters whose size is magnified by the surrounding terrain directing errant shots into them.
Standout holes include the 3rd, a 509-yard par five over a sand hillock known as Lang's Neck to a bathtub green wielding enormous contour. The 6th is a wind-aided drivable 323-yard par four that bends left to right over a mammoth mogul to a pulpit green backed hard against the sea wall and adjacent pebble beach.
Sir Guy Campbell described the short par-four 10th as having the "quality of the blow of an angel's wing."
The ancient Roman road where Caesar's troops marched is a hazard to be surmounted on the 11th and beckons hooked shots on the 12th, a long par four with a green sunken like the letter "U" between two gullies. Finally the 16th, a 508-yard, short par five, may be one of the best holes in links golf: A hard fade that flies past a brick pillbox from World War II reveals a hole that twists through dunes to a green perched atop a small mountain; the gully leading up to the green was aptly named by Bernard Darwin the "valley of inglorious security" and many will find shots lying there.
Into the prevailing southwesterly, Deal's finish is among the most testing of golf's championship venues. With the British Amateur returning this year, it is poised for a return to greatness.
Noel Freeman is a banker, occasional golf writer, and member of Deal.