By James A. Frank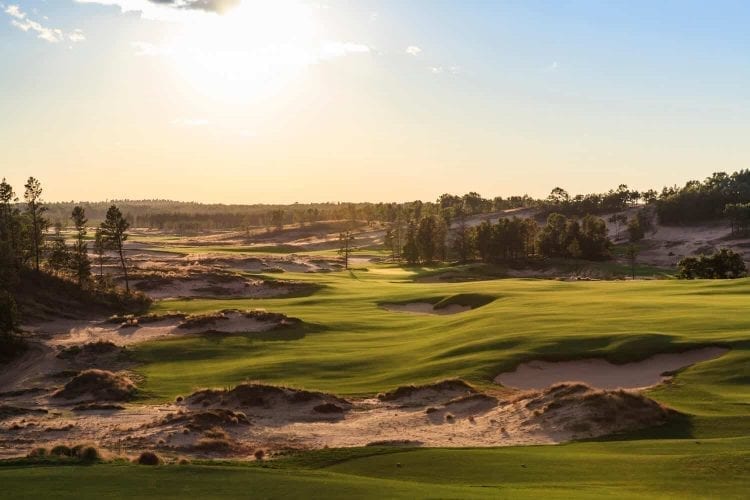 Nearly 20 years ago, I was one of the first golf writers to find his way to the southern coast of Oregon and a new golf resort called Bandon Dunes. Back then, there was just one course—designed by a little-known Scotsman named David McLay Kidd—and a wonderfully bare-bones lodge just steps from the first tee. Roll out of bed, grab a bite, and off you went into the thrilling unknown on cliffs high above the Pacific.
A few weeks ago, as the golf world was fixated on southeastern Wisconsin, I was driving past Erin Hills heading further north and deeper into the Badger State to what many are calling the "next Bandon," a single-course (for now) resort three hours northwest of Milwaukee called Sand Valley. And if the parallels aren't strong enough, Sand Valley is the brainchild of the same man who created Bandon, Mike Keiser.
Let's get the suspense out of the way. Is Sand Valley good? Absolutely. The Coore-Crenshaw-designed course is everything you'd expect: Very exciting yet very playable; big fairways, sometimes even bigger sandy areas, terrific green complexes; natural looking (although sometimes even "natural" can feel a little forced); and all on rumpled terrain covered with sand and dunes that definitely don't fit anyone's image of Dairy Land USA.
Should you go? Yes. But unless you're one of those—like me—who must be the first to see and play the latest, you might want to wait. Give it a year. Then Sand Valley is really gonna be something!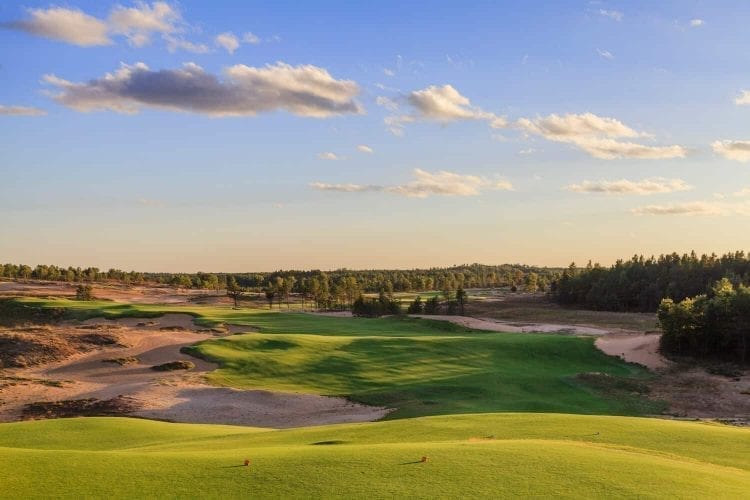 To fully appreciate what's been done, it helps to know a little history and geology. As Keiser's son Michael Jr.—who, along with his brother Chris, manages Sand Valley—explained to me, 12,000 years ago this part of central Wisconsin was a glacial lakebed. Then a natural dam burst about 40 miles away and in 24 hours the force of water running through the area created the Wisconsin Dells and turned the lakebed into pure sand.
For the last 100 years, a tree farm spread for miles in all directions. "When we saw it, it was nothing inspiring, just pines," says the younger Keiser. But further study revealed that removing the trees—which they did, about 2 million of them—would uncover a very different topography and allow the native flora to return, creating a mix of forest and prairie. "It looks something like the child of Sand Hills and Pine Valley," says Keiser, "very long broad views then an intimate grove of trees and exposed sand dunes. I've never seen so much sand on a course."
The Coore-Crenshaw layout incorporates it all. With six tees to choose from, the course plays from 6,913 to 3,883 yards. Holes angle both subtly and sharply to bring the giant sand boxes into play or provide routes to avoid them. I was particularly taken by the wonderful short par fours—like the opening hole that brilliantly eases the golfer in—and five par threes, which run from roughly 200 yards to the tiny 8th hole that's 115 yards all uphill to an almost invisible crowned green.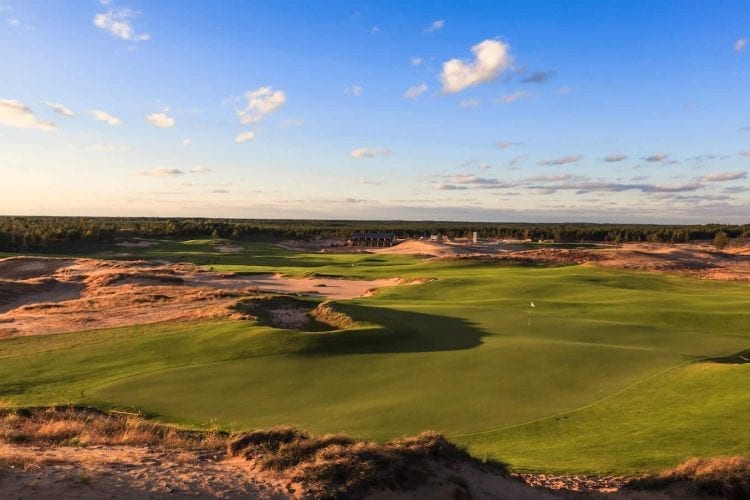 A few of the par fives (including number 18) also run uphill, a Coore-Crenshaw trademark. Many holes use the elevation to offer better views and angles when approaching from the proper—and higher—side. And there are rewards for being able to hit low, running shots into greens mostly open in front. There's also a punchbowl green on the long par-3 17th, and the dare-to-drive-it, 275-yard 9th that drops into a valley then up to a perched green. Risk/reward opportunities are everywhere, enhanced by the grand scale and welcoming width.
The course is a three-minute shuttle ride from the clubhouse, which houses the pro shop and a high-ceilinged restaurant with TVs lining the walls, a well-stocked bar, and a small but diverse and tasty menu. The clubhouse also has 17 guest rooms (including a four-bedroom suite), as natural and minimalist as the course with everything you need and nothing you don't. Another 24 rooms are in lodges dotted around the property; 12 more rooms should open this fall.
Just out the clubhouse's back door is a beckoning porch that morphs into the first tee of the second course, a David McLay Kidd design scheduled to debut next year but offering a six-hole sneak peak right now.
Good as the Coore-Crenshaw course is, I think it's this next layout—tantalizingly called Mammoth Dunes—that will get people talking. I've never seen a bigger setting for golf, some holes seemingly as wide as they are long. The dunes are higher, the blowouts broader, the scale almost too big to comprehend, particularly on holes 3 through 7 (not part of the loop, unfortunately), which feel as if they alone could contain an entire 18-hole course.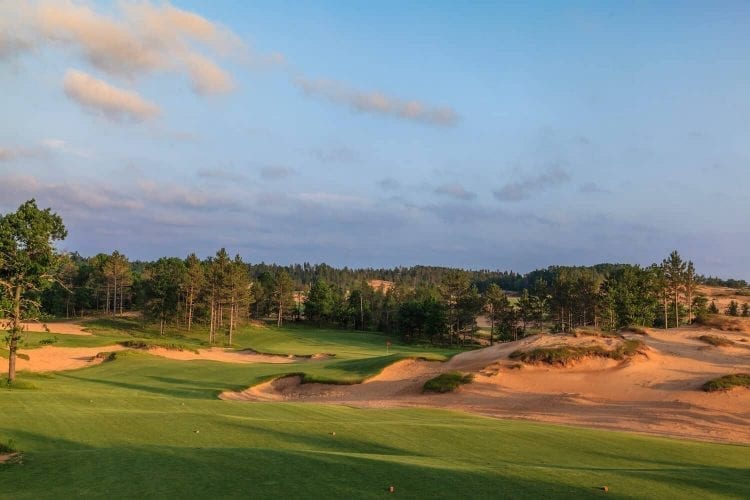 Kidd swears there's no more turf at Mammoth than at Gamble Sands, his course in central Washington State that is so wide it's impossible to miss a fairway, which makes it fun for every golfer. Mammoth is similarly devoted to fun, but with more room, more challenge, and more dramatic surroundings. I can't wait to play it—and to hear the reactions as golfers gape and gawk at the vastness.
Keiser Senior has said it takes at least two courses to create a true golf destination. Bandon really took off once Tom Doak's Pacific Dunes was there to complement Kidd's original design. The same is sure to happen at Sand Valley. And with some 1,700 acres, there's room for (and talk of) more courses.
With Bandon, Keiser changed our conception of golf resorts and got us jumping into cars and airplanes to go far afield, to hard-to-reach locations, salivating to tee it up. Sand Valley will do the same thing, serendipitously located in a golf-mad part of the country within easy reach of millions.
It's genius.
While I was at Sand Valley, Keiser Sr. was there with a group of old friends including Dick Youngscap, founder/manager of Sand Hills, the widely praised but very private Coore-Crenshaw layout in Nebraska that opened in 1995. I joined them one night for dinner, when Keiser gave credit to Youngscap for "starting this whole thing," which I took to mean finding sandy spots far from civilization and letting brilliant architects carve out courses that exaggerate the land's natural characteristics.
Thanks, Dick, you started a revolution. But it was Mike Keiser who brought it to the masses. On behalf of golfers everywhere, thank you.
___________________
Is Sand Valley on your bucket list? Tell us whether you'd make the journey to Wisconsin in the comments below!