Black Mesa Golf Club, Baxter Spann's tremendously stimulating high-desert layout 25 miles north of the delightful city of Santa Fe, turned 18 earlier this year. Spann, who tries to go back for a game every year, says it is undoubtedly the finest site he ever worked on and the "most dramatic, fun, and beautiful course" he's ever designed.
It enjoyed some healthy media attention in its formative years riding the crest of numerous rankings and receiving several prestigious accolades but has endured much gloomier days since and plummeted down those same rankings.
Around 2014–15, Black Mesa had become a total mess with dandelions covering the fairways and large dead patches of turf disfiguring the greens. "The Trip Advisor posts were brutal, but they were accurate," says head professional Tom Velarde.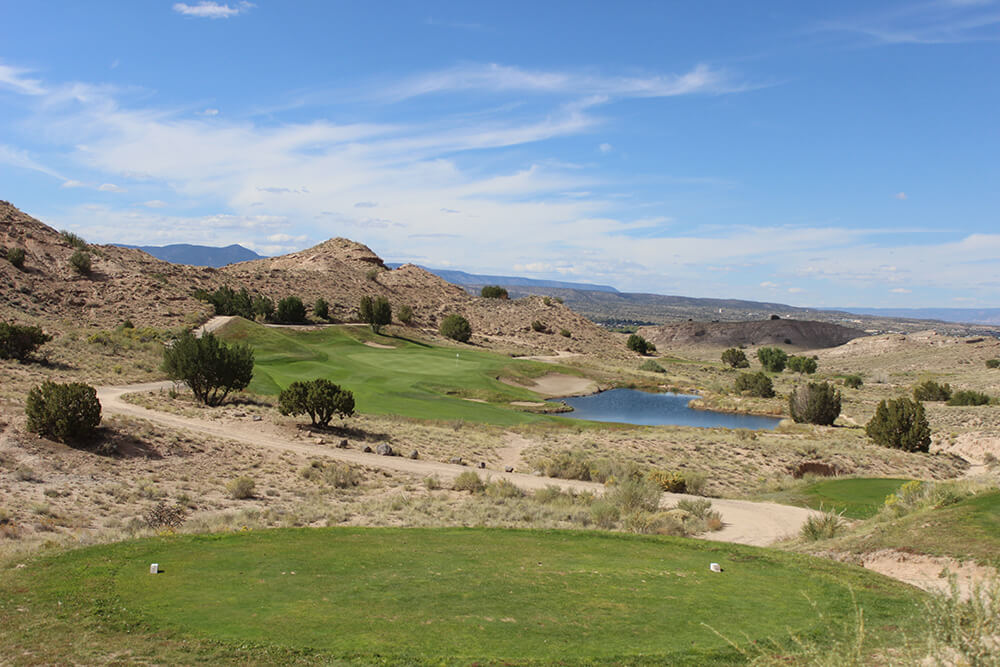 It took a managerial overhaul to get the course back on its feet, and a new superintendent, Aaron Sunderlin, to make it shine once again. Three years after Sunderlin's arrival, Black Mesa is once again vying for "Best in New Mexico" honors and even attracting the attention of national publications having been named the 99th best public-access course in the USA by Golf Magazine in May of 2021.
Its incredible setting makes Black Mesa one of those rounds that inevitably linger in your memory for considerably longer than most. For those more used to compact, urban settings, a course as expansive and rugged as Black Mesa is apt to stop you in your tracks at various points just so you can take it all in.
And the same is true of a handful of other New Mexico courses that provide the sort of uncommon experience the best golf trips are made of.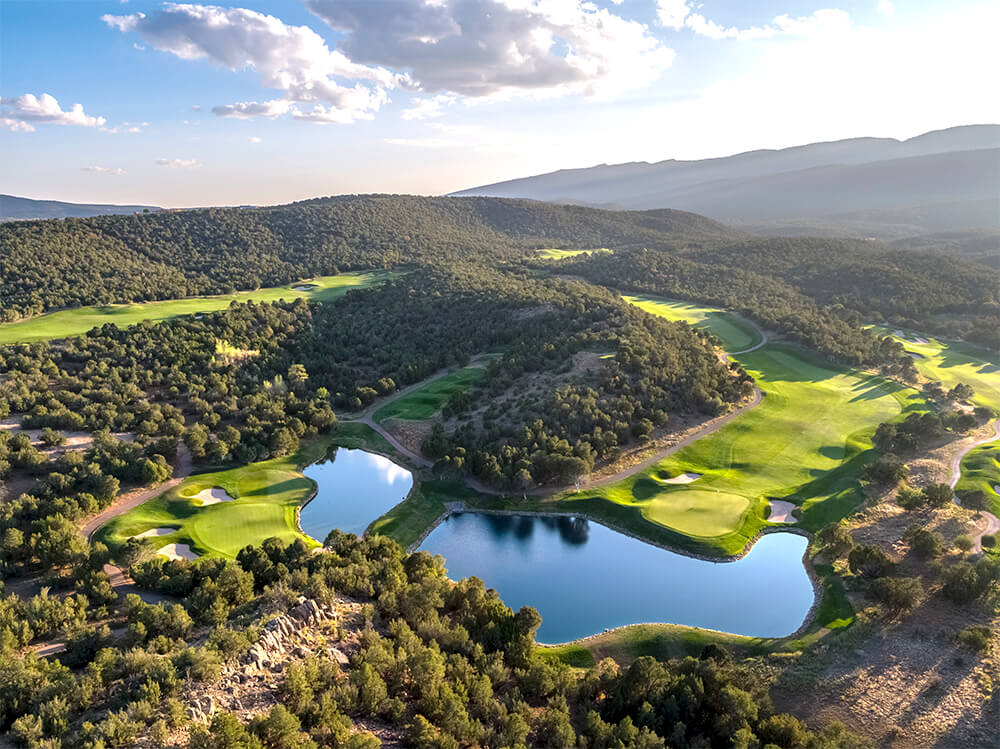 The setting for Paako Ridge, 30 miles east of Albuquerque and 7,000 feet above sea level, doesn't have quite the same "wow" factor of Black Mesa perhaps, but don't take that to mean it's ordinary. Instead of emerald strips funneling between brown, grey, and sand-colored rock formations, Paako is much greener, the same beautifully kept fairways running between pines and cottonwood trees. It's less mountain-desert, more mountain-parkland. The course, opened in 2000, was designed by Baxter Spann's partner Ken Dye. A lot of money has been spent on improvements to the property in the last couple of years—the clubhouse saw a multi-million-dollar remodel and the maintenance area got a $1 million upgrade—which has prompted a sharp rise in the green fee. But if you've come this far to see the best of New Mexico golf, it's a splurge you're going to make.
Taos Country Club, 45 miles northeast of Black Mesa, is another unforgettable round. We're at about 6,900 feet elevation here, but again the terrain and views are quite different from what we've seen already—this is strictly high desert, with relatively flat holes surrounded by vast expanses of tangly sagebrush. Austin, Texas-based designer Jep Wille designed the course, devising a splendid routing that takes advantage of what undulations he could find. No one hole sticks out in particular (the short 11th is a bit of an anomaly with a large, man-made pond between tee and green), but, in a way, they all do. There's nothing particularly flashy, just strong but unpretentious golf that allows the remarkable scenery to do the talking.
Distances between recommended courses in the Land of Enchantment may be greater than they are in, say, Arizona, but it makes for a great golf road trip. In the far northwest town of Farmington, the splendid Piñon Hills has been entertaining visitors since 1989 when Ken Dye spent just $1.7 million creating a municipal that rightly ranks among the top 10 city-owned courses in the country. This has a little more of the arid, rocky look about it, but there's some greenery too. Improvements to the irrigation system, bunkers, and cart paths and the addition of a new short-game area are happening, work that will obviously improve an already outstanding course.
You might need a whole book to tell all the stories Red Lawrence's design at the University of New Mexico Championship Course has seen. The home of the Lobos, it has also been the home course of numerous PGA, Korn Ferry, European, Asian, and LPGA Tour players and has hosted multiple NCAA Championships as well as the second stage of Korn Ferry Q-School. Slotted between an airport and an interstate, UNM doesn't enjoy the most serene of settings, but the design is everything. There are numerous first-rate holes at UNM which might actually rank among the toughest courses you'll play.
Another stop you should make if you have time and a full tank of gas is at Rockwind Community Links outside the city of Hobbs in the far southeast corner of the state. Here, designer Andy Staples applied his environmentally sound, economically enterprising, community-driven "golf for all" concept to an old dilapidated muni called Ocotillo Park, and the city and its residents have been reaping the benefits since it opened in 2015. If a community-asset municipal doesn't strike you as the sort of course you go on vacation for, especially one five hours from the nearest big city, check the New Mexico course ranking lists, see how highly it is rated, and consider altering your itinerary.
To add more fascinating chapters to your journey, consider Gary Panks's Twin Warriors, another superb high desert round on the Santa Ana Pueblo, as well as its sister course simply named Santa Ana, and Scott Miller's excellent Sandia, just 10 miles out of Albuquerque.
And now you have a golf trip you never thought you'd make, but which you'll be really glad you did.
Have you played golf in New Mexico?