Orlando is one of those unique cities that can appeal to both families and groups of buddies. The Disney and Universal theme parks speak for themselves, but Orlando and the surrounding area also makes an ideal location for a buddies golf trip. Not only are there a wide variety of golf courses to choose from, the number of public-access courses far outweighs the private tracks. This type of public/private imbalance creates a key ingredient to any golf trip…choices, and lots of them.
With a ton of golf to choose from, here's a look at five of the best public golf options in the Orlando area.
Orange County National—Winter Garden
The cream of the crop when it comes to Orlando public golf destinations, Orange County National is the ideal spot for the golf junkie. OCC has 45 holes split among three golf courses. Panther Lake was the original loop that opened in 1997 while Crooked Cat followed in 1999. The trio of Isao Aoki, Phil Ritson, and David Harman designed both courses, which offer dramatic elevation changes that are quite rare in the sunshine state. Non-residents can get on either course for a rate typically around $99.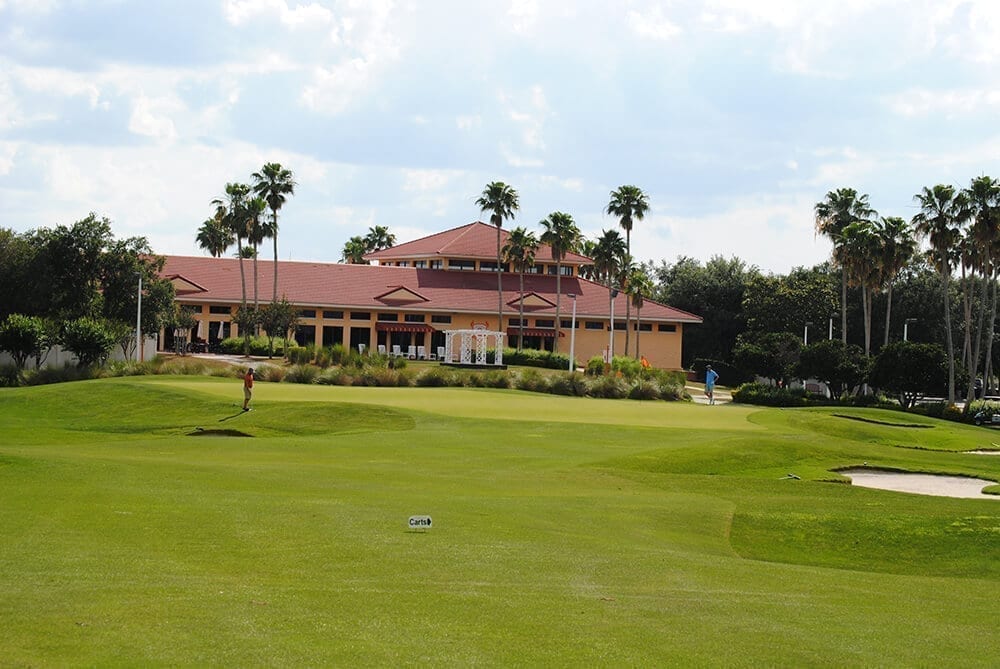 The much newer 9-hole layout called the Tooth is a short course aimed at blending an enjoyable challenge. The walking-only course is complimentary to play as a guest of the OCN Lodge and costs just $20 for outsiders. If 45 holes isn't enough golf for you, Orange County National offers players the opportunity to seriously work on your game. The course is home to one of the top driving ranges in the country, and also home to the PGA Merchandise Show's annual Demo Day. A 360-degree range is part of the 42-acre practice facility complete with a lighted 22,000-square-foot putting green.
Celebration Golf Club—Celebration
The best way to describe Celebration Golf Club is charming. The town of Celebration was originally founded and developed by Disney as a throwback-style planned community geared towards Mickey Mouse fanatics. After a few years of ups and downs, the town was sold but much of the charm still remains, especially when it comes to the golf club.
View this post on Instagram
Opened in 1996 and designed by Robert Trent Jones Sr. and Robert Trent Jones Jr., Celebration is one of only three courses the father and son tandem designed together. From the moment you pull up to Celebration you feel like you're walking into the golden age. The unique clubhouse is surrounded by a giant windmill, gazebo, and a pair of antique cars. The charm doesn't end at the clubhouse, as the golf course itself is full of memorable holes. Tipping out at more than 7,000 yards with six sets of tee boxes, Celebration challenges golfers with strategic bunkering and water hazards. In fact, 16 of Celebration's 18 holes feature water. Non-residents can play for as low as $49.
The Ritz-Carlton Golf Club, Orlando, Grande Lakes—Orlando
Priced a bit higher than many of the public-access courses in the area (anywhere from $165 to $245 depending on time of day), the Ritz-Carlton Golf Club at Grande Lakes is worth the splurge. Especially now that you can tell your friends that you "played where Charlie played"…Charlie Woods that is. As host of the annual PNC Father Son Challenge, The RCGC was on full display in December 2020 when 11-year-old Charlie took the golf world by storm while teamed up with his dad, Tiger.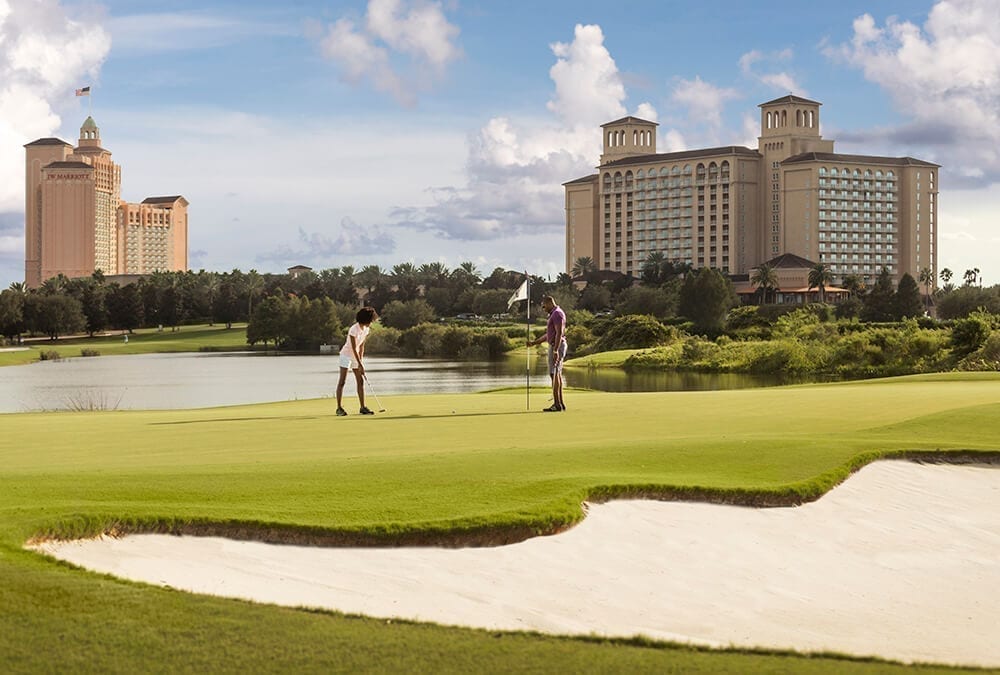 Designed by Greg Norman, The Ritz-Carlton Golf Club opened in 2003 and is consistently one of the top-conditioned courses in Central Florida. With more than 100 bunkers and water looming on nearly every hole, the course has an extremely natural and secluded feel sitting within the headwaters of the Florida Everglades among a constellation of creeks and rivers.
Winter Park Golf Course—Winter Park
Located just six miles from downtown Orlando, the course dubbed affectionately by locals as "WP9" is a must-play for golf enthusiasts making their way through the area. Winter Park Golf Course is a 9-hole municipal course smack dab in the middle of the elegant Winter Park neighborhood. One of the oldest golf courses in Florida, Winter Park was originally built in 1914 and underwent a full renovation in 2016 by Keith Rhebb and Riley Johns—little-known architects at the time who had worked for big-name designers like Bill Coore and Ben Crenshaw. Johns and Rhebb transformed Winter Park with creative green complexes and strategic bunkering.
View this post on Instagram
At just under 2,500 yards, Winter Park is certainly more about accuracy over distance but can still demand every club in the bag. The course was originally a tight, tree-lined stroll, and though it has been opened up a bit since the redo, precision is still required both off the tee and on approach shots. It's also easily one of the best values you'll find anywhere at just $18 for a round. Before you hit the road, make sure you check out the "Back Nine" putting course, which is free of charge to play.
Shingle Creek Golf Club—Orlando
Located about 15 minutes southeast of Bay Hill in the Williamsburg section of Orlando, Shingle Creek is arguably the most scenic of the courses on this list. The course was originally designed by David Harman and is built on the grounds of the Rosen Hotel and Resort. Arnold Palmer Design Company managed a complete overhaul in 2016 and transformed the layout into a lush, green oasis that visitors can play for $89.
View this post on Instagram
The golf course sits next to the Shingle Creek tributary, which weaves its way through and around holes creating a surprisingly natural feel for a resort course. At more than 7,200 yards from the back tees with a rating of 75.1, Shingle Creek will test even the lowest handicappers. Case in point is the course's signature hole, the 220-yard par-three 17th. Bunkers left and right heavily guard the green and a large water hazard invites errant tee shots that miss short and right.
What's your favorite public golf course in the Orlando area?