The biggest putting course the world of golf has ever seen is coming to the sand dunes of central Wisconsin.
Sand Valley Golf Resort already has four golf courses (three 18-hole championship courses and a 17-hole Par-3 layout), and one more in the works (Sedge Valley).
As audacious as Sand Valley's growth is, so are the plans for its putting course. It's set to be around five acres, or well over 200,000 square feet. That's over twice as big as any other putting course currently in use, including the game's old-school original: the Himalayas course at St. Andrews in Scotland. For further context, the average green size on the PGA Tour is about 6,000 square feet, so this would be approximately 35 times bigger.
Sand Valley's forthcoming putting course is a central element to the resort expansion anchored by architect Tom Doak's Sedge Valley design and will be connected to the property's new pit barbeque restaurant/brewery and golf entertainment center, with outdoor patio seating overlooking the rollicking new green.
The expectation is that Sand Valley's putting course will open for the 2024 season, in concert with Sedge Valley. As anticipation builds for this behemoth, here's a rundown of the biggest putting courses in the U.S., all of which can trace their roots back to the Himalayas at St Andrews:
The Bucket, Streamsong Resort (Bowling Green, Fla.)—approximately 102,000 square feet
The second putting course at the Streamsong Golf Resort in central Florida will open in conjunction with its new short course from Bill Coore and Ben Crenshaw. The Coore & Crenshaw team is overseeing construction of The Bucket, named for the dragline buckets used to mine phosphate ore at the property long ago. The routing plan puts the course at around 2.3 acres, or almost twice the size of the resort's Gauntlet putting green behind the clubhouse for the Black course.
The Punchbowl, Bandon Dunes Golf Resort (Bandon, Ore.)—approximately 100,000 square feet
Adjacent to the first tee at Pacific Dunes, the Punchbowl sprawls across two-plus acres of rolling turf, humps, and natural hollows. Doak and Jim Urbina, who built both Pacific Dunes and Old Macdonald at Bandon Dunes, also oversaw the creation of this wild putting course near the Oregon coast that opened in 2014. Guests have easy access to the Pacific Grill, which overlooks the ever-changing 18-hole putting layout, while there's also often an on-course beverage service during play. Wrought-iron drink holders mark the start of each hole, a touch that's now become commonplace at many other of these popular post-golf gathering spots.
Cascade Putting Course, Gamble Sands Golf Resort (Brewster, Wash.)—approximately 100,000 square feet
On a bluff high above the Columbia River Gorge in eastern Washington, the Cascade Putting Course is a wildly undulating, pure fescue putting course laid out by Scottish golf course architect David McLay Kidd, the designer of both the main course and forthcoming second course at the Gamble Sands. Stretching about 175 yards in length, it's hard to top the location of this course—set immediately behind the resort's five lodges for walk-out-the-back-door access, with stunning views of the Cascade Mountains.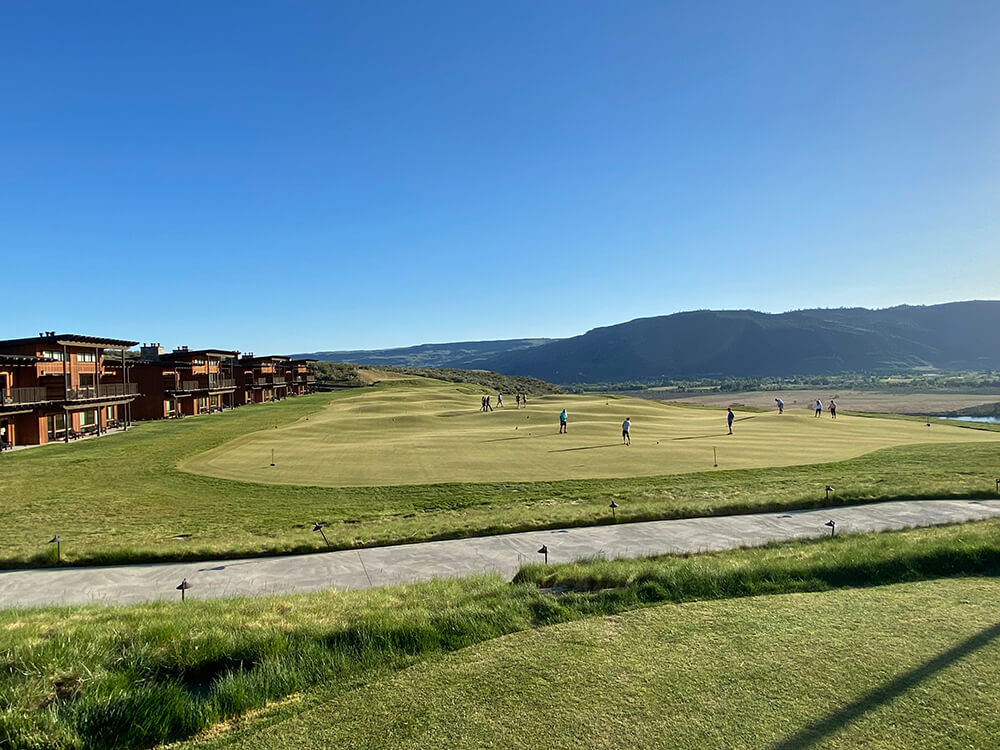 The Baths of Blackwolf Run, Destination Kohler (Kohler, Wis.)—approximately 87,000 square feet
When Kohler opened its 10-hole Par-3 course in close proximity to two of its four resort courses, this two-acre, nearly 200-yard long putting course was also introduced as a guest amenity. There's a flexibility that allows the sprawling putting course, designed by architect Chris Lutzke (a Pete Dye protégé) to be played as an 18- or 27-hole routing.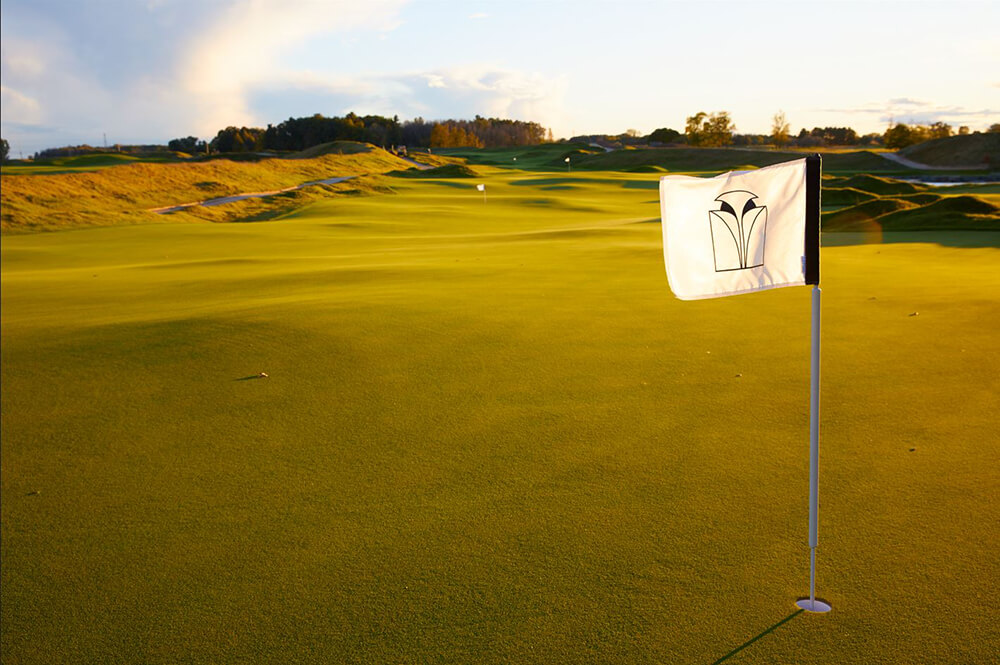 The HillTop, Forest Dunes (Roscommon, Mich.)—approximately 85,000 square feet
Located near the practice facility at this northern Michigan golf resort, The HillTop encompasses almost two acres, with an 18-hole putting course routed throughout the undulating terrain. The amenity was a feature of the original Forest Dunes development, but laid dormant for around nine years before it was brought back during the 2018 season. That was two years after the opening of The Loop, the reversible layout from Doak that effectively gave the property three distinct courses.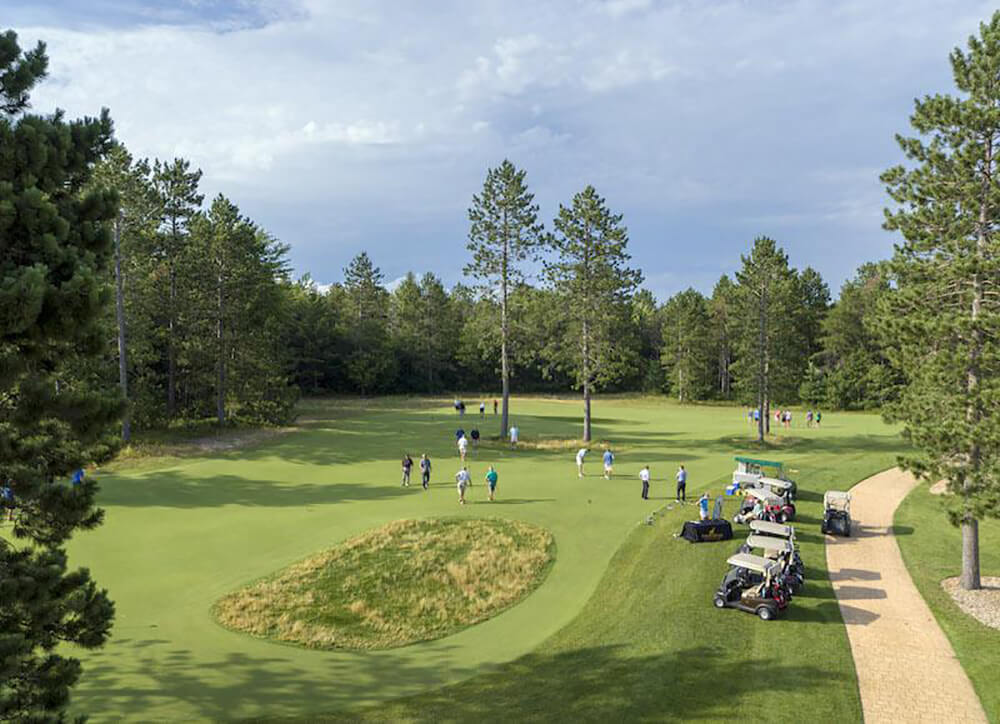 Thistle Dhu, Pinehurst Resort (Pinehurst, N.C.)—approximately 75,000 square feet
For the DIY-ers out there who cut their own lawns, consider this: It takes between three to three-and-a-half hours to mow and set the daily pin locations at the Thistle Dhu, according to Bob Farren, director of golf course maintenance at the iconic Pinehurst Resort. The Putter Boy statue is centrally located in the wild putting complex, which checks in at just under two acres. The name harkens back to what might have been the first miniature golf course in America, an 18-hole backyard layout built in Pinehurst by steamship magnate James Barber, who upon first seeing the home and course, famously pronounced "This'll do…"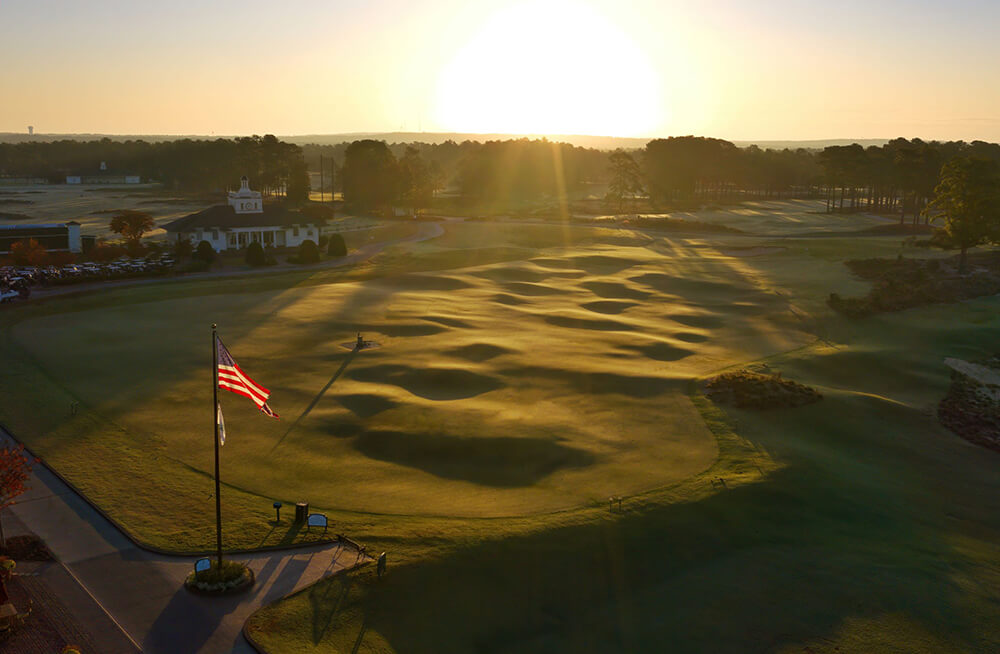 The Drumlin, Erin Hills, (Erin, Wis.)—approximately 63,000 square feet
The horseshoe-shaped Drumlin course at Erin Hills is marked by a central ridge that bisects the massive green, giving it a feel of front and back nines as well as creating almost 12 feet of elevation change. The rumpled layout of about one-and-a-half acres was created by Dana Fry (co-architect of Erin Hills) and his design partner, Jason Straka. App-controlled, low-profile "night lights" allow for play late into the evening and are the first of their kind to be used on a golf course.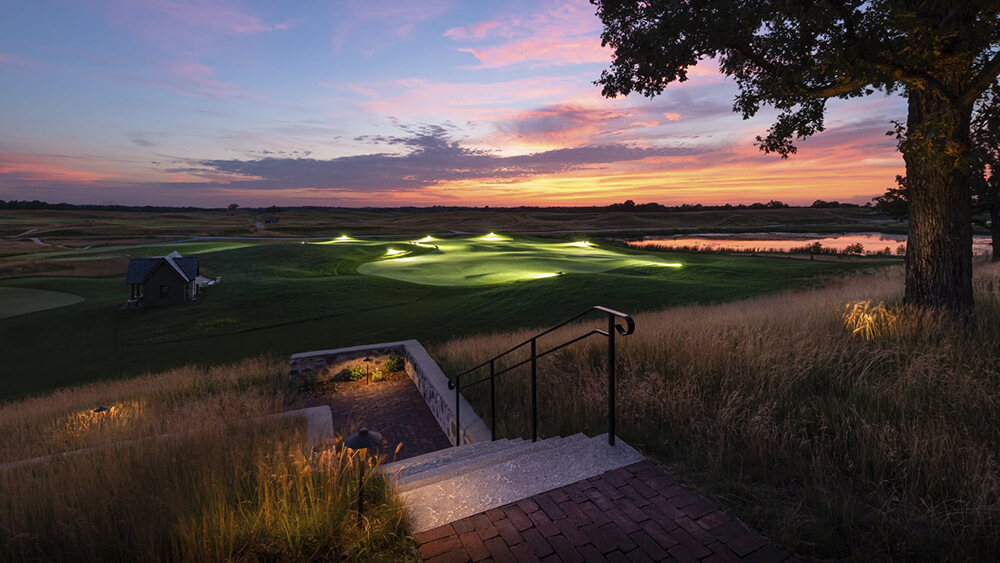 The Gauntlet, Streamsong Resort (Bowling Green, Fla.)—approximately 52,000 square feet
Just steps from the clubhouse of Streamsong's Gil Hanse-designed Black Course, the Gauntlet putting green has 18 holes that play across about 1.2 acres of rolling hills and swales. Available to resort guests and the public on a first-come-first-serve basis, the layout is also a popular rental spot for private events, especially given the adjacent Glove bar at the Gauntlet that opened in 2021. And, as noted above, Streamsong is now set to get a second, even bigger, putting course in the near future.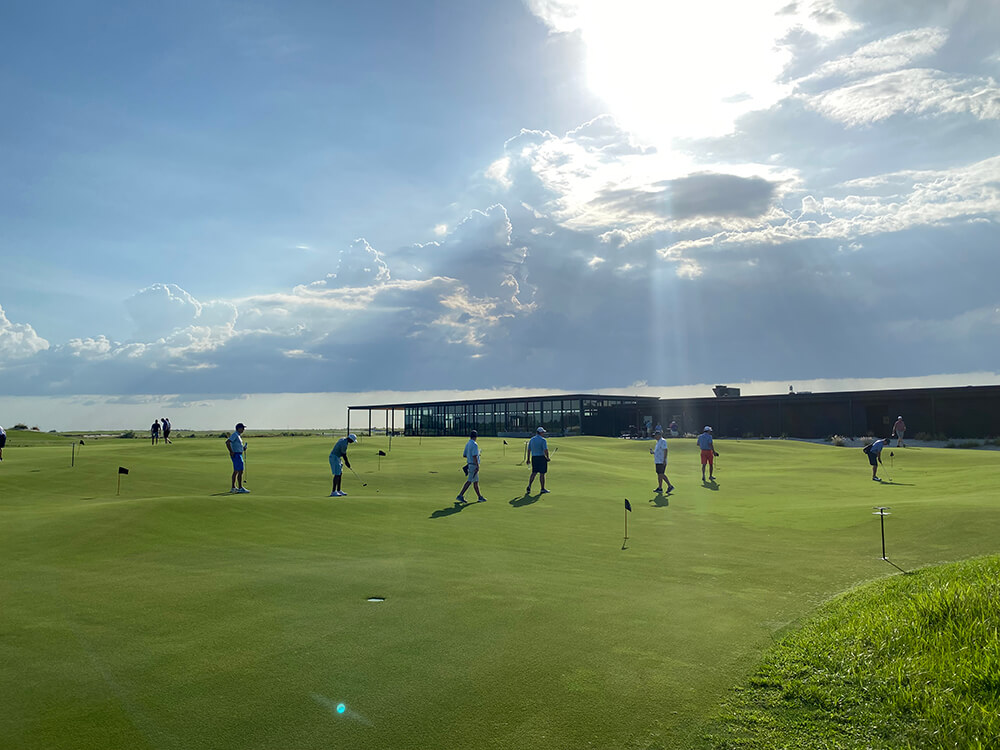 Putting Courses of About One Acre (approximately 43,500 square feet)
The Dance Floor, Geneva National Resort & Club (Lake Geneva, Wis.)
The Crags, The Country Club at Castle Pines (Castle Rock, Colo.)
Shadow Mountain Putting Course, Shadow Mountain Golf Club (Palm Desert, Calif.)
Speedway Putting Course, Sea Island (St. Simons Island, Ga.)
The Commons, Ballyneal (Holyoke, Colo.)
Boot Ranch Putting Park, Boot Ranch (Fredericksburg, Texas)
Snake Acre, The Concession (Bradenton, Fla.)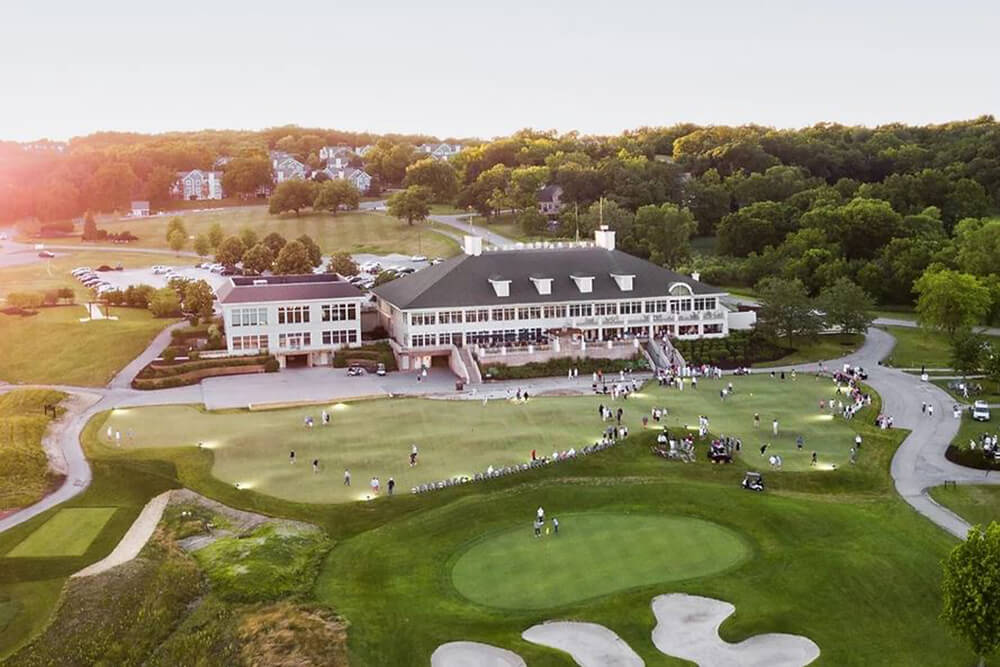 Notables Under 40,000 square feet
Tom Watson Putting Course at Mountain Top, Big Cedar Lodge (Ridgedale, Mo.)—38,000 square feet
Palmetto Traverse, Lake Marion Golf Course (Santee, S.C.)—35,000 square feet
Welter's Folly, Journeyman Distillery (Three Oaks, Mich.)—30,000 square feet
Whitewater Putting Course, Horseshoe Bay Resort (Horseshoe Bay, Texas)—30,000 square feet
The Hay Putting Course, Pebble Beach Resorts (Pebble Beach, Calif.)—20,000 square feet
The Himalayas, Treetops Resort (Gaylord, Mich.)—17,000 square feet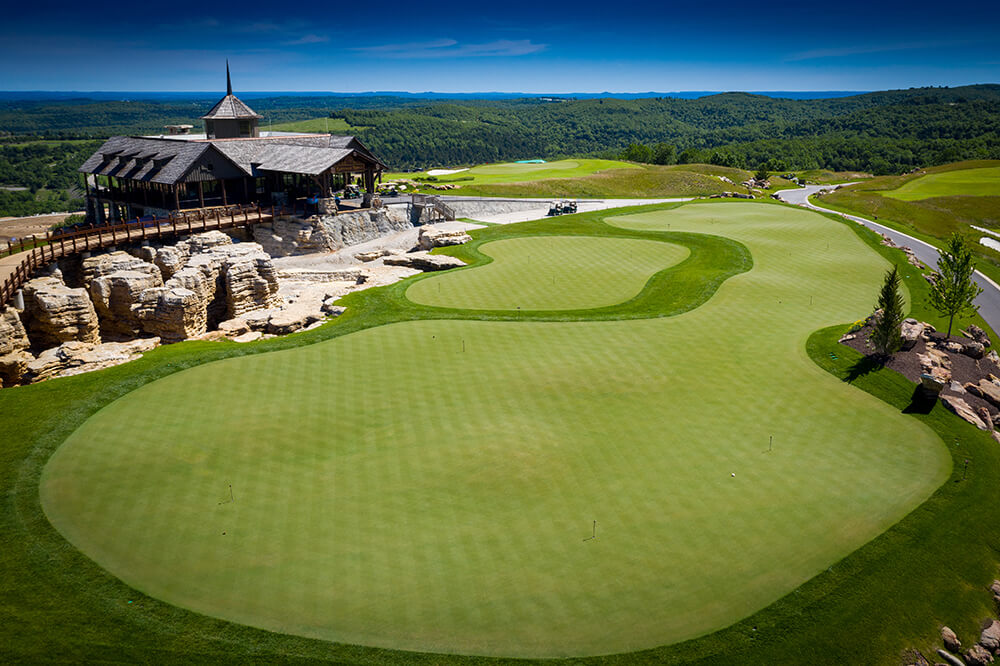 Are there other prominent putting courses in the U.S. that you've played or know about that are not on our list? Be sure to let us know in the comments below!