Highway 1. The Pacific Coast Highway. The famous road along the California coast goes by different names depending on where you are in the state. But in Northern California, where I recently spent a week, it's Highway 1.
The last time I drove from San Francisco to Carmel, I left at 3:30 in the morning to make a 7 a.m. tee time and it was pitch black the entire way. I pledged to return, play more golf, and enjoy the scenery.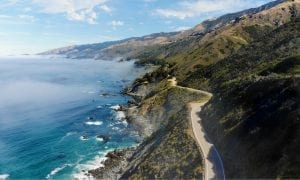 This time, I spent months planning—courses to play, sites to see, places to explore. The trip included two days in San Francisco, a driving day, three days in Carmel, and seven rounds on public courses. My goal wasn't to see everything or stick to a certain price point, but I wanted every course to have a story, which they did. Here they are.
Day 1
The drive I was looking forward to the most had nothing to do with golf. Waiting for me in San Francisco was a new BMW M6, a 600-horsepower convertible grand tourer perfect for cruising the coast. I didn't need much of its power to get from the airport to Sharp Park Golf Course for the first round of my trip.
Sharp Park—a 1932 Alister MacKenzie design—is just south of San Francisco in Pacifica. One of the few public options from the Augusta National architect, Sharp Park exudes a muni-golf character from the shabby clubhouse vibe to the $40 fees and tee times announced over a crackling loudspeaker. The course popped onto my radar because of the "Save Sharp Park" movement, which started in response to environmentalists' attempts to close it in an effort to protect threatened frogs and snakes. The lawsuit was dismissed in 2012, opening the doors for Tom Doak to create a renovation masterplan. The municipality is still debating the plan, with Doak explaining, "They have signed off on expanding two to three greens, rebuilding some tees, and minor tree work in 2018 to get a handle on the costs. It's a step in the right direction." The course is rough around the edges, but the potential is clear.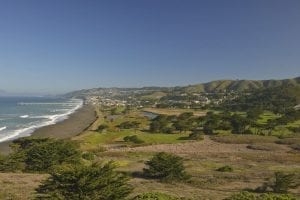 Day 2
I drove all over San Francisco following Google Maps until I worryingly heard, "destination reached" with no TPC Harding Park in sight. It took 20 more minutes of navigating—extra time I suggest you build in during a visit.
Harding Park was built in 1925 as a top-tier muni, going on to host both USGA and PGA Tour events. Following a series of budget cuts, the course fell into disrepair, hitting rock bottom in 1998 when it served as a parking lot for the U.S. Open at neighboring Olympic Club. Former USGA President Sandy Tatum, who grew up in the Bay Area, campaigned to save the course, and in 2005 it hosted a WGC event. Harding Park will host the 2020 PGA Championship, making it only the fifth U.S. municipal course to hold a major championship.
Despite its tournament pedigree, the course has maintained its of-the-people roots, costing around $160 for out-of-towners and less than $100 for locals. A big and bold course, with long views between giant trees, it's playable for a range of handicaps, but make sure to choose the correct tees.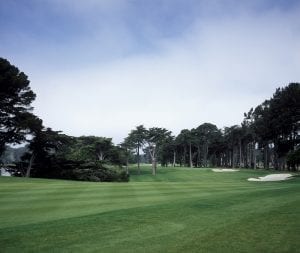 Day 3
Driving from San Francisco to Carmel was a highlight of the trip. And I can confirm that Highway 1 is a better journey in daylight.
The coastal route leaves San Francisco as part of a large motorway until it narrows in the town of Pacifica. The drive really starts after passing through a long tunnel and emerging onto a breathtaking cliffside stretch called "Devil's Slide." The 100 miles that follow are filled with steep climbs, twisting descents, and dramatic Pacific Ocean views all the way to Carmel. Along the way are long beaches, sites like Año Nuevo State Park where giant elephant seals laze, and the beachside city of Santa Cruz with its surfing culture and laid-back vibes.
I dropped my bags in Carmel and drove further south to Big Sur and beyond—an area considered one of the most dramatic on Highway 1. It was also one of the most difficult to build, requiring six giant concrete arch bridges to span where the road couldn't hug the cliffside. During construction in 1919, the budget was so thin that San Quentin State Prison provided unskilled labor: Inmates were paid 35 cents a day and had their prison sentences reduced in return for work. It took 18 years to complete just that segment.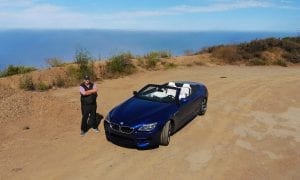 Day 4
Pebble Beach was my most anticipated round of the trip, in part because I wanted to be a contrarian, the guy who didn't like it—or at least didn't love it. Forget my inner pessimist: Pebble blew me away! I've played seaside golf around the world, but never a course as dramatic and breathtaking. My foursome­—a grandfather, father, and son from Chicago—and I teed off at 8:40 and took five hours and 20 minutes. It's always slow at Pebble. I used every moment to soak in the experience. The seaside holes lived up to their reputation, while the inland holes exceeded my expectations.
But is it worth a green fee of $525? People seem happy to pay it, plus during the high season (summer) there's a three-night minimum stay at the resort to secure a Pebble Beach tee time in advance. Stay three nights and also play Spyglass Hill or Spanish Bay, both part of Pebble Beach Resorts, and a long weekend could easily cost over $4,000. Non-resort guests can book a tee time less than 24 hours in advance at Pebble, but the tee sheet was full every day of my stay. It's very expensive, but definitely worth doing at least once.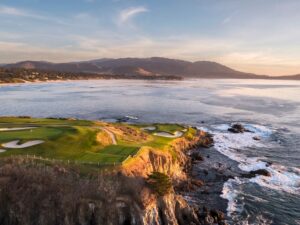 Day 5
After seeing it during the AT&T Pebble Beach Pro-Am and knowing it would help host this year's U.S. Amateur, I was keen to play Spyglass Hill. The ride to Spyglass on 17-Mile Drive is a beautiful journey that follows the Monterey Peninsula coastline passing Pebble Beach, Cypress Point Golf Club, Monterey Peninsula Country Club, and Spanish Bay before looping back to Spyglass Hill. Not a bad drive with the top down.
The first hole at the Robert Trent Jones Sr.-designed Spyglass Hill dives down to the ocean, where the next four holes impress with ocean views and quirky features like the banana-shaped 4th green. After the 5th, the course turns inland, becoming harder as it plays through tight tree-lined corridors, uphill approaches, deep bunkers, and severely sloping greens. It knocked me to the ground and held me down. It's clear why Spyglass Hill is part of the AT&T rota: It's a punishing test that doesn't pull any surprise punches. Late in the round I longed for more fun oceanside holes like those first five, and luckily I found them the next day at Spanish Bay.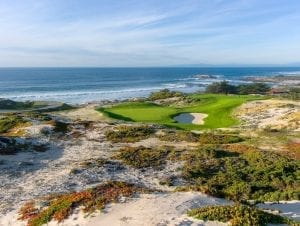 Day 6
My only 36-hole day started at a municipal gem called Pacific Grove. I knew I was in for a treat when multiple locals asked me, in all seriousness, not to write about the course as they don't want the secret to get out. Sorry, guys.
Pacific Grove is a tale of two nines. The front winds through a neighborhood with short parkland-style holes bordered by trees and out-of-bounds. The real fun is the back, a seaside links routed between the ocean and the picturesque Point Pinos lighthouse, which is visible from most holes. Sandy dunes, blowouts, and crashing waves make the back nine, while short, endless fun. It's an unbeatable deal at $55 for an oceanside course on the Monterey Peninsula.
Following lunch at Pacific Grove, I fired up the M6 and retraced 17-Mile Drive to The Links at Spanish Bay. Not as well known as the peninsula's other courses, I wasn't expecting much. I couldn't have been more wrong. The course starts with a dramatic par five beside the ocean and runs through sandy coastal dunes for eight holes before heading inland, then returns to the dunes at the dramatic downhill par-five 14th and stays there till the finish. Designers Robert Trent Jones Jr., Tom Watson, and Sandy Tatum tried to create a links-like experience and on those wide dunes holes they're not far off.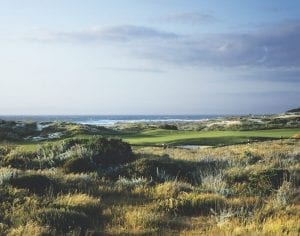 Day 7
Just as my trip started on an Alister MacKenzie design, so it ended. Pasatiempo Golf Club in Santa Cruz is where Dr. MacKenzie lived his last few years (his home is visible along the 6th hole). Much like Donald Ross at Pinehurst No. 2, MacKenzie continually tweaked Pasatiempo, but the course deteriorated during the Great Depression. In the late 1990s, Tom Doak and Jim Urbina began renovating the design, restoring much of its original character; if Pasatiempo today isn't as raw or dramatic as it was in 1929 when it opened, it's as pure MacKenzie as you'll find. His genius is best displayed in the greens and surrounding bunker complexes: The putting surfaces are huge, multi-tiered, and severely sloping, often surrounded by large bunkers with tall faces and furry edges.
Among MacKenzie's "13 principles of good golf course design" is that every hole should be different in character. Pasatiempo delivers 18 different experiences, and they remain clear in the mind long after the round. In the same way, the seven courses on this trip meet that principle. Each round offers something different, provides new insights into the game, and inspires golfers to plan the next journey.