Donald Ross strongly advocated golf as a game of the people. Many of Ross's finest layouts were sketched with the common man in mind as public and municipal. He also designed dozens of outstanding resort courses across the length and breadth of America.
Here are 10 classic Donald Ross courses that you can play.
10. Manakiki Golf Course—Willoughby Hills, Ohio
This nifty Ross creation is a Cleveland Metroparks course that was private from 1928 until 1961. Manakiki held PGA Tour events in the 1950s and while today it is considered one of Ross's gentler efforts, it holds its own thanks to a wooded, water-filled routing and to holes such as the 443-yard, par-four 8th and the 215-yard, par-three 15th, both area standouts.
Manakiki GC in Willoughby, OH, #50 on #TweederMidwestPublicBucketList, is a Donald Ross triumph that @GOLF_com ranks as the best public course in Ohio. Managed by the Cleveland Metro Parks District, it could be considered one of the best municipality courses in the Midwest. pic.twitter.com/4qIibWDGXZ

— Bryan Tweed (@BryanTweed16) June 20, 2020
9. Southern Pines Golf Club—Southern Pines, N.C.
One of Donald Ross's earliest designs, dating to 1906, Southern Pines now operates under the auspices of the Pine Needles/Mid Pines owners, who retained Bill Coore & Ben Crenshaw associate Kyle Franz to restore and renovate this classic track in 2021. Franz re-established sandscapes, eliminated greenside rough in favor of closely mown surrounds that emphasize ground game options, and yanked out 700 trees, restoring width, strategy, and views. Franz upped the par from 70 to 71 and the back-tee yardage from 6,309 to 6,695. The best example of vintage Ross risk/reward arrives at the 325-yard 11th—big bashers can drive the green, but the left-to-right sloping fairway and a lake on the right might dictate a more prudent play.
8. Omni Bedford Springs (Old)—Bedford, Pa.
With holes designed by Spencer Oldham, Ross, and A.W. Tillinghast, Bedford may be a mutt, but it's best in breed thanks to a fine sympathetic restoration in 2007 by Ron Forse, who "followed the footprints of the 1923 Ross golf course." In that year, Ross designed the layout's back nine and remodeled the front nine. Tucked 90 minutes east of Pittsburgh and boasting views of the Allegheny Mountains and the Cumberland Valley, Bedford Springs features hilly opening and closing stretches and Shober's Run, a Gold Medal trout stream visible or in play on 12 holes.
7. The Sagamore—Bolton Landing, N.Y.
Ross's flair for option-laden design is on full display amid holes carved from the Adirondack Forest Preserve, with mountain backdrops to boot. Putting the best foot forward, the showstopper on this 1928 creation is the downhill, 430-yard, par-four 1st hole, which serves up a commanding view of Lake George. Lush rough, a variety of stances, and lies on the hilly fairways demand precision shot-making until the final putt drops.
6. Seaview (Bay)—Galloway, N.J.
Ross remodeled this Hugh Wilson (of Merion fame) 108-year-old design in 1918 that edges marshy Reeds Bay and serves up splendid vistas of the Atlantic City skyline, notably on the layout's standout hole, the 481-yard par-four 2nd. The Bay's front nine paired with nine holes on its Pines sibling to host the 1942 PGA Championship, won by Sam Snead. While only 6,397 yards from the tips, it's strong enough to test the best at the LPGA Tour's ShopRite Classic, where winners include Annika Sorenstam, Karrie Webb, Juli Inkster, and in 2022, Brooke Henderson.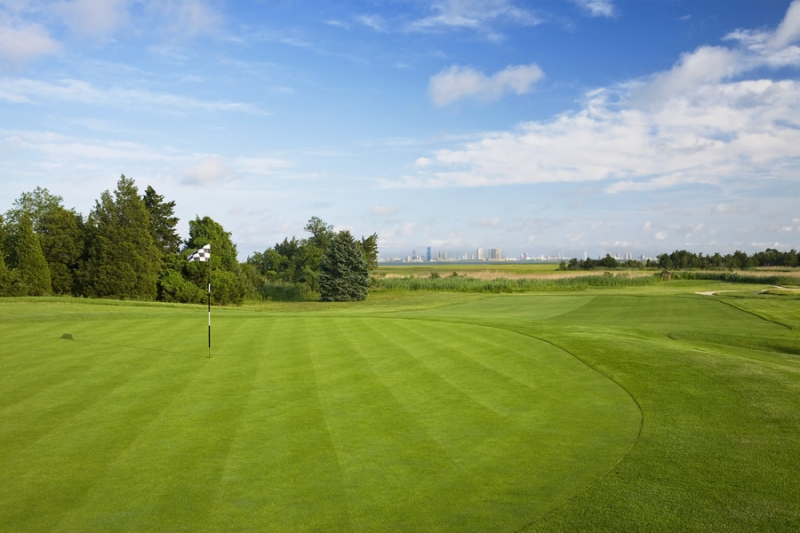 5. Mid Pines Inn & Club—Southern Pines, N.C.
In 2013, Mid Pines saw its Ross green contours, vistas, and rough areas restored to their 1921 looks by Kyle Franz. That's when Mid Pines bubbled back up into elite status. Back was the hardpan sand speckled with wiregrass framing the fairways, as well as the renewed emphasis on strategy—a Ross specialty. While holes 3, 12, 16, and 17 might be stronger par fours, and 18 the most scenic with the backdrop of the handsome Mid Pines Inn, the 330-yard 4th could be the best of all. The ideal layup drive to a left-to-right tilting fairway will hug the sandy hazard on the left, which affords a great angle and look into the green. A precise approach is a must, as the shallow, plateau target slopes away back-right, so any indifferent wedge will spin off the green. It's drivable but miss in the wrong place and you'll face five or worse on the scorecard.
4. French Lick Resort (Donald Ross)—French Lick, Ind.
It's a straight shot 60 miles west of Louisville into the heart of Larry Bird country to play this 105-year-old classic that was supersized in 2006, yet with shot values restored, by native Hoosier Lee Schmidt of Schmidt-Curley Design. Rolling, open farmland greets players today, just as it did when Walter Hagen captured the 1924 PGA Championship here. The wild, easily four-puttable 8th green, which falls steeply from back to front, will test even the most skilled flatstick specialist.
The Pete Dye course at French Lick gets a lot of attention but the Donald Ross course is also a real pleasure. pic.twitter.com/JRWw0IDBGj

— Patrick Koenig (@PatrickjKoenig) March 28, 2020
3. Pine Needles Lodge & Golf Club—Southern Pines, N.C.
Pine Needles sits just three miles away from Pinehurst No. 2, yet has a different flavor. It isn't as relentless a test as No. 2, making it a real treat for 15 handicappers, but its crowned greens have not only beguiled the game's best women at the 1996, 2001, 2007 and 2022 U.S. Women's Opens; they've also produced superior champions—Annika Sorenstam, Karrie Webb, Cristie Kerr, and Minjee Lee respectively. The 481-yard par-four 2nd calls for a drive to a plateau, followed by a well-gauged downhill approach to a green that slopes beguilingly away from the player. At the petite downhill 3rd, one of Donald Ross's prettiest holes asks for a precise short-iron over a lake to a back-to-front sloping, boldly bunkered green that's backdropped by towering pines and bursts of colorful dogwoods and flowers.
2. The Broadmoor (East and West)—Colorado Springs, Colo.
One of his rare creations west of the Mississippi, Ross carved the Broadmoor from the foothills of Cheyenne Mountain in 1918. Today's Ross originals appear as holes 1–6 and 16–18 on the East course and as holes 1–6 and 15–18 on the West course. Robert Trent Jones Sr. crafted the remaining holes in the late 1950s and early 1960s. Jack Nicklaus won the 1959 U.S. Amateur here, and Annika Sorenstam the '95 U.S. Women's Open. At 6,200 feet, with mountain backdrops, both distance control and green reading vex the best.
1. Pinehurst (No. 2)—Pinehurst, N.C.
Ross's 115-year-old chef d'oeuvre rolls gently and spaciously through tall Longleaf pines in the Carolina Sandhills, with holes culminating in the legendary "inverted saucer" greens that have confounded the game's very best since they were first grassed in 1935. For the 2014 U.S. Open, a Coore & Crenshaw restoration brought back the tawny-edged fairways and native roughs last seen in the 1940s. There's no fiercer test of chipping and putting in the game, so your scores may soar—but you most likely won't lose a ball. Figuring out the puzzles from start to finish is why No. 2 invariably ranks among golf's greatest courses.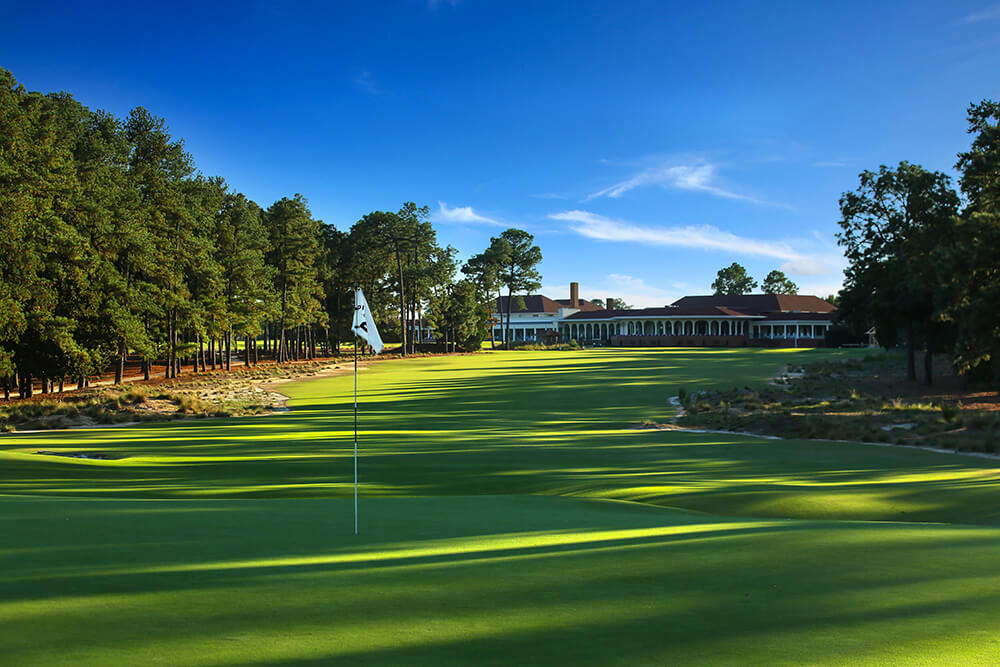 What are your favorite Donald Ross golf courses?[/vc_column_text][/vc_column][/vc_row]