Whistling Straits. TPC Sawgrass. The Ocean Course at Kiawah Island. Each of those courses should be on your bucket list, for sure. But here are some other public-access Pete Dye designs that might not get as much publicity but are sure to get your heart racing.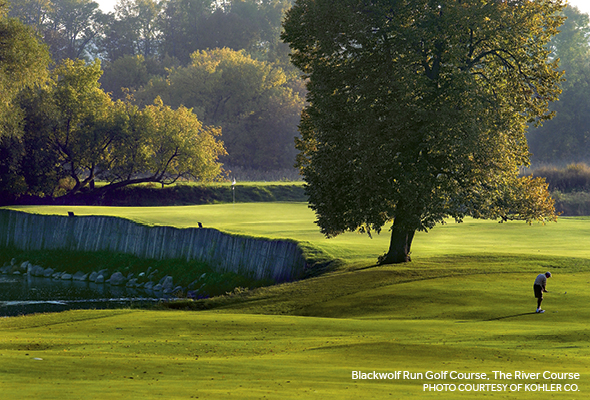 Blackwolf Run
Kohler, Wis.
Very close to The American Club in the company town named for the Kohler Co. that built it are two beautiful courses in the Wisconsin landscape, The River and The Meadow Valleys. The River is long and hard, with tough-to-find landing areas, big greens, and water or other such trouble on 14 of the 18 holes. The Meadow Valleys is more gentle and accommodating but still no pushover. Side by side, they are double trouble.
____________
Brickyard Crossing
Indianapolis, Ind.
Famous for taking on a challenge, only Pete, with his wife and co-designer Alice, would build a course not only next to the Indianapolis 500 speedway, but in the speedway. While 14 holes are across the road, where they steer through trees and water, holes 7–10 are inside the famous oval, giving extra importance to the suggestion "drive carefully."
____________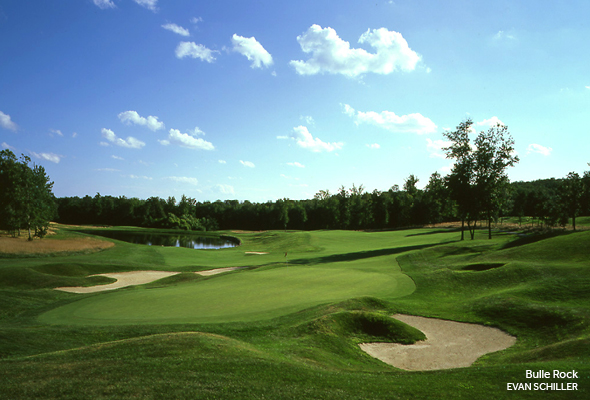 Bulle Rock
Havre de Grace, Md.
This former site of the LPGA Championship weaves through rocks, ravines, water, and much more in the rolling countryside of northeastern Maryland. The course is big and long, with more than 100 bunkers (some of them are big and long, as well) and some significant elevation changes, too.
____________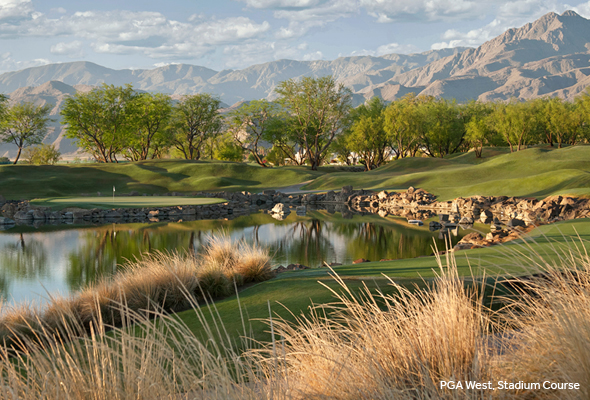 PGA West (Stadium)
La Quinta, Calif.
If you remember when the Thanksgiving Weekend Skins Game featured the likes of Jack, Lee, and Tom, you no doubt recall this brutal course that looked like the surface of the moon, not the California desert near Palm Springs. Its ridiculously deep bunkers, giant greens, and funky angles helped create the mystique of Dye the dastardly, and no matter how you play it, it's hard. But if you approach it in the right frame of mind, also a wicked kind of fun.
____________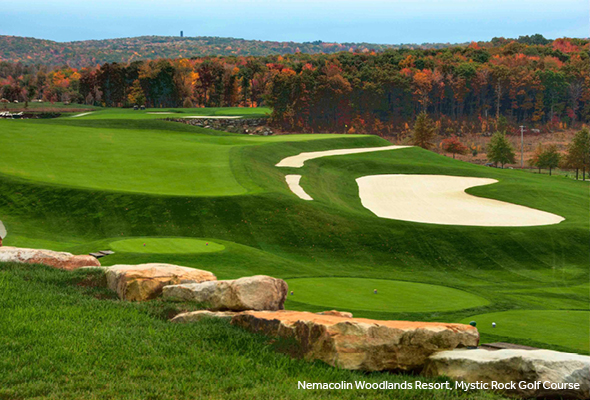 Nemacolin Woodlands Resort (Mystic Rock)
Farmington, Pa.
As the name of this resort in the Allegheny Mountains of southwestern Pennsylvania suggests, the course had to be carved out of thick forests, but the fairways were cut reasonably wide. Greens are large, which helps, but also undulating, and there's water in play on more than half the holes. It also used to host the PGA Tour's 84 Lumber Classic.
____________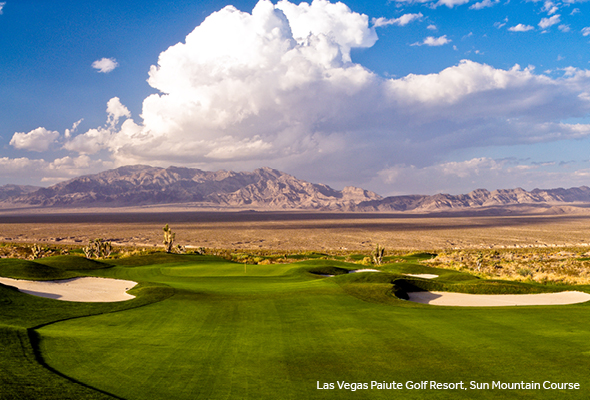 Las Vegas Paiute Golf Resort
Las Vegas, Nev.
Located half an hour northwest of the Vegas Strip, this Native American-run resort offers a Dye three-fer, a trio of tough courses in the desert, highlighted by spectacular views for miles around. Wolf is the longest (stretching to more than 7,600 yards), Sun Mountain seems to be the consensus favorite (and prettiest), while Snow Mountain, the first built, is usually the highest rated. Take your pick—or take all three.
____________
PGA Golf Club (Dye)
Port St. Lucie, Fla.
This private club with public access has three courses, the toughest being Dye's, which took inspiration from the courses of Britain for its bunkering (big waste areas and little pots), giant mounds, and wide-open landing areas that allow for running shots on. Choose your tees wisely for the farther back you start, the more long, forced carries come into play.
____________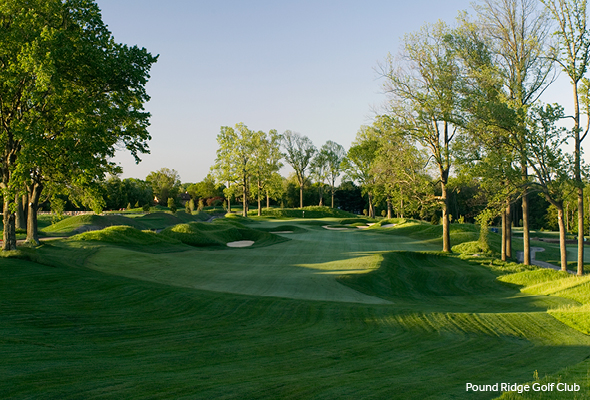 Pound Ridge
Pound Ridge, N.Y.
The closest Dye course to New York City is as big and bustling as Gotham itself, with cliffs, streams, rock formations, forests, and some of the highest spots in the area, revealing expansive views. But don't let the beauty fool you as this course can be a beast—long, tight, and unyielding. If you can make it here, you truly can play anywhere.
____________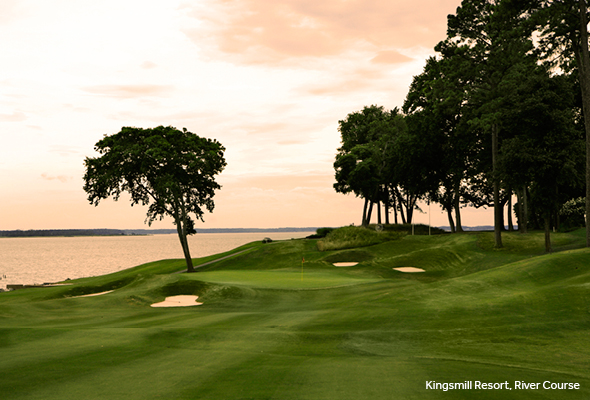 Kingsmill Resort (River)
Williamsburg, Va.
There's history aplenty in the Virginia Tidewater, including the PGA Tour's old Michelob Championship that was played on this course from 1981 to 2002. Curving through trees and wetlands, and in spots along the James River, the course features large bunkers and equally spacious greens, significant rises and falls, all demanding hitting the ball to the right spots and angles for scoring.
_________________