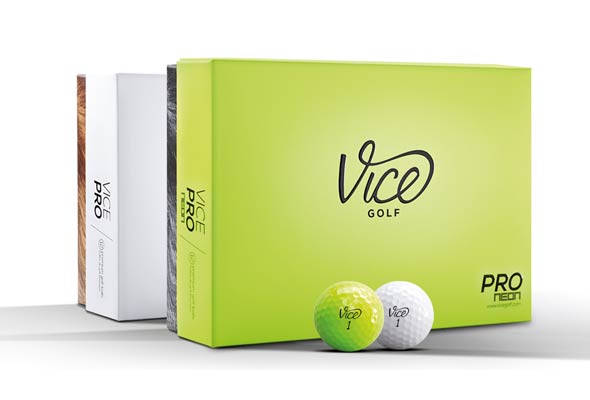 Two guys from Germany think golf needs to lighten up. In attitude, sure, but more important, in what golfers pay for high-quality balls. And they've done something about it.
Vice Golf is a two-year-old company that recently began selling its premium balls in the U.S. The balls are sold only over the internet and shipped directly to the consumer. According to independent testing, the balls are as good as any others available on the market—and a lot less expensive.
Founders Ingo Duellmann and Rainer Stoeckl (left)—two lawyers in their 30s who met while surfing near Munich (who knew?) and share a passion for golf—say other balls go through at least three middlemen between the manufacturer and you, incurring huge markups along the way. Vice Golf eliminates middlemen by selling directly to consumers, significantly lowering the cost. And the balls are even cheaper when bought in quantity.
Vice offers three models: Pro, Tour, and Drive. Pro (which comes in white, neon green, and flamingo pink) is a three-piece ball designed for the best players who want distance along with spin around the green. Tour, also a three-piece ball, is for the next level of golfer, looking for straight flight with control and a gentle feel. Drive is the distance ball, a two-piece product with a tough, hard-to-cut cover, perfect for players with slower swing speeds.
Pro starts at $3.29 per ball ($39.48 per dozen), but drops to $2.49 (about $30 a dozen) when ordering at least five dozen. Tour is $2.29 (about $27.50 a dozen), dropping to $1.59 (about $19 per dozen). Drive is $1.69 (about $20 a dozen), dropping to $1.09 (about $13 a dozen). And that's with a flat $6.99 for shipping in the U.S. There also are all kinds of fun personalization options, not just words but photos and logos, at low prices.
Check out the Vice website and it's obvious that Duellmann and Stoeckl have a slightly different way of doing business, paying close attention to design and having fun. That's why they offer a range of bold-looking golf caps, including limited editions—such as ones they produced for the Ryder Cup and some of the majors—that sell out almost as quickly as they're announced. They're promising new products, balls and other things, for 2015.
The best way to find out about what's coming is to follow them on Twitter at @vice_golf.